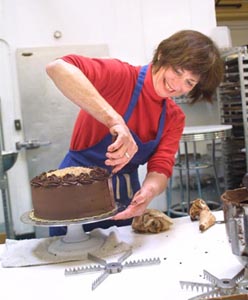 China Clipper: Alice Petersen frosts a cake at Black China Bakery.

Photograph by George Sakkestad





Scone Home

Black China Bakery supplies Santa Cruz and beyond with ultracreamy scones

By Christina Waters

AS OUR LOCAL BAKERIES outdo each other to create ever-more-innovative scones, it's time to salute what many of us feel is the ultimate scone this side of the U.K. That would be the glorious, firm, fine-textured, cranberry-studded vegan number (yes, I said "vegan") created by the wizards of Black China Bakery. Owner Patricia Bowers--a baking legend in our area for 20 years--admits that the classic scone is one of the finest products to roll out of her Seabright ovens. She also revealed that Black China Bakery "is about to branch out to do more scone flavors."

Housed in the old cannery building off Seabright for the past 10 years, Black China has grown steadily. "Our biggest business is vegan," Bowers told me, "and our biggest buyer is Whole Foods." The tiny facility services more than 60 accounts throughout the greater Bay Area. The top sellers are the mile-high chocolate cake, carrot cake, lemon poppy seed cake, and the cranberry and raisin scones. "While we're not strictly vegan, it's our vegan products that seem to be in huge demand, like the vegan German chocolate cake we do for New Leaf," Bowers added.

Asked about the secret to the incredibly fine, dense texture of the legendary mile-high chocolate cake, Bowers answered, "Buttermilk." The cake is amazing, but for my money, the zenith is that incomparable cranberry scone--a complete breakfast in a sensuous, mouth-friendly package. If you have ever visited a coffee shop in Santa Cruz County, you've probably sampled some of Black China Bakery's wonderful wares. Black China Bakery's headquarters is located at 104 Bronson St., Santa Cruz (831.457.2068).

Bunny Hops and Cuisinartists

Of course, you'll be hungry enough to eat a rabbit after Sunday's Easter egg hunt. So make reservations now for Easter Brunch Buffet at Seascape Resort in Aptos. On Sunday (April 15), 9am-3pm, Sanderlings at Seascape plans an elegant array of roast spring lamb, baked ham, porcini soup with goat cheese croutons, grilled halibut, crab cakes Benedict, Belgian waffles, cured salmon, a seafood bar, umpteen salads and a dessert display with fresh baked pastries--all for $39.95 per person, $17.95 children 12 and under. Call 831.662.7120 for reservations.

Since it has been decreed that there can never be too many winemaker dinners, Steve Carniglia and his fleet of fine cuisinartists have designed a chance to sample the handiwork of chefs Manny Alba and Gabe Eisenman, along with a pairing of recent releases from the respected wine house of David Bruce. Join the good doctor himself (Bruce is one of many California physicians-turned-winery proprietors) on Wednesday (April 25) at 7pm.

Antipasti of tiger prawns in a reduction of apples, balsamic and spices will accompany a Santa Cruz Mountains Chardonnay 1999. Next comes a sensational house signature--porcini mushroom-encrusted sea scallops sautéed with wild mushrooms, spinach, organic tomatoes and pancetta over farfalla--paired with a Cental Coast Petite Syrah 1999. After an intermezzo of romaine laced with apple, provolone and walnut in raspberry vinaigrette comes the secondo piatto of grilled rack of lamb finished with a prosciutto, thyme and cipollini onion sauté joined by David Bruce Estate bottled Pinot Noir 1997. The evening's glazed pear torte dolce arrives with a dessert wine of Anselmi Recioto di Soave "I Capitelli" 1996. The price is $80 per person, tax inclusive (gratuity not included). To reserve call Carniglia's at 831.458.3600.
---
Email me your hot food tips, new favorite restaurants, discoveries, gripes and sudden culinary insights. You tell me--I'll tell everybody: [email protected]
---
[ Santa Cruz | MetroActive Central | Archives ]