[ MetroActive Central | Archives ]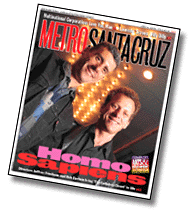 This Week


April 11-17, 1996

Cover
Homo Sapiens Too: Directors Jeffrey Fiedman and Rob Epstein bring
The Celluloid Closet to life, with a
little help from their friends.

News
Nuz: Taking bag the streets, the coming prize, toxic avenger, and rebels gang up.

Multinational Corporations Love You, Man: If you believe the ads, what companies really want to do is to help you fulfill your potential as a human being. Of course, buying their products just might help.

Arts & Entertainment
Movies: Reviews and show times for Santa Cruz County.

Notes From the Underground: Pick of the litter, SC Hotel closing, plus upcoming shows.

Pissed!: Real musicians get screwed by the corporate machine -- so what's new?

Menu
Organic Fixation: The other Waters comes to town, Dream Inn gets a new chef, and the garden is wide open.
---
This page was designed and created by the Boulevards team.
Copyright &copy 1996 Metro Publishing and Virtual Valley, Inc.