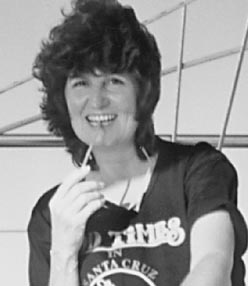 That Sinking Feeling: GT Publisher Carole Atkinson saw the writing on the wall and walked out the door.





Nüz

Changing Times

Was she pushed or did she jump? Long-time Good Times publisher Carole Atkinson quit abruptly last week in a dispute over control of the paper. Good Times' first issue appeared on April 3, 1975, but there were no champagne corks popping last week as the paper's 25th anniversary passed unnoticed.

Page counts at Good Times have been on a downward trajectory for months, prompting owners at Central Valley Publishing to review the paper's operations. Sources tell Nüz that Central Valley CEO Tom Schmidt, who recently took control of the company, drew up a plan to turn the paper around, but when it was presented to Atkinson on April 5 by Linda Rosas, publisher of a Central Valley paper in Chula Vista, a dispute erupted.

Atkinson confirms that she left in a disagreement over control.

"I don't like what they were trying to do. When Tom [Schmidt] was told to go ahead with his plan, he had some changes that would affect my autonomy, and for me it's my way or no way," Atkinson says. "Since it wasn't going to be the way I wanted it to be, I decided I had an opportunity. There's no hard feelings, and I have a lot of respect for Tom. No animosity between us." Her resignation was effective April 6.

Atkinson says she plans to move out of the area to be near family or friends, possibly to Memphis, Tenn.; Sacramento; or West Palm Beach, Fla.

Atkinson's tenure--she has been with the paper since the beginning, and has been publisher since founder Jay Shore left the paper in February 1989--was marked with that "my way or no way" attitude.

In 1990, a group calling itself CACA--Cease the Autocracy of Carole Atkinson committee--wrote a letter to then-CEO Ted Holmberg demanding Atkinson's ouster:

"We, organized members of the staff, demand no less than her immediate replacement--this is our bottom line. Mutiny, dissatisfaction, and despair abound in our ranks."

Similar reports from more recently departed staffers have found their way to Nüz.

Central Valley Publishing purchased Good Times in July 1998 from the Rupert Murdoch publishing empire. At the time the firm was headquartered in Crystal City, Mo., and was managed by US Media Group. Good Times was put back on the market in March 1999.

Since the death of US Media principal partner Eugene Mace last year, Central Valley has cut its ties with US Media and set up headquarters in Merced, down the street from the group's flagship paper, the Merced Sun-Star.

Good Times was recently taken off the market when a sale fell through. "They just weren't getting the offers," Atkinson says, so Schmidt made a proposal and it was accepted. A search is now under way for a new publisher, and Central Valley is expected to cast a wide net.

The paper will also soon be without an advertising director. Nancy Nacol, who was recently featured in the paper on the occasion of her five-year anniversary of employment there, will be leaving at the end of the week.

Central Valley Publishing announced in a brief prepared statement that Rosas would take over as interim publisher.
---
Rocky Road
The Arana Gulch bike path hit another road block when the Santa Cruz City Parks and Recreation Commission voted unanimously not to support the east-west bicycle corridor on April 3.
While the disapproval does not put the breaks on the path--its role is purely advisory--it does come at a delicate time. The City Council was slated to vote on additional funds needed to complete the project's environmental impact report at the April 11 meeting, but the vote has been put off.
The city needs $40,000 to respond to the 600-plus public comments about the bike path--an expenditure which is opposed by Mayor Keith Sugar, who says he has a "jaundiced view" of paving any trails through Arana Gulch.
"I think open space should remain open space," Sugar says. "But while I'm very skeptical of a bike route through Arana Gulch, I'm willing to commit to creating a viable [east-west] bike route."
No date has been set for either the parks and recreation commission presentation or the council's vote on additional money for the environmental report.
The current proposal includes a paved 12-foot bike path through the park that would be wide enough to accommodate emergency vehicles, a 360-foot bridge across Hagemann Gulch, and either a 130-foot or a 740-foot bridge across Arana Creek.
"Both options entail putting a very large bridge and a wide strip of cement through the park," says commission chair Rachel O'Malley. "There is no way either of those two options would be acceptable to us."
She says Parks and Rec commissioners are not against pollution-free transportation, but they do want the city to look into alternate bicycle/pedestrian routes linking Broadway in the city of Santa Cruz to the Brommer Street/Seventh Avenue intersection in the county.
The commission's vote hasn't dulled the enthusiasm of cycling proponents at People Power.
"This is a such a politically charged issue that the City Council is going to make their own decision, parks and recreation commission's recommendation notwithstanding," says Ron Goodman, a People Power director.
The City Transportation Commission will discuss the bike/pedestrian path at the 7pm meeting tonight, April 12, in the council chambers.
---
Koffee Klatch Kids
The ante has been upped on the high-tech personnel recruiting wars. The latest inducement? Free coffee.
David Dennis, prez of local startup Miradi Inc.--a web-based project-management firm--tells Nüz his firm will resort to tempting northbound Highway 17 morning commuters with free coffee and a Burma shave-style sign campaign to get them to join up.
"We'll have signs about every 100 feet saying things like 'Why commute?' and 'Free coffee,' " says Dennis, who will be camped out with Miradi staffers in front of Casa Del 17 at the Summit the morning this issue of Metro Santa Cruz hits the streets. He vows to return if the operation is a success.
Dennis says the firm is growing fast and will need about 15 new staffers ASAP. The firm will launch its beta website in about a week.
And what if Caltrans or the CHP give them a hard time about their signs?
"We'll offer them a job," Dennis says. "We'll probably be able to afford to pay them more than they're making now."
Dennis and his cohorts can be found at www.miradi.com/jobs.
---
[ Santa Cruz | MetroActive Central | Archives ]