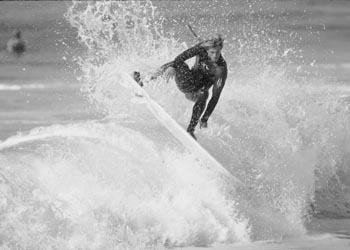 Photograph by Kookson

Float Like a Butterfly: Jeff 'Kookson' Gideon's action shots, like this one of a local boosting big air, earned two covers in editions of Surfing magazine now on newsstands.

Slotted and Shuttered

Great waves and great surfers make dramatic subjects for a community of photographers crafting the world's view of surfing

By Dan Young

WHITE, three-foot-long telephoto lenses bristle over the starboard rail of the bow of the 40-foot Queen of Hearts. Photographers behind the lenses jockey with each other for position to gain the perfect angle to capture a perfect image. A staff position with a major surfing magazine and a career could ride on it.

The boat's master expertly works his throttles to keep the craft pointed into the humongous, rolling seas, doing his best to keep the photographers aimed at their quest: surfers riding the massive waves at Mavericks, a torturous surf spot near Pilar Point in Half Moon Bay. A fine spray washes over the craft and also over the thousands of dollars of photo equipment that dangle from the necks of the "elite" photogs of the mainstream surfing publications.

"People were saying that the wave conditions weren't that clean and maybe the contest should be called off and to wait for a bigger day. But what they were really there for was to see who was going to eat it. The possibility of a huge sneaker set of waves that would clean up the surfers, and maybe take out the boats, was the morbid draw. The people there wanted to see which surfer was going to push to the edge--who was going to get thrashed for the $30K," reports my inside man, who had flipped the skipper a C-note to view the finals up close and personal.

Two other party boats jockey for position amid numerous other craft. More than 20 Jet Skis and Waverunners dot this small section of ocean--a spot that washes over a massive rock formation and throws up some of the biggest surfable waves in the world. Some are anchored in place with bunches of tethered surfboards floating around them.

That's the scene in the water March 3 at this year's Men Who Ride Mountains big wave surfing contest at Mavericks in Half Moon Bay. To add a nice touch, Mother Ocean sent a high tide sneaker wave that cracked on the jetty where event organizers and a variety of news crews and photogs stood, soaking both clothes and equipment as the day of big wave riding was about to begin.

For the top surf photographers, salt-water-ruined equipment is all part of chasing surfers around the world in search of the perfect image. They fire roll upon roll of film, looking to have one of the surf world's big publications buy an image, and if they lose some equipment along the way, so be it. Surf magazines are the driving force. Known for page upon page of stunning and exotic photos, Surfer and Surfing have earned even such unlikely fans as the late Andy Warhol and actor Brooke Shields. Now many of the world's leading fashion designers subscribe, turning to the surf culture as a benchmark of the youth culture.

"I've been pretty lucky when it comes to equipment in that I've never lost any to the waves," Dave Nelson tells me. It's a bright March morning, and the tanned, 32-year-old photographer is peeling off his wetsuit after a session shooting some up-and-coming "grom" surfers at a secluded cove on Santa Cruz's Eastside. "It wasn't the best of conditions, but we'll see what I get," he says with a laugh.

Nelson started shooting surfing about 17 years ago. He would pop up at various surf breaks, shoot and then try and sell his shots to individual surfers so he could afford to buy more film. About nine years ago, he bought his first water housing from Santa Cruz water photog guru Tony Roberts.

Surf photographers come in two breeds: those who shoot from land and those who swim their gear out into the waves to get close to the action. Nelson is one of the latter--a true waterman with an intimate and complete knowledge of the ocean and all her moods. To get his dramatic shots, he swims through the white water and rips, punching through waves as the lip throws over him, to sit in just the right position to catch a surfer and the wave. Nelson's specialty is dramatic, in-your-face action shots of surfers ripping by within inches of the camera. Last month's issue of Surfer magazine features Nelson's in-the-tube shot of Santa Cruz pro Adam Repogle exploding off the page.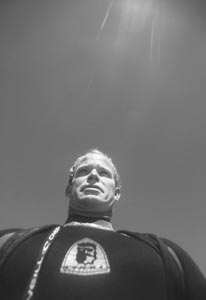 Photograph by Nelson
In Your Face: Surf photog Dave Nelson gets up-close-and-personal by swimming out into the lineup with surfers he shoots.

"I really like getting in as close as possible to the rider and the wave so I use a 20mm lens in my water housing. I have to be super tight to the breaking wave," he says as he scans the next set of waves about to break on the outside reef. "I started surfing about 20 years ago, so I've been able to surf with and watch our town's hottest surfers. I know their individual styles. I am able to set myself up in just the right spot to capture the peak of the action.
"Most of my close calls don't happen because of the ocean--it's because of the wave riders," Nelson continues. "I try and get super close to grab those full-frame shots. I've had Homer (Hernad) and Matt (Rockhold) actually land on me quite a few times."
WHILE WATER photographers have to develop an intimate knowledge of the ocean and the styles of their surfer subjects, land-based photographers have their own set of obstacles; they are dependent on telephoto lenses. Most surfing takes place well away from shore and, to capture full-frame shots, a surf photog needs a long telephoto lens to reach out and grab that frame. A high-quality tripod and motor drive provide stability and clear, focused photos. Here is where a simple equation comes into play:
Money = Length = Image
According to Mark Berkowitz, owner of Capitola's Camera Club, the 600mm and longer lenses required for today's surf photography can run upward of $10,000. For a surf photographer, that investment is always at risk. Surfing takes place in about the harshest environment for camera gear. One big set wave and tens of thousands of dollars in photo equipment is toast--soggy toast.
Berkowitz is another surfer who was drawn to photography because of surfing. "I actually started out shooting Super 8 movies at Malibu where I grew up," he says. "Back in those early days, all we wanted to do is surf all day and party all night. I shot footage of Mickey Dora and that crew. At that time, most surfers just surfed their home break. Society in general wasn't as mobile as today, so all the top surfers would be at Malibu every day."
While in college, Berkowitz worked in downtown Los Angeles at Henry's Cameras where he learned everything he could about photography. After graduating from college, he took an extended surfari, shooting photos and riding waves down to the tip of Baja and then back up to the Oregon/Washington border, spending a month here and a month there in the coast's prime surfing communities.
Berkowitz says he opened his first camera store in Santa Barbara "with the goal of buying a coastal parcel at the Ranch," a surfing nirvana in northern Santa Barbara County. But the threat of a liquefied natural gas refinery proposed for that area of coastline and Santa Barbara's lack of summertime waves made him decide to relocate to Santa Cruz County in 1979, where he had surfed for a month straight while on his year-long surfari. "For surfers, surfing leads you to where you live," he says.
Once published regularly in surf magazines, Berkowitz now focuses on running his store and building up his catalog of stock surf photography. "I sell a lot of shots to manufacturers for ads that run all over the world," he says. He still regularly travels to Hawaii and other surfing Meccas to shoot wave riders in tropical locales, and he and his store are great supporters of established pros and fledgling surf photographers getting their feet wet for the first time.

Bums and Buddhas: A documentary look at the consumer culture of competitive surfing ends up with a soulful statement.

ALL GREAT surf photographers are also great surfers. They take risks both to their physical safety and to their bank accounts to develop skills and build an arsenal of gear that can capture the thrill of a pursuit they genuinely love. The goal is to meld their passions for surfing and for surf photography into a career.
Of all the surf photographers in and around Santa Cruz, one has made all of that happen, all the while covering the scene probably longer and more in depth than any other. Jeff Gideon, a third-
generation local, has pointed his lens at the surfing community for the past 30-some years, chronicling almost all modern surfing phenomena. Better known by his published name, "Kookson," Gideon has captured everything from the invention of the shortboard during the late '60s to today's high-powered tech surfing to the wild-and-wooly surf culture that sprang up on the cliffs lining the northern Monterey Bay.
In 1968 Gideon started shooting surfing as an offshoot of his love of riding waves. For $75 he bought a used Nikon F body and traded a wetsuit for a Century 650mm telephoto lens, the trademark of every serious surf photographer in those days. Needing more equipment, Gideon sold his car to raise money needed for another lens.
His first paying shot in a surf magazine was of his then-roommate Pat O'Neill. Now president of O'Neill Wetsuits, Inc., O'Neill back then was one of the world's top professional surfers and Kookson was, basically, the staff photog for Team O'Neill. Gideon traveled the world with the O'Neill clan, shooting photos at the top surf areas around the globe. The 1970s were a fertile time for a young photog and, with access to Team O'Neill, Gideon literally had months of field days shooting in warm-water exotic locales such as Hawaii and Mexico.
"It was a lot of fun when I first started shooting," he says. "I was given $256 a day and all the film that I could shoot. When you're 20 years old, you can sleep on a floor and get by with one meal a day. I would spend the entire day swimming my camera out to big Pipeline (on Oahu, Hawaii's North Shore) and pushing to see how close I could come to the riders in the barrel."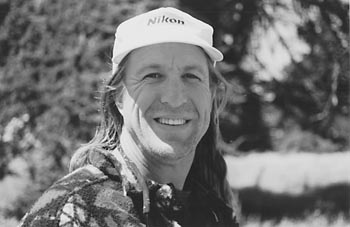 Kookson
The Eyes Have It: More than any other local, Jeff 'Kookson' Gideon has turned his lens on the changing Santa Cruz surfing scene.

After a couple of trips around the world, Gideon settled back into Santa Cruz to concentrate on locals. To keep current, he has worked as a manager at Wolf Camera in Capitola for the past 12 years, bridging the change from the analog, self-focus days through the introduction of auto focus and to the new digital age.
Kookson continues to wow the surf world with his work. The issue of Surfing currently on newsstands (June 2000) features his photos of Santa Cruz surfer Julian Sekon on not one but two separate covers. The magazine couldn't decide which photo to run--Sekon's off-the-lip or his snap-and-reentry. So they published two covers for the same issue, using both of Kookson's sequential shots.
Since two Hawaiian princes rode waves at the San Lorenzo rivermouth in 1882, bringing the sport of surfing to the mainland for the first time, surfing has become an integral part of Santa Cruz, and the town in turn has produced some of the world's best wave riders. It's also been a leading force in defining surf culture, crafting the way the sport has been viewed by the world--and the way the surfers see themselves.
[ Santa Cruz | MetroActive Central | Archives ]