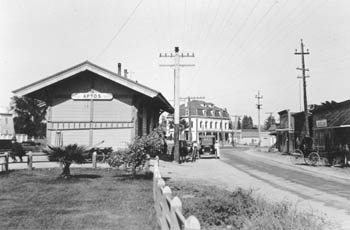 Covello & Covello Historical Photo Collection

Aptos With Hotel in Original Location: The hotel was moved about 100 feet in 1946. Houses and entire buildings were moved often in the old days. They were built so solidly, they could stand the shift. I'm not guessing on the date for this photo: one, I didn't bring my Lydon/Swift book with me; and two, there are too many people who know the date and I'd never hear the end of it.

Bruce Bratton

DATELINE BERLIN. Getting here was easy. It was surprising to see rifle-carrying, camouflage-clad soldiers standing guard in the S.F. airport. They didn't look bored as much as angry. The only sign of Lufthansa's money problems was that they no longer serve Pacific Cookie Company cookies. They now just have candy bars for snacks. My seat mate was a sari-wearing woman who was bound for Calcutta. As we watched the news, some East Indian jerk was getting run over by a tractor in front of thousands as a stunt. We then had a discussion about which culture produced the most crazies and agreed it was a worldwide illness. Harry Potter, even edited for airline screening, is still boring.

BERLIN, SO FAR. I've only been here three days; most of that time I've spent in the Prenzlauer Berg district where my rental pension is located. It's the working-class section of this metropolis. There are about 4.5 million people living in Berlin now, by the way. Believe me folks, we haven't even begun to see graffiti in Santa Cruz. Like panhandling, litter, jugglers and mimes, there are many worldwide oddities. But you've got to love a city where "Happy End" is a bestselling toilet paper. I've seen about two skateboarders, one miniskirt, few skirts at all, 3 million Levi's, and one Razor scooter. I've had lunch and hung out at Humboldt Universitat, which is right across the strasse from the Staatsoper, or state opera house, as we would say. There's no smoking in the university cafeteria, which is a blessing and a rarity in this city. Humboldt U was founded in 1810. Albert Einstein used to work there, so did Hegel, and Max Planck. Karl Marx and Engels were students here.

THE 10 WAGNER OPERAS. Never in history have all 10 of Wagner's major operas been performed in sequence, all directed and staged by the same team and in only two weeks. Beyond that, the orchestra is conducted (for all 41 hours) by Daniel Barenboim. As the (London) Independent tells it, Barenboim has made the rehabilitating of Wagner's music--especially in the eyes of his fellow Jews--a lifelong goal. Barenboim is a passionate Zionist raised in Israel and is an Israeli citizen. He conducted the first Wagner music ever played in concert in Israel, and was the first Israeli to perform in Palestinian territory. He had Israeli and Arab students come together to study with him at a summer school in Vienna. Because of all that, Barenboim is probably as loved and unloved as Wagner was in his lifetime by certain groups. He was married to cellist Jacqueline du Pre, in case you saw the movie Hilary and Jackie, which was one view of Barenboim's private life. Now he's principal conductor at Bayreuth, Wagner's own concert hall. He also is director of the Chicago Symphony Orchestra and dominates the Berlin musical scene, to again lift from the Independent. Last night he received several standing ovations at the conclusion of The Flying Dutchman, the first of Wagner's major operas. I'm one of three American journalists covering this Wagner Festival and am having a wonderful time. I sat between critics from Greece and Sydney, Australia. The guy from Greece spoke English and the guy from Australia was trying. I'll get into critiquing the operas next week, after I've seen more than one.

NATIONAL COLUMNISTS DAY. I'll miss all the parades and banners celebrating National Columnists Day which, as the world knows, is April 18. I just joined the National Society of Columnists and they keep me aware of such things.

ABOUT MOTORCYCLE NOISE. An attorney friend tells me that there is a noise law. He's looking into it and thinks it's Vehicle Code 27150, which requires all motor vehicles to be equipped with adequate mufflers and to limit their noise output to 92 decibels. Eighty decibels is about doorbell level and 95 is as loud as an electric drill. He's doing some research on this problem and will let us know just what the city might be able to do about it.

DON'T FORGET. There's a special time to remember Mary Holmes, one of our great humans, this Saturday, April 20, at 9:30am in the Fireside Lounge up at UCSC's Cowell College. While you're there don't forget to look in at Mary Warshaw's exhibit at Cowell's Eloise Smith Gallery. I saw it just before I left and it's well worth seeing.

MELODY OF CHINA. That's the name of this music quintet that will be playing authentic Chinese folk and contemporary music on Saturday, April 27, at 8pm at Resurrection Church, 7600 Soquel Ave. Cabrilho's Distinguished Artists Series is bringing them here. They'll be playing on such instruments as the erhu, bawu, xun, pipa, ruan, liuqin, and guzheng. Call 479.6331 for tickets and info. Since Bill Colvig died, nobody in town plays these things very much, and, yes, I still miss him. Speaking of which, the Cabrillo Music Festival is July 29-August 11 this year and, no, I have no idea how they'll top last year's Philip Glass production of The Photographer, but they probably will. Contact them at 426.6966.

IN CLOSING. When we Americans go to almost any other country it's boggling to see what our culture, which dates only about 300 years, has both given to and taken from other countries' ways of life. I'm not sure it's an even exchange. Tonight is Tannhauser, tomorrow is Lohengrin, then the four Ring Operas, then I'm spending two days in Bayreuth. Much more to follow.
---
Bruce critiques films ever other Thursday on KUSP-FM (88.9). Reach Bruce at [email protected] or at 457.5814, ext. 40.
---
[ Santa Cruz | Metroactive Central | Archives ]