Mini + Me

Allie Gottlieb gives the new, clean cars a road test
---
Allie's Rating System

| | |
| --- | --- |
| | CLEAN AND GREEN |
| | COMMUTER-READY |
| | ROCK-CARGO READY |
| | CUTE! |
| | AFFORDABLE |
---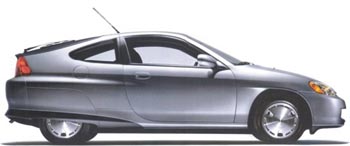 Honda Insight
I developed an instant distaste for the Insight's metallic shape-shifter in midmorph look. But the upsetting, beskirted design aside, this compact hybrid handles well. I drove a silver 2001 model up and down Capitol Expressway on a warm March day, enjoying the car's air conditioning and tight steering. The weirdest thing about driving a hybrid is how the car seems to die at red lights but is ready for action when the lights turn green. The most convenient thing about the Insight is that it recharges itself without needing to be plugged in.
According to Honda sales and leasing consultant Shawn Vaziri, the Insight is not for families (read: "No Natasha J. Sparky"), because it's small. It's a two-seater meant for commuters.
The Insight's environmental reputation is confusing because the car comes in super-ultralow emissions and just ultralow emissions. Kevin Brooks, who works at the Los Gatos Honda dealership, says that the automatic version is in the class cleaner than the standard model because it's marketed in California, where the classifications for clean cars are stricter than the federal government requires. The five-speed was built for the rest of the country, he says. This car, a rolling contradiction, made both Car and Driver online magazine's 10-best and 10-worst lists.
Vaziri is a nice man. He promised to buy me an Insight in any color I want if he wins the lottery.


PRICE: $19,520
SEATS: Two
POWER: Hybrid (1-liter gas engine and an electric motor)
MILEAGE: City, 61 mpg (standard), 57 mpg (automatic); highway, 68 mpg (standard), 56 mpg (automatic)
TOP SPEED: 100+
WHAT'S IT GOOD FOR? Friendless geeks. Commuting. It goes more than 600 miles on one tank.
CONCERN: Safety-test rap sheet--the Insight scored poorly on Insurance Institute for Highway Safety crash tests.
SIZE: L-13 ft., W-5.5 ft., H-4.4 ft.
HOV EXEMPT? No
---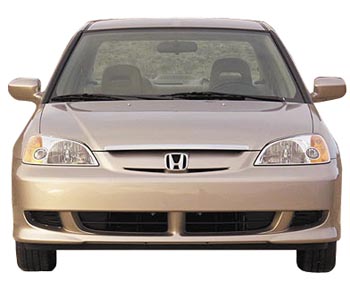 Honda Civic Hybrid
Honda came out with this second hybrid on April 2. None of the local dealers would let me test-drive it. "We only got one, and it's been sold," they told me. Instead, Los Gatos Honda's Kevin Brooks took me for a three-block ride in a pearl-blue Civic Hybrid before the nice couple who bought it came to pick it up. On this "test-drive," Brooks seemed to enjoy driving the car, and I found the passenger seat comfortable.
With lower fuel efficiency than the other frankencars, the Civic Hybrid pollutes more than the Prius and exactly the same amount as the all-gas. two-door Civic EX (an example of a regular Joe Honda Civic). Also, the nonhybrid Civic EX costs about $3,000 less than the hybrid. It appears that the reason to choose the Hybrid over the EX would come down to fuel economy. The EX gets 32 miles per gallon to the hybrid's 48 in the city, and 37 to the hybrid's 47 on the highway. Gassing up the EX all year costs about $662; the Hybrid costs about $468. If you buy the hybrid, you can expect to make that extra $3,000 back in 15 years.


PRICE: $19,990
SEATS: Five
POWER: Hybrid (1.3-liter gas engine and an electric motor)
MILEAGE: City, 48 mpg; highway, 47 mpg
TOP SPEED: 100+
WHAT'S IT GOOD FOR? Like the other hybrids, commuting on less gas. It saves about $200 a year, according to Honda.
CONCERN: Not very green for a hybrid. It's an ultralow emissions vehicle in both standard and automatic.
SIZE: L-14.5 ft., W-5.6 ft., H-4.6 ft.
HOV EXEMPT? No
---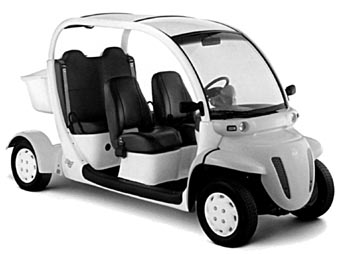 DaimlerChrysler GEM
Riding in this vehicle without the seat belt on is a great way to get rid of hiccups. The GEM I drove was a two-seater not OKed for venturing onto the fast-paced main street by the dealership. So I drove it around the Chrysler parking lot. It was zippy. The brakes weren't whiplash quick, like the Ford Th!nk's were, but still more responsive than the Sparrow's.
This vehicle is neither cute nor capable of handling speed and distance for my daily two-hour commute. But it would be good perhaps for traveling a short distance to and from work if you live somewhere that's connected by a web of 35 mile-per-hour roads.
One distinct advantage the GEM can lord over other electric cars is that it plugs into an outlet, without depending on an external charge box. But while it's in my range, the price tag seems a bit steep for something that couldn't be my only car.


PRICE: $7,902-$9,985 (for two or four seats)
SEATS: Two/four
POWER: Electric
TOP SPEED: 25 mph
RANGE: 35 miles
WHAT'S IT GOOD FOR? Golfing, toting drums v-e-r-y s-l-o-w-l-y
CONCERN: Might fall out of car because of big holes in sides. Is only legal on roads with a speed limit of 35 mph or lower.
SIZE: L-6-12 ft., W-4.5 ft., H-6 ft.
HOV EXEMPT? N/A (Not highway legal)
---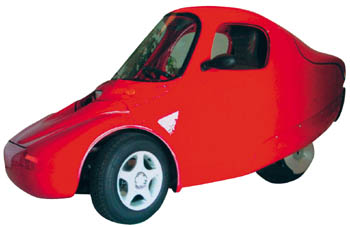 Corbin Sparrow
The Sparrow, an electric one-seater with a fiberglass body, hasn't realized its full potential. (No air conditioning, for instance, and it's built only for minitrips.) But what the micro-cutey lacks in maturity, it makes up for in fun. With its baby-buggy size and confused egg shape, this car belongs in Toon Town.
At the same time, were it not for the car's loud colors, its silent creeping capability would give it the perfect edge for conducting a drive-by shooting. The Sparrow seems speedy (despite its 70 mph limit). But that was a little scary, because its brakes seem to lag slightly. Basically, it's a racing golf cart without room for the clubs. It's so small that it doesn't need a rearview mirror. At least four Sparrows can fit inside a two-car garage.
According to dealer Anthony Luzi, the Sparrow costs 1.2 cents per mile for electricity, compared to 25 cents per mile for the average car's gasoline. It registers as a motorcycle and qualifies for motorcycle parking and cheaper insurance. The Sparrow evolved from an eccentric racing car built for Nike to an eccentric Domino's Pizza delivery car. It now has pie space in its trunk.


PRICE: $14,900
SEATS: One
POWER: Electric
RANGE: 30-60 miles
TOP SPEED: 70 mph
WHAT'S IT GOOD FOR? Getting the ladies. (One ride proved that. A tough-looking female security guard smiled approvingly at me as I hummed passed her in a lime-green Sparrow.)
CONCERN: Can't drive the ladies home.
SIZE: L-8 ft., W-4 ft., H-5 ft.
HIGH-OCCUPANCY VEHICLE (HOV) EXEMPT? Yes. (But I wouldn't want to be sitting on the freeway in a deformed fiberglass egg so puny that a VW Bug would tower by comparison.)
---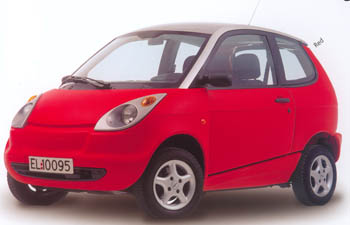 Ford Th!nk
This was both the most exciting and most depressing test-drive. The Th!nk was my favorite car to drive, in part because it steers and brakes well, but mostly because it's so cute. It looks like half a car. It's perfect for stop-and-go city streets. I drove the danger-red color Th!nk. But this was no dream date. Something went wrong with the car and it lost power, winding up barely able to drag itself up one steep San Francisco hill. According to S&C Ford rep Phil Valderrama--a jazz and blues guitarist currently on performing hiatus--the Th!nk's battery-charge gauge, which expressed 100 percent fullness, was broken. Later, he said he drove it again after recharging, and it was fine.
Regardless of bad luck and gauges, my dream car is imperfect. The fact that the tiny Th!nk requires nightly recharging and can still only handle a 53-mile trip rules it out as a possibility for anyone (A) lacking a parking space, (B) driving from San Francisco to San Jose or (C) packing a drum set.



PRICE: $199/month to lease
POWER: Electric
SEATS: Two
TOP SPEED: 56 mph
RANGE: 53 miles
WHAT'S IT GOOD FOR? Parking in small spaces. Silently sneaking up on people and honking.
CONCERN: Needs a parking space for nightly recharging. You have to give it back when the lease is up.
SIZE: L-10 ft., W-5 ft., H-5 ft.
HOV EXEMPT? Yes. (But a car this small probably shouldn't be on the freeway.)
---

Honda Civic GX Natural Gas Vehicle
This car's trunk is small, but Natasha could take up the back seat. As explained by the Natural Gas Vehicle Coalition, natural gas is cleaner than petroleum gasoline for a few overly scientific reasons: natural gas is about 90 percent methane and has "less carbon than gasoline and other petroleum motor fuels" and "almost no toxic components."
Honda's Kevin Brooks brought me to a PG&E filling station to see how it's done. He had intended for me to fill up the car so I could relay the experience to you readers. It was supposed to take less time than fueling up at a regular gas station because the natural gas comes out faster, he said. But directions on the pump were more complicated than the usual gas pump three-step. So Brooks took over, and the whole thing seemed to take as long as getting gas does in the normal polluting world. Also, Brooks was unable to completely fill the tank, because, like the hot water in your shower, the pump loses pressure after being used too much, and others got there before us.


PRICE: $21,800
SEATS: Four
POWER: Compressed natural gas
MILEAGE: City, 28 mpg; highway, 34 mpg
TOP SPEED: 100+ mph
WHAT'S IT GOOD FOR? Commuting near PG&E refueling stations
CONCERN: Too much thinking ahead about refueling
SIZE: L-14.5 ft., W-5.5 ft., H-4.5 ft.
HOV EXEMPT? Yes
---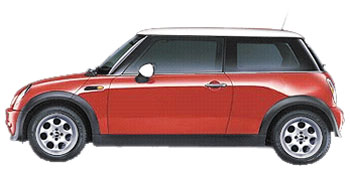 BMW MINI Cooper
If I could afford a new car, this would be it. This car is cu-ute! Upsettingly, it's protected by an ad campaign and high demand right now. To get to the freshly reissued British-made car for a test drive required five calls to two different dealers, one of whom was only interested in redirecting my questions to Mini's excessively animated website.
When I finally got my hands on the Cooper, however, test-drive guide Mini "Motoring Adviser" Jeff Mazzella was perfectly agreeable. But he seemed inexplicably offended by my comment that the car was cute, insisting instead that it be called "bulldoggish." As if to make his case, he even showed me an Internet ad for the Mini Cooper that featured a bulldog that sniffed the car's rear end.
Back in reality, the painfully adorable little car zips along, steers like a dream, brakes responsively and has enough space for Natasha with the back seats folded down. Despite the greater emissions (when compared with the other bachelors I tested), this would be the car for me if its cost more aptly reflected its size.
The car was redesigned to meet U.S. federal regulations between its 1968 withdrawal from and March 22 reintroduction into the American market. This car's reissue struck a meaningful chord with old-school Mini freaks who argue on the Internet over the pedigree of the redesigned car. "It is a nice car, but there is only one Mini, and that is the original," hisses one nonbeliever.
Other Mini fans embrace the now. Take San Mateo resident Lauryn Taylor, for instance. He's a 58-year-old tractor-trailer driver who, at about 6 feet tall, grazes the roof with the tip of his graying head as he test sits in the 2002 Mini Cooper's back seat. Taylor loves the Mini and has ever since it was first around in the United States in the late '50s and early '60s. He's one of about 400 people on the waiting list for the Cooper S, a more expensive, higher-horsepower, less fuel-efficient version that Mini hasn't even released yet in the United States.



PRICE: $16,850
SEATS: Four
POWER: Gas
TOP SPEED: 124
MILEAGE: City, 28 mph; highway, 37 mph
WHAT'S IT GOOD FOR? Speeding, parallel parking
CONCERN: Car is too pretty--would turn me into jealous girlfriend-type owner.
SIZE: L-12 ft., W-5.5 ft., H-4.6 ft.
HOV EXEMPT? No
---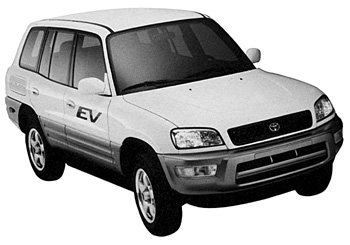 Toyota Rav4 EV
This car is pretty darn awesome. Its dealer liked to call it "the anti-SUV" because it's quiet and fumeless. "No oil changes, no starter motor, no radiator," boasts Toyota's Eric Doebert in Palo Alto. Of course, the same could be said for any electric vehicle. This one's special because it's an SUV with no exhaust. The RAV4 EV's presence is fairly unobtrusive for a utility vehicle because it's smaller than most. One plus for a bigger car like this is that there is good visibility because the seats are high up. There's also plenty of room for Natasha.
It's got a heater, air conditioner and CD player. But, alas, it's a luxury car--defined (and priced) as transport only for those who don't need it.



PRICE: $42,900!
SEATS: Five
POWER: Electric
TOP SPEED: 76 mph
RANGE: 100 miles
WHAT'S IT GOOD FOR? Toting drums if you're a rich rock star, which you aren't
CONCERNS: Need a parking space for nightly recharging. It costs $42,900!
SIZE: L-14 ft., W-6 ft., H-5.5 ft.
HOV EXEMPT? Yes
---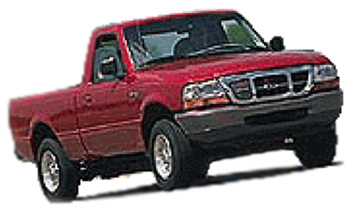 Ford Ranger EV
The Ford Ranger EV turned me into a little old lady. I became totally uncoordinated, forgot to turn off the blinker and missed my exit off the freeway portion of the test-drive. I think the problem was that I couldn't reconcile the fact that I was driving a giant pickup truck that was only supposed to stay below 56 miles per hour to keep from losing its juice too fast.
This truck's bragging rights start with its ability to haul up to 1,260 pounds, much more than Natasha weighs. It steers well, provides a quiet but bouncy ride and appears intimidating next to smaller vehicles, as any big pickup would. But its external charging box is at least twice the size of other electric chargers, like the Sparrow's and the Th!nk's, which seem to be roughly about 8 inches by 8 inches by 4 inches. Of course, even if I were to convince the people at my apartment management company to let me install a charge box on the apartment building (which would cost a couple hundred bucks for an electrician), I wouldn't be able to park close enough to plug the car in on street cleaning days or when the neighbors beat me home.


PRICE: $19,020
SEATS: Two
POWER: Electric
TOP SPEED: 75 mph, but you're only supposed to go 55
RANGE: 53 miles
WHAT'S IT GOOD FOR? Helping your friends move (short distances)
CONCERN: I can't drive 55.
SIZE: L-17 ft., W-6 ft., H-5.4 ft.
HOV EXEMPT? Yes
---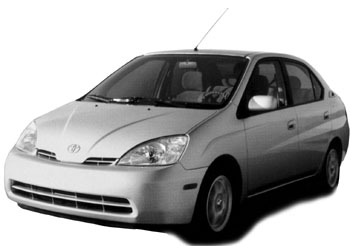 Toyota Prius
To co-opt the words of that beloved edgy prostitute played by pretty actress Julia Roberts, the Prius "corners like it's on rails." Therefore, it's good for doing doughnuts in the parking lot, something the Prius test-drive guide oddly encouraged. The Prius drives like any other good foreign car. Like the Insight and the Civic Hybrid, the Prius doesn't need to be plugged in. One difference between the hybrids is that the Hondas use gas most of the time, calling on their electric motors only during acceleration. By comparison, the Prius constantly shifts back and forth between the two power sources. The Prius is also notable in that it's the cutest of the hybrids. That, however, isn't saying much.
What's kind of annoying is that the car sends out mixed signals. For one thing, the ashtray displays a no-smoking sign (!). Capitol Toyota Prius specialist Art Agpalasin explains that Prius buyers generally don't smoke. (They're also, unlike myself, very educated and wealthy, he notes.) Agpalasin fails to clarify, however, why Toyota bothered to install an ashtray. Another thing: Sure the Prius saves you hundreds of dollars a year on gas because it's a camel. But it costs about $20,000. That's $4,000 more than my last three cars cost combined. But I guess that price worked for the estimated 8,500 people in the country who bought a Prius as of March 1.



PRICE: $19,995
SEATS: Five
POWER: Hybrid (1.5-liter gas engine and an electric motor)
MILEAGE: City, 52 mpg; highway, 45 mpg
TOP SPEED: 100+
WHAT'S IT GOOD FOR? Commuting. It goes almost 600 miles on one tank.
CONCERN: The service adviser for my mechanic, Mark Devitto at Tate Family in San Jose, doesn't know if they could fix whatever might go wrong with it. "We've never seen one," he said, "but we could probably figure it out."
SIZE: L-14 ft., W-5.5 ft., H-5 ft.
HOV EXEMPT? No
---
Surprise!
INTERESTINGLY, SOME regular gas cars pollute less than some hybrids. For instance, Honda sells a fuel-efficient Accord and Nissan's got the Sentra CA. Both are cleaner by California Air Resources Board standards than the Honda Insight manual transmission and the Civic Hybrid. The Sentra's tailpipe discharges six times less emissions than the ultralow-emissions vehicles like the Honda Hybrids. I didn't test drive the Accord because it's a mainstream car and there's nothing really new about it. I didn't drive the Sentra CA because it's available only to fleets and not individuals.
[ Santa Cruz | Metroactive Central | Archives ]