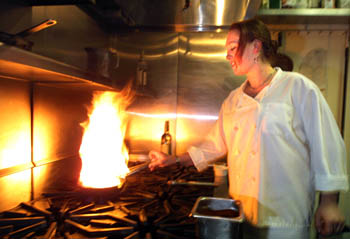 Photograph by George Sakkestad

The Fire This Time: Chef Della Rogers stirs up a hot time in the Clouds kitchen.

Cloud Chamber

An inventive chef brings a New American culinary attitude to the downtown's popular rendezvous saloon

By Christina Waters

ALREADY FILLING UP with the beautiful people, Clouds welcomed us last week with its usual warm atmosphere. Elena was making friends with a glass of Zabaco Ranch Zin '98 ($6) when I met her at the very popular bar. We moved to a semiquiet table in the back--this is a very lively place--and noticed with great interest some changes in the menu since our last visit.

Like its sibling, Sea Cloud, the downtown restaurant has taken a liking to New American themes with Asian accents. Lobster pot stickers, shrimp and soba salad--even a shrimp pasta "Kung Pao"-- now share the menu with grilled salmon and old-fashioned pot roast. Everything on chef Todd Parfitt's menu sounded tempting, so we munched on excellent francese, sipped the trusty zinfandel and made our choices.

I couldn't resist the grilled beef tenderloin ($22.95), the perfect partner for robust red wine, but Elena insisted on seafood. An entree of fresh halibut, crusted in cornmeal and accompanied by a rather daring choice of chick peas in cream with a tomato-cucumber salsa ($19.50), sounded nothing if not appealing. I breathed a sigh of relief when she ordered it (she can be so picky). We started with an evening special of seared scallop salad ($12.95) and another appetizer of Dungeness crab cakes ($9.95).

Beautiful presentation has always been a signature at Clouds. Still is. A trio of enormous, moist scallops arrived, each poised on crisp crostini topped with melted parmesan. A central fluff of frisee, as well as the entire border of the plate, had been sauced with brilliant magenta beet coulis--a fabulous combination with the sweetly salty scallops.

As impressive as this appetizer was, the crab cakes held their own. Two crisp, plump, yet delicate, cakes arrived on a sauce plush with coconut curry and bits of fresh corn--a refreshing yet hugely flavorful variation on what can often be a toss-away appetizer.

Our entrees were both confidently conceived and beautifully presented. Elena's halibut, gently enfolded and sautéed in a light dusting of cornmeal, tasted like a warm summer evening in the deep South. The garbanzo beans, laced with fresh asparagus tips and a hint of tomato, were an inspired accompaniment, and everything was enhanced by a fresh salsa applied with flair in a thick diagonal wedge along the surface of the halibut.

My steak was carnivore heaven. Cooked perfectly--to the exact degree of rare/medium rareness--it arrived with a square of sinful, creamy au gratin potatoes. Microslices of potato resplendent in butter and cream--nothing can hurt these primal flavors. Long spears of al dente fresh asparagus separated the plump filet and the wedge of potatoes. Despite the overcooked baby carrots, this was a thinking woman's steak dinner.

We wondered at the Clouds dessert list, which seemed flown in from another planet--a planet of gooey children. "It's time to reinvent this dessert list," Elena pronounced after we caved in and ordered a hot fudge sundae made with gelato ($5.95). OK, it was good. Very good. Good exactly as you wish a hot fudge sundae (the hot fudge was hot, too) to be, and it was made with much better ingredients than usual, especially the toasted nut topping. The gelato added a spin of sophistication to this old soda fountain standard, and it even worked with a glass of vin de glaciere ($5). Elena's spoon stopped only when the gelato was gone. She was purring by the time the check arrived.
---
Clouds Downtown
Address: 110 Church St., Santa Cruz
Phone: 831.429.2000
Hours: Noon-10pm daily, until 11pm on weekends
Chef: Todd Parfitt
Service: **1/2 Very friendly and helpful, the staff appears hard-working; service slows down when the place fills up
Ambience: ** 1/2 Contemporary saloon with dining areas, Clouds welcomes the cocktail crowd as well as diners with a full bar
Cuisine: **1/2 Smart new items add culinary appeal to the Cal-Asian fusion menu. High marks for attractive presentation; an updated dessert list would match the fine entrees.
Overall: There simply would be no downtown Santa Cruz without Clouds, a better-than-ever hearth for drinks and dishes
---
[ Santa Cruz | MetroActive Central | Archives ]