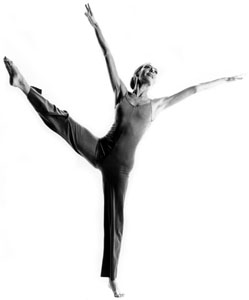 Move It! Choreographer Tandy Beal performs during National Dance Week.





Judging Izzie

Controversial awards honor a dizzying array of Bay Area dance talent

By Marina Wolf

IT'S SAD BUT true: no one will ever wage a lengthy court battle over illegal distribution of choreography on the Internet. But many dancers long for some kind of public recognition. For them, and for Bay Area dance fans, the Isadora Duncan Dance Awards were born.

The Izzies, as they are affectionately called, were founded in 1986 by Dance Bay Area, which under various names had been the earliest of the region's service organizations for dancers. The awards quickly became an essential part of the Bay Area's celebration of National Dance Week; this year they take place on Monday, April 23, at San Francisco's Performing Arts Library and Museum (see sidebar for more about the awards and about local National Dance Week events).

Then, as now, one of the primary functions of the Izzies was to address what local dancers saw as a serious lack of attention on the part of the critics.

"I have to contrast it to the theater community in San Francisco, where the critics themselves give awards and constantly talk about the local scene," says Virginia Matthews, chair of this year's awards committee. "There would be years when our dance critics--maybe one or two of the articles out of the whole year would be local. Instead they did interviews with Merce Cunningham, or talked about Alvin Ailey, really concentrating on dance from out of town."

Bodies Eclectic: Performances and classes mark local celebration of National Dance Week.

Wayne Hazzard, director of the Cowell Theater in San Francisco, remembers the charged atmosphere surrounding those first awards. "There was a lot of excitement about the idea of acknowledging the breadth and depth of talent that's really always been here, in an art that doesn't get a lot of recognition," says Hazzard, who headed up the service organization Dancers Group for 11 years until last year, and before that danced for 20 years with Bay Area modern companies.
"Probably all artists feel that way," he continues. "But dancers in particular feel ignored. People wanted a sense of validation and a way to acknowledge local dancers doing truly amazing work."
Finding that amazing work is not an easy task. Over 200 dance companies call the Bay Area home, and the Izzie award committee must see as many as possible of those companies in action. Over the course of a year, the 15 to 20 committee members, themselves active dance professionals, see at least 20 live performances. Works under consideration range from the most classic Balanchine ballet to the most unscripted improv event. Virtually anything goes, as long as it's performed by Bay Area dancers.
Prize Performances
IN SEPTEMBER the committee begins reviewing videos and discussing the field of contenders, and eventually arrives at a list of four to six nominees in each of seven categories: choreography; individual, ensemble and company performances; revival of a work that's been out of local repertory for at least three years; sound (music or text); and visual design (sets, costumes and/or lighting). Winners are announced at the awards ceremony at the beginning of National Dance Week.
But how the awards should be decided is controversial--even within the awards committee itself.
"We're still looking at how divisive it might feel to have nominations," says Matthews, adding that she sees many dancers listing their Izzie nominations in program notes and grant applications.
"Do people feel bad that they don't win?" she wonders. "We don't want anybody to feel bad. This is supposed to feel good."
Some community and committee members have suggested adding more categories and spreading the awards around, making it a sort of "Best of Bay Area dance." Others, including East Bay dance writer Paul Parish, have argued for weakening the importance of categories, or eliminating them all together.
"If people are hanging from bridges, and it's great, then they should be awarded, rather than chopping things up into categories and if it doesn't fit, they don't get considered," Parish says.
So how should one assess the artistic merit of people hanging from a bridge? "In their own terms," Parish says firmly. "What is this a metaphor for? How effectively is that metaphor conveyed? Because different people can hang from a bridge in very different ways."
Hanging from a bridge is perhaps an extreme example of a dance performance, and one that only Volkswagen Beetles are doing these days. But it's a good metaphor to underscore how wide a spectrum of dance genres lies before the judges.
The list of this year's nominees is--to say the least--eclectic. For example, the individual category pits Uli Schmitz, a member of the small but rising East Bay Axis Dance Company, against Julie Diana and her performance in San Francisco Ballet's Romeo and Juliet. In the company performance category, Axis Dance again appears, next to the Diablo Ballet and a Sudanese dance program of Harsanari.
Parish, for one, doesn't find the apples-and-oranges nature of the nominations to be a real problem. "If a thing is delicious, the fact that it's an apple or orange is secondary," he says. "You have a bad apple at the market? Go home with oranges this week."
But others remain understandably skeptical about the entire concept of ranking dance performances against each other. "It's sending mixed messages," Hazzard says. "'We want to honor you, but we're judging you. You've done good work, but really not as good as the work of the person we're giving the award to.'
"I'll still go this year," Hazzard hurries to add. "I still think it's a great thing. But I really believe that without challenging itºself to change, the Izzies will continue to be controversial. That's the nature of doing awards."
[ Santa Cruz | MetroActive Central | Archives ]