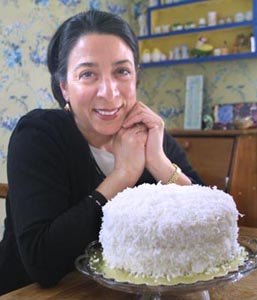 Cake to Ache For: Joan Colonna shows off one of her coconut marvels.

Photograph by George Sakkestad





Joan Does Coconut

Here is the coconut cake that everyone has dreamed about but never achieved

By Christina Waters

THOSE OF YOU who enjoy drooling all over your computer keyboard might want to visit my new favorite food-fantasy website--www.cakesbyjoan.com--and get your pulse racing. The site displays one of the authentic homemade coconut cakes created by caterer/baker Joan Colonna and available to ship anywhere in the U.S. of A.

Colonna, a California Culinary Academy graduate who has done years of catering in the Santa Cruz area, had the nerve to walk into the Metro Santa Cruz offices last month bearing the most gorgeous coconut-encrusted cake we'd ever seen. Gift-wrapped to please even a Cleopatra, the cake was so dense and moist that a knife could barely penetrate its buttery interior. But it did, and we all feasted on what was without a doubt the from-the-ground-up cake that everybody's mother tried to make back when Betty Crocker was more than just a rumor.

Colonna admits she'd been hoarding coconut cake recipes for years until she decided to try one. "I just keep fooling around with the recipe and modifying and modifying, and of course my friends were happy to taste test. When finally I hit it, they all told me, 'You need to sell this!' So I thought I would." And she does. The coconut-intensive cake (the secret to the incredibly rich texture is a special, creamy coconut milk) shipped beautifully, and now Colonna says it's been quite a hit, especially around holidays. Like Valentine's Day. And Easter. And (yes, it is just around the corner) Mother's Day.

You can sample Joan's colossal coconut cake in Aptos at Surf City, Aptos Coffee Roasting Company and Pacific Roasting Company. It's available in three sizes--a 3-inch child's version, a 5-incher (serves four to six) and a gala 8-inch cake that will put a dozen adults into an altered state. Prices range from $5 to $25, not including giftwrapping, shipping and handling. Call Joan Colonna at 421.9988 or email her at [email protected]. Let me put it this way: This is the finest coconut cake you will ever taste. Life is too short not to.

Super Bowl and Azur Brunch

Stop complaining about not being able to find a decent bowl of soup and head over to the Holy Cross Church Parish Hall on Thursday (April 19) for the second annual Soupline Supper. Proceeds benefit the Homeless Services Center, which helps distribute needed foods, shelter and transitional services to the homeless. Tickets are $15 per person ($30 per family), and 100 percent of the proceeds will benefit the programs. All the food is donated. From 6 to 8pm, guest "ladlers," including Supervisor Mardi Wormhoudt and Santa Cruz Mayor Tim Fitzmaurice, will serve fine soups, breads, desserts and beverages generously provided by Bittersweet, Blacks Beach, Alfaro's, Beckmann's, the Buttery, Blue Spoon, Caffe Bella Napoli, Casablanca, Emily's, Hindquarter, Manuel's, Oswald, Avanti, Shadowbrook, Zoccoli's and many, many more. It'll be delicious fun for a very worthy cause. The Parish Hall opens at 5:30pm, and there will be a silent auction, featuring restaurant gift certificates and other gourmet goodies. For details, call 458.6020. Tickets will be available at the door.

Restaurant Azur (located in the former India Joze space) is now serving Sunday brunch from 10:30am to 3pm. When out-of-town guests arrive on the weekend and demand a designer Mediterranean brunch experience, you know what to do. Make reservations at Azur, 1001 Center St., Santa Cruz, by calling 427.3554. Beautiful food, nice wine list--classic coastal experience.
---
Email me your hot food tips, new favorite restaurants, discoveries, gripes and sudden culinary insights. You tell me--I'll tell everybody: [email protected]
---
[ Santa Cruz | MetroActive Central | Archives ]