[ MetroActive Central | Archives ]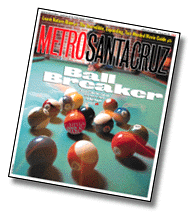 This Week


April 18-24, 1996

Cover
Ball Breaker: Aaron Nadler takes his
best shot at big-time pool.

News
Nuz: The first breakfast, medi-pot luck, broadcast news.

Leave Nature Alone: It's a dirty, lowdown shame how Congress tramples over the peoples' love of American wilderness.

Arts & Entertainment
Movies: Reviews and show times for Santa Cruz County.

Talking Pictures: Feminist theologian Patricia Lynn Reilly discusses the implications of the Oscar-winning Antonia's Line.

Dizzy Holiday: Santa Cruz's 'real deal' pays musical tribute to a vocal legend, the lady who sang the blues.

Notes From the Underground: Might makes right, punk en espanol, plus upcoming shows.

Pissed!: Real musicians get screwed by the corporate machine -- so what's new?

Menu
Up Front and Personal: SC's original brew pub keeps the lighthouse glowing with fine beer and seaside pub grub to match.
---
This page was designed and created by the Boulevards team.
Copyright &copy 1996 Metro Publishing and Virtual Valley, Inc.