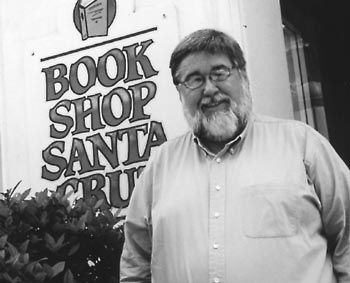 SLAPPed: Bookshop Santa Cruz owner Neal Coonerty calls a subpoena from soon-to-be competitor Borders Books a harassment tactic.

Nüz

Hard Ball

When Redtree Development proposed a Borders bookstore for the ground floor of its new building at Soquel and Pacific in downtown Santa Cruz, Bookshop Santa Cruz owner Neal Coonerty's suggestion that Borders may have targeted him were pooh-poohed.

In his role as president-elect of the American Booksellers Association, the national trade association of independent booksellers that is suing Borders and Barnes & Noble for alleged illegal monopolistic practices, Coonerty is the ABA's point man. In recent years, thousands of ABA members have closed their doors, in part due to the deals alleged in the lawsuit.

Now, Coonerty has been served with a subpoena from Borders for the past eight years of records, once again proving the old adage that just because you're paranoid doesn't mean they're not out to get you.

The subpoena requests, among other things, all financial records; detailed plans to compete against Borders, including budgets; and pricing policies. Coonerty says that giving up the sensitive information could harm his business and "overwhelm the staff for a month."

"We're outraged that they are taking this tactic," he tells Nu­z. "We've spent 34 years in this community and we have a relationship with the market. It's not fun to open that all up to the new competitor whose aim is to take that market away."

The information is supposed be kept confidential by the attorneys for Borders, but Coonerty is uneasy. "The information is protected under a court order, and our attorneys are confident they will follow it," Coonerty says. "I wish I was as confident."

Coonerty says the ABA lawyers will try to get the scope of the subpoena reduced. The suit is scheduled to go to trial in April 2001.
---
Innsult
All's not well in hate-free land. Participants in a recent conference on race relations at UC-Santa Cruz charge that several local motels discriminated against them because of their age and race.
Over the weekend of April 7, Cynthia Gómez, a member of the Oakland-based October 22 Coalition to Stop Police Brutality and the Criminalization of a Generation, was a workshop presenter at the conference hosted by MEChA, a national organization of Chicano and Latino students.
After a long day of lectures, Gómez and nine other attendees tried to check into the Santa Cruz Comfort Inn at 110 Plymouth. Candy Angel, a Cal State Northridge student and MEChA chair, says she had reserved two rooms with queen-size beds for two nights.
Upon arriving, however, Angel says she was told the motel only had one room reserved for one night. Angel argued the point with the desk clerk until the motel finally found a place for everyone to sleep--or so they thought.
"When Cynthia and [another student] came in to get a room, they completely denied them a room," Angel says. Gómez says the group offered to pay extra per person, but co-owner Kirit Patel refused.
"I asked can we go to a different room and he said there weren't any other rooms available," Gómez says. "I think he got nervous because we were Mexican and were young people in baggy clothes and backpacks. I don't care all that much [whether it was race or age], it still hurts to be treated that way."
Only Angel and one other MEChA member slept in the two-bed room that night.
The following morning, when MEChA members from other motels arrived at the Comfort Inn to drive Angel to the conference, Patel, they say, refused to refund Angel's room deposit.
"He said he wouldn't give us our deposit back because we had so many people staying with us and we had loud music." Angel says there were only two people and no radios in the room, and that before allowing her to check out Patel went back to the room with her and counted the towels and pillows.
"Were we being discriminated against because we are minorities or because we are students?" Angel wonders. "No matter how progressive a city might seem there are still those individuals who are continuing the cycle of racism, of prejudice, of stereotyping, and that is a reality that we, as minorities, deal with every day."
Patel says he has no recollection of the incident, but denies discriminating against anyone. "Nobody is denied unless they don't have a room [reservation] here," Patel says. "Nobody can tell us what kind of policy we can make here. We do not make our policy by anybody's age or race."
Gómez and the others went to a second motel--she doesn't remember the name--that had two vacant rooms. Gómez says she walked out to the parking lot to collect money, and by the time she walked back to the desk, the clerk said someone had called and reserved both. Gómez and crew tried a third motel and were again turned away.
Gómez's group eventually spent the night at the Islander Motel. Meanwhile, another group of 14 MEChA members was turned away by yet another motel when their room reservations were somehow lost, Gómez says.
Gómez says they experienced the same treatment the following night, although she can't remember the motel names. She doesn't plan to return to the city by the beach anytime soon.
"Each was an individual case, but when you add them up, the whole experience was that we were being treated like criminals just for trying to find a place to stay."
---
N2K Is OK
Watsonville has them. So does San Francisco. Now, the leaders of Neighborhoods 2000 say they have gathered enough petition signatures to qualify an initiative for the November election that would divide Santa Cruz into seven city council districts. The signatures will be presented to the city clerk this Friday, the deadline.
As a charter amendment, the petition requires signatures from 15 percent of the city's registered voters--or 5,025. N2000 Treasurer John Lisher, owner of Artisans Gallery on Pacific, estimates the group has gathered about 8,000 total signatures, and that at least 5,500 of them could pass muster with the city clerk.
District elections would not take effect until November 2002, when districts 5, 6 and 7 would be up for election. There's just one wrinkle: The three current council members whose terms are up that year--Keith Sugar, Timothy Fitzmaurice, and Christopher Krohn--all live in districts 3 and 4 and will likely have to move if they want to seek re-election.
"My sense is that if the measure will be in effect, they will have to be residing in one of the [open] districts," says Assistant City Attorney Tony Condotti.
---
[ Santa Cruz | MetroActive Central | Archives ]