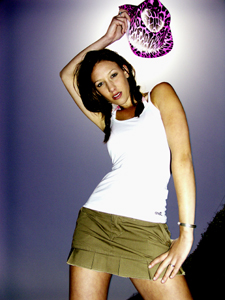 Sofia/Kelly Halter Bikini top $42. O'Neill/White Racerback top. Volcom/Coppola Skirt $44.

Spring 2005 Fashion

Surf City Divas

As our hotter-than-hot fashion issue illustrates, if there's one thing our city's got, it's the edge on surfside fashion

Photos By Dina Scoppettone

Recently, there's been a lot of talk about whether Santa Cruz or Huntington Beach is the real Surf City USA, so much so that the city of Santa Cruz plans to challenge any attempt by Huntington Beach to trademark the title and is trying to organize a "surf-off" between the two cities. Heck, our Mayor Mike Rotkin has even been interviewed about the "name" issue by the BBC and London's Daily Telegraph. Still, ask a surfing old-timer like Harry Mayo and he'll tell you that "Surf City" isn't so much a name or a place, but a saying, or a state of mind.

"When the surf's up and the waves are going off, you're in surf city, dude, wherever you are--and that could be Davenport," Mayo told Metro Santa Cruz last week. Fair enough, but from a fashion point of view, we think Santa Cruz definitely has the edge on the Surf City label. For instance, last year we interviewed Mayo about a T-shirt that fashionista Paris Hilton was modeling on the cover of Elle--a T-shirt that was a very expensive replica of the $4 Levi Strauss originals that Santa Cruz Surfing Club members like Mayo, Bill Grace, Alex "Pinky" Pedemonte and Bob Gillies were wearing back in the 1940s. Now, that's ahead of the curve.

(Levi Strauss promised Mayo and his boys of summer their very own complimentary copy of said replica, but one year later and they're still waiting--a story you can ask about next time you're at the Santa Cruz Surf Museum, which is where Mayo and his octagenarian surf buddies volunteer.

If that isn't enough to convince you of Santa Cruz's superior surf fashion credentials, consider that wet-suit inventor Jack O'Neill moved his San Francisco-based Surf Shop to Santa Cruz in 1959, where he has been pleasing locals ever since. O'Neill says he was inspired to make wet suits to counter the ice cream headaches that suitless/hatless surfers suffer in our cold-water waves. So, he began experimenting with flexible foam he stuffed into bathing trunks from San Francisco's Sutro Baths. His first effort, O'Neill recalls, "got a lot of laughs," but soon he was the one laughing when he started working with neoprene, which was then being used under the carpet of DC-3s.

Fast-forward to 2005. O'Neill's original store has morphed into an empire which sells wet suits to hundreds of stores and distributors and is the largest wet-suit manufacturer in the United States. Along the way, O'Neill has branched out into surfside styles to satisfy the fashion cravings of even the pickiest Surf City divas.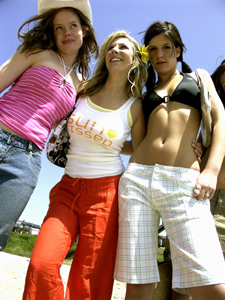 Hurley/Ranch White Hat $24. O'Neill/Pink Jade Cover Halter $28. O'Neill/Yellow Racer $20. O'Neill/Sun Kissed $19.50. Lucy Love/Orange Buddha Pant $52. Hurley/Bermuda Shorts $48. Roxy/Black Halter Bikini top $44.

Quicksilver/Flight Jacket Trunks $100. Sunglasses are DY-Carame $70. O'Neill/Mutant Flex Trunks $48. Volcom/Volka Dots Trunks $48. Sunglasses are Pappa G's.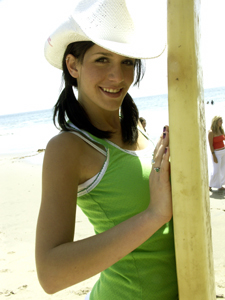 Hurley/Ranch White Hat $24. Roxy/Kiwi Kitty Racer T-Shirt $29.50. O'Neill/White racerback $20.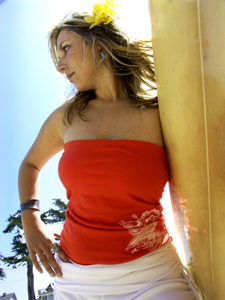 O'Neill/Orange Spring Fever Tube $24. Lucy Love/White Roll Down Capris $44.
---
Hair courtesy of stylist Jet from Miss Mae's House of Beauty. Clothes/accessories courtesy of O'Neill's on Pacific Avenue. A special thanks to the "hunks" from Aloha Island Grille who provided the male energy, and to Brittany, Jessica, Lindsey and Rebecca who posed patiently for hours at The Cove.
---
[ Santa Cruz | Metroactive Central | Archives ]