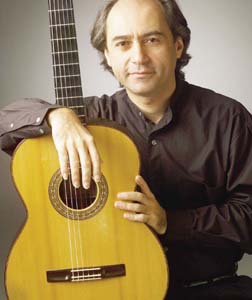 Doctor Guitar: UCSC guitar professor Mesut Özgen used to be a Turkish physician.

Turkish Delight

Guitar master Mesut Özgen's use of classical Turkish melodies inspires a local following

By Scott MacClelland

This Saturday, Mesut Özgen will perform a program of "folk-inspired" classical guitar music at Resurrection Church in Aptos. Professor of guitar at UC-Santa Cruz since 1998, Özgen has performed in concert and master classes throughout the United States, in Spain and in Turkey, and has developed an enthusiastic local following as well.

Özgen's odyssey to Santa Cruz followed a highly unusual path, especially for a Turkish physician. Born in the small city of Malatya, near the Euphrates River in mountainous eastern Turkey, he pursued his medical education in Ankara, and returned to multiethnic southeastern Turkey to practice medicine--for seven years--and gain fluency in Arabic and Kurdish, the better to effectively treat patients there. While in medical school, he took up the guitar and, though self-taught, began performing and teaching the instrument at Gazi University School of Music Education and at Hacettepe University.

In 1989 and 1990 Özgen attended the International Paco Peña Guitar Festival in Cordoba, receiving encouragement from the likes of such guitar luminaries as John Williams, David Russell, Manuel Barrueco, Craig Ogden and Benjamin Verdery, who invited Özgen to join his class at Yale University. Özgen completed both his master of music degree and his artist diploma there, and, as a doctoral student, worked as a teaching assistant at Arizona State University between 1994 and 1998.

In a phone interview, Özgen explained that, unlike Western classical tradition's equal-tempered scale and harmony, Turkish classical music is monophonic and improvisational. Based on a singing style using the maqam tradition, it divides the octave into 27 tones, semitones and microtones.

On this program, Özgen will play two of his own compositions, Anatolian Fantasy and Tango Cruz, which include Turkish melodies and ornaments. The fantasy makes no use of actual folk song material, unlike Carlo Domeniconi's Variations on an Anatolian Folk Song, "Uzun ince bir yoldayžm," also scheduled.

The program opens with Christopher Pratorius' three-movement sonata, Ondas do Mar de Vigo, based on a 13th-century Spanish troubadour song, written for Özgen. (Pratorius is a graduate from the music program at UCSC who lectures there and is composing a concerto and an opera.) Rather than variations on a theme, Robert Beaser's Shenandoah seeks to reflect the narrative words of what folklorist Alan Lomax described as "the most beautiful of all sea songs in English." Misionera by Fernando Bustamante is a "standard" in the repertoire of Paraguayan harpists, here arranged by Jorge Morel. It depicts a woman from Misiones, birthplace of legendary guitarist Augustin Barrios.

The program concludes with Sortija by Pablo Ortiz and Verdery's Be Kind All the Time for guitar and electronics, paper clips and chopsticks, both composed for Özgen. Visual designs and videos by Gaben Chancellor and Gustavo Vazquez will highlight the program.
---
Mesut Özgen, Saturday, April 23, at 8pm at Resurrection Church, 7600 Soquel Drive, Aptos. Tickets $18, $14 seniors/students.
---
[ Santa Cruz | Metroactive Central | Archives ]