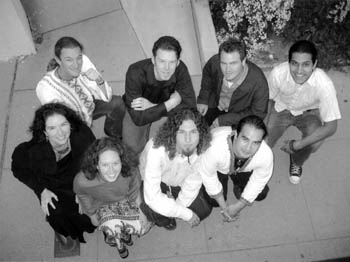 Speaking the Same Language: Universal Language has become the center of the local world music scene by creating the Med's Global Grooves on Thursdays.

Universal Frequency

Santa Cruz's Universal Language is lighting the fusion on world music with an unusual sound and a weekly showcase of global grooves

By Peter Koht

Sometimes a chance meeting can radically alter the course of an artist's career. Or, to put it another way: One day a singer can be content crooning at open-mic night about loves lost and found, and the next day find himself in a hard-driving Latin band.

Moshe Vilozny found himself in that very situation when he had his musical worldview shifted by David "Pacha" Alvarez in November of 2002. Vilozny had just returned from Cuba and was beginning to explore traditional Afro-Cuban rhythms in Santa Cruz when he met Alvarez, who had just moved to this area from Chiapas, Mexico.

"David is an outstanding percussionist with a deep understanding of both Mexican and Caribbean music. His energy onstage is very giving and his excitement is infectious," says band mate Renzo Staiano.

With the promise of a new musical energy to back up his lyrics, Vilozny was compelled to move away from the melancholy espresso underground, and to form the group Universal Language.

"The common denominator of our sound is the Cuban son," says Vilozny. "Everyone in the group has gone to Cuba at some point or been deeply involved in studying that music. It is a solid base to explore other genres from, and some of the rhythms contained in it can be applied to almost any other genre."

The group does both traditional material and mixes genres within single songs, combining such diverse musical material as Hebrew lyrics, Afro-Cuban montunos and hip-hop all in a single arrangement.

"We have an African groove with a Cuban rumba conga behind it. It works so well together that you don't even notice the rumba until we all drop out and leave Pacha alone and then he sings another song that he wrote," says Vilozny.

Vilozny describes the result as "fusing different cultures and borrowing grooves from different cultures and putting it on top of grooves like hip-hop and reggae. Basically taking traditional dance music and laying it down with our own twist."

The group came together fairly quickly. Vilozny recruited his high school friend Ethan Sanchez, who was already playing with Alvarez in Carne Cruda. After working with trumpeter Jon Cavanaugh on a recording project at Cabrillo, Vilozny asked him to sit in at the first cafe show that Universal Language played. After that night he was asked to become a permanent member. With the addition of the extraordinary local drummer Nate Fredricks and Vilozny's sister, Noga, on backup vocals, the group was ready to play clubs and had its first big show on Thursday, Oct. 2, 2003, at the Mediterranean Club in Aptos.

"The show sold out and the booking agent at the club, Abi McKee, was so excited about the vibe that he asked us if we would play a weekly show there," says Vilozny.

Initially, though, Vilozny was not sold on the idea of a weekly engagement, thinking, "It's Santa Cruz, we can't play every week at the same place, people are going to get burned out." So instead of playing himself, Vilozny took control of booking on Thursday nights and created the Global Grooves showcase, which features the best in locally available world music.

Overall, Vilozny says, Universal Langauge is trying to bring a "message of hope."

"We don't want to depress the crowd or be super serious," he says. "We just want to leave the crowd with a good feeling at the end of the show. We don't take ourselves too seriously."
---
Universal Language plays Saturday, April 17, at 8pm at the Kuumbwa with Radioactive. Tickets are $8 in advance, available at Streetlight Records. They will also appear live on Channel 27's Idle Hands show on April 30 at 7pm.
---
[ Santa Cruz | Metroactive Central | Archives ]