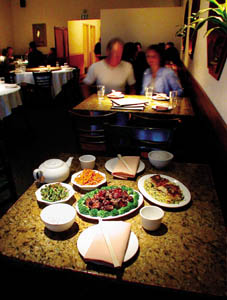 Photograph by Stephen Laufer

Dinner Theater: Mood lighting and gourmet Chinese make for good high culinary drama at O'mei.

My, O'mei

A local landmark delivers molten flavors and stylish service, to the surprise of absolutely no one in Santa Cruz

By Christina Waters

When it was a kung pao world and we were all just starting to have ourminds expanded by Szechuan cuisine, O'mei began its reign. And now that Yuxiang everything has become as familiar to the West Side as surfing and roadwork, O'mei still faces the sun and does what we depend on it to do--flatter our taste buds, impress our guests and give good value for our money.

If anyone asks, even in jest, "Do we keep heading for O'mei just because it's handy?" I retort, "It's the food, stupid." Firecracker bright, seasoned with such sophistication that your taste buds will feel they've finally come out of the closet, this is food worth crawling on your hands and knees for. Dinner portions last week were abundant--nay, lavish. They were generous enough to provide a second dinner, equally to die for, the next night. My bank account thanks O'mei owner Roger Grigsby.

Over the years I've had a series of culinary crushes on dish after dish at O'mei: tea-smoked sea bass; calamari in black bean sauce; lemon pipa tofu balls (as delicious as its name); black pepper beef with watercress; and the gossamer, sweat-inducing red oil dumplings. O'mei has given me and the rest of the town some of the most delicious gastro-memories on record. So I wasn't one bit surprised that, from start to finish, my latest (and probably 200th) meal at O'mei was equal to its well-deserved reputation.

For starters, one of the great waitpersons in Santa Cruz, let's call him Matt, took us to the power niche in the third chamber, past those moongate portals filled with amazing botanicals and into a corner gleaming with polished natural granite. From the little dish openers (such a brilliant idea, and a godsend for cranky low-blood-sugar diners) we chose an addictive tangle of green beans spiked with garlic and fermented wheat gluten, which as you know tastes better than it sounds ($3.25).

A glass of Storrs Chardonnay '00 ($7.50) was filled with pears and delicate citrus notes, and Jack's black cherryesque Morgan Pinot Noir '99 ($7) was on target with big-shouldered provincial Chinese entrees. An opening Szechuan "salad" of chicken, peanuts and crunchy cucumbers in fiery red oil worked our taste buds into a happy lather ($6.95). Wonderful textures fueled this entree-sized opener, and Jack kept returning to the fiery appeal of this one-dish study in balance and seasoning. It was no stretch to imagine this dish having fueled village dining in some faraway province. Beautiful, it nonetheless tasted convincing.

Matt was working the room, always moving, always noticing who needed what, and always communicating. A real pro. Steaming fresh from the wok, our entrees arrived along with bowls of impeccable, aromatic jasmine rice. One platter overflowed with a toss of fresh asparagus and sliced beef glistening in black bean and garlic sauce ($11.95). O'mei's seasonal menu proves that asparagus in early spring is unbeatable. Another dish proved sensational--plump prawns and velvety Chinese eggplant liberally romanced Yuxiang style, sort of like an Asian Creole fantasy of sweet, sour and earthy ($13.50). This dish packs both heat and finesse and that's exactly how we like it. Chopsticks roamed from dish to dish proving the postmodern truism that beef, prawns, asparagus, garlic and red chiles make very happy bedfellows. Since spicy food cries out for something sweet, we finished up with a shared order of the nifty O'mei apple blossom ($4.75). Warm diced apples, creamy vanilla ice cream, crisp pastry and a serious dusting of cinnamon. An enlightening finish.
---
O'mei Restaurant
Address: 2316 Mission St., Santa Cruz
Phone: 831.425.8458
Hours: Lunch 11:30am-2pm Mon-Fri; dinner nightly 5:30-9pm, till 10pm Fri and Sat
Ambience: **1/2 The noise level cuts into interior coziness and sensitive décor.
Service: *** Eyes in the backs of their brainy heads help this staff stay on top of a demanding crowd.
Cuisine: ***1/2 That extra half star is for unparalleled consistency--flavors from a Middle Kingdom heaven. The Yuxiang shrimp is a destination dish.
Overall: If it's Santa Cruz, there must be O'mei. Period. Two decades of excellence--remarkable.
---
[ Santa Cruz | Metroactive Central | Archives ]