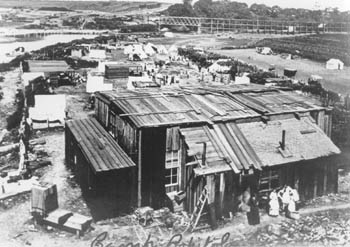 Covello & Covello Historical Photo Collection

Camp Capitola: This was Capitola around the time that Frederick A. Hihn was trying to figure out how to make big money from Capitola by the Sea. It's almost a fact now that Capitola was named after the romantic heroine of the Capitola novels. You can see the novels at the Capitola Museum. Folks used to believe that it was named Capitola because locals wanted the state capital there, but not anymore.

Bruce Bratton

BERLIN COMMUNIQUE NO. 2. When you realize that this production of 10 of Wagner`s finest operas was more than a decade in the planning and that the finest of veteran Wagner operatic singers from all over Europe were enlisted, you know it's a once-in-a-lifetime experience. The singers and the orchestra here at the Berlin State Opera house know it too and it shows. Every language in the world is spoken in the audience and the clothes range from exquisite kimonos to some very unusual formal jackets and evening gowns like we don't see much of in Santa Cruz. Me, I'm wearing a black suit and necktie and nobody's laughed yet, so I guess it's OK. The staging by Harry Kupfer is controversial and traditionalists don't like it. He doesn't go for effect but for what he believes is the essence of Wagner's ideas. I think it's some of the finest stage design and costumes I've ever experienced. It's like what Fellini did to films, and the settings are in a nondefinable future time not unlike Beckett's Waiting For Godot or Endgame. Tomorrow night is Gotterdammerung, then three days in Bayreuth to see Wagner's own opera house. After that, Tristan and Isolde, then Meistersinger and concluding, of course, with Parsifal. That will be enough Wagner for several weeks.

LOCAL THEATER CRITICISM. Many, many thanks for the response to giving zingers to local theater companies when deserved. Only one email had a negative angle. This was from a director who said live theater business in Santa Cruz is now and has been pretty poor. Too many folks just don't go to live theater now. If I start knocking any plays or events, even if warranted, it could hurt business for all play groups. I got encouragement from a local newspaper friend who told of the ridiculous and really hostile reaction when she wrote a less than favorable report on an area production. So as soon as I get back from Berlin I'm doing the real reaction thing to any production I see that plays more than one weekend. By the way, neither of those two really bad plays were The Most Fabulous Story Ever Told or The Laramie Project. They were full-on good theater.

WHICH REMINDS ME. Trust me on this--there are huge posters all over Berlin announcing a big production of Puppetry of the Penis. Do we dare suppose it's poking fun at Vagina Monologues? I'll take a photo of the POTP poster just to prove I'm not kidding. If you happen to see Michael Horn, tell him if he's still looking for a name for his band that Daddy Cool and Triple Espresso are taken. I'm going to miss a performance of the Boogie Woogie Hits of Axel Swingenberger, darn. And Chris Barber's Jazz Band is playing here soon. He must be 90 years old. Famed pianist Radu Lipu is playing Beethoven, Enescu and Schubert in May. There's even a 12th annual Harley Davidson Jamboree here that features "new date, new style, old tradition, biker games, and exotic shows." There wasn't any mention of a muffler exhibit.

FILM MUSEUM BERLIN. What an excellent museum. It's right over on the Potsdamer Platz which, with the nearly miraculous public transportation system, is easy and cheap to get to. As you'd expect, the museum starts out with the German classics by Fritz Lang, Murnau, Pabst, Lubitsch and with such famed stars as Louise Brooks, Emil Jannings and Riefenstahl, then the Weimar Republic times, notable German exiles, National Socialism films, special effects of Ray Harryhausen, science fiction effects and now the new CGI (computer generated images). There is, of course, an entire room or two devoted to Marlene Dietrich. In case I never mentioned it, she did play the musical saw. Yes, her original saw is there on display. It is a Union Brand saw which was given to her in 1927 by her buddy Igo Sym. I was saying to one of the curators that it was a shame that the USA doesn't have anything to compare with this film museum. She told me she went to Hollywood to see Universal Studios and the Walk of Fame. Was she disappointed? Jawohl, she sure was.

BUMBLING AROUND BERLIN. There's an urban legend that Santa Cruzans will always see other Santa Cruzans anyplace in the world. Well, I guess running into old buddy Jim Popin at the opera would count, even though he is from Soquel. I helped Jim with a political campaign for school board back in 1971 or '72. We did classic double takes when we saw each other on the Unter Den Linden in front of the opera house. He's here for the entire Wagner saga too. Berlin must have the worst coffee and espresso in der welt. Nobody wears Dockers or khakis here. Susan Sontag and the president of the German Republic were at the opera a few nights ago. Some folks here call the new Euro money "yoy-rows," others say "you-rows"--it hasn't been settled yet, I guess. Cars don't blow horns here--all you hear are those great Klaxon police sirens. The Berlin police all use VW buses, which seems like a good idea. Why don't we try that? If it works for Berlin police, Santa Cruz should be able to handle it. It's no joke, folks, public transportation really works. Buses, trams, trains and subways in Berlin get you anywhere in minutes, cheap and fast. For a city covering 343 square miles and almost 4 million citizens it is truly a wonderful experience to see how it can work. Yep, plenty of cars and taxis too, and people actually use bicycles to go to work. Bike riders don't wear spandex, either. There aren't any bicycle lanes, just respect and agility make it work.

NEXT WEEK: Problems with the Pergamon Museum and most museums and returning everything to the original owners. Explaining the shock and pain of losing two buildings in New York to folks who lost a city.
---
Reach Bruce at [email protected] or 457.5814, ext. 400.
---
[ Santa Cruz | Metroactive Central | Archives ]