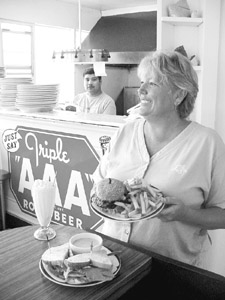 All Shook Up: Village Diner owner Peggy 'Chewy' Kelly serves hearty American fare while chef Alberto Ogarrio works the grill.





Village Treasure

Soquel's homey Village Diner gives classic American comfort cookery a run for its money--and a delicious one at that

By Christina Waters

FORMERLY a favorite hunting ground for antiques, Soquel has now ascended high into my personal paradise of local cuisine. The reason? Village Diner. Brainchild of ace cook Peggy "Chewy" Kelly, the tiny time warp of cozy booths, lunch counter and all-American coffee-shop cuisine boasts that rarest of ingredients: home-cooked food made with confidence. I came armed with two recommendations. Gotta have the chocolate cake, said my ruggedly handsome endodontist, and a Jazzercise buddy had praised the house turkey sandwich.

Every detail rings with simple authenticity; the framed '30s Polynesian prints and ample booths, the smooth vintage tablecloths that have seen a thousand wash cycles and thick hotel china decorated in a sensible brown and white pattern. Breakfast all day is proudly proclaimed by Village Diner's menu, which also offers a choice of side dishes with every single order. Kira jumped at the chance to have breakfast in the middle of the day, and her gargantuan scramble (she opted for tofu) came with her choice of toast (all breads are from Kelly's Bakery) or fresh fruit.

My turkey sandwich--freshly roasted and carved into enormous thick white slices--featured either French fries (it was tempting) or the soup of the day, which was Navy bean. I was thinking "fries," but my mouth said "soup," and that was absolutely the right decision.

Along with our coffees--served in those ultrathick, impossible-to-break diner cups--came my small bowl of a soup so good I could barely stand it. After several spoonfuls, I shoved the bowl over toward Kira, defying her to believe how good it was. She was similarly blown away. I'd found the best soup I'd ever had in any Santa Cruz restaurant, and here it was in this small, totally unpretentious, down-to-earth place in greater metropolitan Soquel.

Tiny white beans (cannellini rather than great northern) shared a rich broth with bits of tomato and onion, chunks of potato and soft, sweet slices of red bell pepper. Minced ham and a few tiny bits of pancetta added their meatiness to the delicious, complex creation. Turns out the specialty is soup, and if there were a soup Olympics, this woman could bring home the gold.

Our main courses were huge, but not overwhelmingly so. A field of crisp, browned hash browns occupied half of Kira's breakfast platter. The other half was occupied by a sensuous scramble of tofu, mushrooms, zucchini, red bell peppers and fat florets of broccoli, lightly topped with melting cheese ($6.95). It was stunning. But then so was my mile-high turkey sandwich ($6.95) on sourdough bread. (The bread could have served as dessert it was so damn delicious.)

The turkey was enhanced by plenty of mayo, lettuce and tomatoes--though I might have poured on even more flavor from the bottles of Tabasco, ketchup and mustard on our table. Good solid diner sauces and condiments--and every table had its own stock. Though we did our best, half a sandwich and most of the breakfast entree were packed to go home for two or three more lunches.

We had to save room (ha!) for a piece of that remarkable Triple Chocolate Cake ($4.25) I'd heard so much about. Did I mention the coffee was quite good? It was. Good enough to wash down a slice of cake the size of three Gideon Bibles. "The word 'slab' comes to mind," Kira quipped as our forks tussled over the one-inch-thick frosting. "Ummmm, butter," she added.

This has to be God's own idea of dessert, this memorable slab of chocolate cake, frosted with chocolate and laced with chocolate chips. Triple chocolate. Village Diner. Get on over there!
---
Village Diner
Address: 4724 Soquel Dr., Soquel
Phone: 831.476.5333
Hours: Tue-Thu 8am-10pm; Fri-Sat 8am-midnight ; Sun 8am-1pm; closed Mon
Ambience: *** Flawless coffee-shop/lunchroom atmosphere right down to the soft '30s tablecloths and sturdy china
Service: *** Warm, friendly and helpful
Cuisine: *** Freshly made burgers, soups, sandwiches and desserts perfumed with nostalgia and expertise
Overall: A heady and warmhearted antidote to the growing glut of fast food. Soquel is one lucky village.
Price: Inexpensive
---
[ Santa Cruz | Metroactive Central | Archives ]