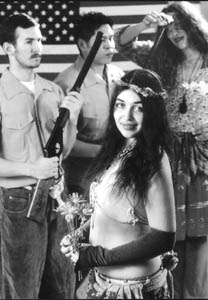 Split Ends: The Age of Aquarius returns when 'Hair' opens this week.

Photograph by Jim Eckhart





Be Hair Now

By Rebecca Patt

Although the flower power musical is older than most of its cast, director Edward Levy proves 'Hair' is timeless

PERFORMING A FLOWING rendition of Hair takes more than good conditioner and professional styling products. The Open Stage Repertory's upcoming production at the Rio Theater is getting ready to let it shine with a few unique highlights and twists: Blues powerhouse Sista Monica Parker will be making a special appearance for the opening number "Age of Aquarius," and the show features choreography by 18-year-old hip-hop dance protégé Ryan Curren.

For those who weren't around or can't remember the '60s, the show focuses on a tribe of hippies questioning authority and experimenting with drugs, sex and scripture as the draft notices roll in for the Vietnam War. Hair opened in 1968 and made a sensation as one of the only productions that reflected contemporary culture and music, not to mention the famous scene where the tribe gets naked during the Be-In.

As one of the cast members counseled the tribe in a recent post-rehearsal debrief: "A director told me in West Side Story, 'If you don't know what to do, look pissed.' In this show, if you don't know what to do, look stoned."

Metro Santa Cruz caught a moment with director Edward Levy, a man who himself has long exuberant tresses, to see how he was managing the 45- member cast of Hair.

Are the tribe members sleeping together?

We set this ground rule that you are allowed to have sexual relations, but no relationships are allowed, which is kind of a joke. People have fallen in love. People are hanging out. People have had their hearts broken. It's a wonderful, beautiful world. It's mirroring the show quite well ... And there's a couple of married, monogamous people who are not messing around, but they are enjoying the show.

Is the tribe under the influence of psychedelic drugs during the show?

We encourage people to do really good character research if they haven't already, whatever that entails, whether that means reading or doing meditation. We are not telling them they have to take drugs, but we suggest they at least read about it and try to get to the place where they can sort of understand it ... but please don't bring it into rehearsal and fuck up my rehearsal.

What's the nude scene like?

It's as if the archangel Michael has taken a coffee break and the fiery sword that blocks the entryway into the Garden of Eden is no longer there.

Putting on 'Hair' in Santa Cruz, aren't you just preaching to the choir?

It may be preaching to the choir, but we are trying to say let's unite, uplift and strengthen this whole trip, and then we are going to Broadway!

What happens when the cast is having a bad hair day?

People storm out. People threaten to no longer have anything to do with the show. People cry. People throw things. It's called, "Welcome to musical theater." Egos fly. Last time, I just said, hail discordia. Let's all surrender and hope the discordia will be kind to us, the goddess of discord ... But when it got to that heating point, everyone had a chance to pass around a rattle in a circle and say their peace and share, and it has brought us together as a tribe.
---
Hair plays April 26-27 at 8 pm, April 28 at 6pm at the Rio Theatre. Tickets are $20 and available at Bookloft, Pipeline and Virgo Rising and also by phone at 438.SHOW. An opening show 45 minutes earlier will feature original music performed by the cast members and slides of art work.
---
[ Santa Cruz | Metroactive Central | Archives ]