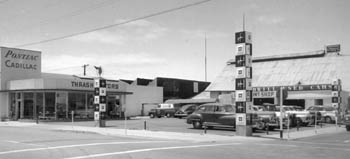 Photograph by Covello & Covello Historical Photo Collection.

Thrash Motors (Pontiac Grill), June 24, 1952: It's not difficult to figure this one. It's Cathcart and Front streets. I could tell a story about author Ed Abbey ('The Monkey Wrench Gang') driving on the sidewalk by that Front Street garage entrance to Pontiac Grill, but I better not. Anyone know what that odd-looking building was that faced Pacific Avenue? You can see the sharply angled roofs in the center of the photo.

Bruce Bratton

WHITE-KNUCKLE RIDE. There wasn't much in any paper about the 11am Roaring Camp train ride on Easter Sunday. The usually calm trip up to Bear Mountain, where the kids would collect eggs, was first delayed en route for 10-20 minutes while they fixed something on the tracks. Then on the way back, in one of the switchbacks, the last two cars full of folks unhooked and started back down the hill! The grade wasn't that bad, so they only rolled about 15 feet before the brakeman was able to crank on the brakes. On debarking back at the station, more than one visitor shouted, "We survived Roaring Camp." We don't want to bring up mandatory State Safety Inspections of all theme parks and amusement places again, do we? (Full disclosure: my grandson, daughter, son-in-law, meaningful other and I were on that train, but two cars ahead of the white-knuckle group.)

DARK PLEASURES. Right in the midst of all the d&d (dumb and dumber) films being exposed on our screens, there are some genuine goodies, too. Bridget Jones's Diary is an intelligent, witty comedy--not quite up to the Rosalind Russell, Katharine Hepburn, Ginger Rogers roles of the '40s but close enough. Go for it. Then there's Memento, coming to the Nick. If you liked Pi and other cinematic mysteries, you'll love Memento. Amores Perros is being called the first art film out of Mexico since Luis Buñuel's works, and it's one great film. It consists of three interwoven stories, all involving dogs, and it's the first film directed by Alejandro Inarritu. Nominated for an Academy Award and a Golden Globe, it's won myriad festival awards around the world. Figure on seeing it at least twice. Go to www.amoresperros.com and get even more of the concept. I think you should go see Crouching Tiger, Hidden Dragon again. It was only my second time last weekend, and I'd missed the excellent filming of the martial arts, the music, the fine acting and the imagination plus creativity the first time around. It deserves all the attention and box-office success it's getting.

TRAGIC LOSS. Realizing that we'll never see or hear Smith Dobson (who died last Friday in a car crash) again causes a lot of grief and sadness. His jazz piano playing, warm heart and love of people and the wider community are rarely found in one human being. Send every bit of love and good wishes to his family--he's very much missed.

PLAN AHEAD. First Night just announced that the theme for Monday, Dec. 31, will be Cirque du Santa Cruz. So save all appropriate costumes from parties and wear them that night. Actually, groups should start planning now on floats and creations that would work on that festive eve. Call First Night at 425.7277 to get more details.

COMMUNITY CREDIT UNION. After years (24) of guilt, I finally closed my Greater Bay Bancorp account (formerly known as Coast Commercial Bank) and joined Santa Cruz Community Credit Union. I learned that you can use up to any four other banks' ATMs per month and not get charged. The Community Credit Union has also made more than $40 million in community-development loans that created thousands of local jobs. Plus anybody who's been here more than a week probably knows folks on the Credit Union's Board of Directors. For contrast, look at Coast Commercial's Board of Directors group photo in the 2000 Annual Report. The Credit Union's having its annual members' meeting this Thursday (April 26) at London Nelson Center at 7:30pm. I'll meet you there, and we can see and vote on how our bank is run.

ONE MORE LAST PLAZA THING. Louie Rittenhouse has finally filed his formal application and plans for the four-story building at Pacific Avenue and Church Street. Rumors have it that Gottschalks is somehow involved. I hope the building is as interesting as his Bear/Flatiron Building turned out.

ABOUT SILENT FILMS. New Music Works is presenting and performing Reel Time this Sunday at 8pm at UCSC's Music Recital Hall and again on May 6 at 8pm at London Nelson Community Center. They're using a newly composed "soundtrack" for the 1919 silent film classic The Cabinet of Dr. Caligari. New Music works is also performing Jon Scoville's score for a Man Ray film, and Phil Collins will accompany Maya Deren's film At Land. Eric Satie's score for a short titled Furniture Music was a landmark in ambient music and will also be performed. If you've never experienced the power and intensity of silent films (even if they do have music accompaniment), this will be a great opportunity to do so. You could also save July 1 for the annual San Francisco Silent Film Festival at the Castro Theatre. It's largely run by Steve Salomon, a former UCSC student. It's a full day of silent films, and last year Fay Wray, King Kong's girlfriend, was there. Try going to www.silentfilm.org for all the current info on this year's festival. The Museum of Art & History has three more nights in its Silent Film Comedy Series going on right now. The films include such stars as Harry Langdon, Clara Bow, Gloria Swanson, Rin Tin Tin and William V. Mong, but they're all sold out, so you can't go anyway.

ABOUT AUGUSTO PINOCHET AND CHILE. The ACLU of Santa Cruz, the People's Democratic Club and the Santa Cruz Chapter of Amnesty International are bringing Dr. Juan Garces to Santa Cruz. Garces was the chief lawyer in the Spanish prosecution against Augusto Pinochet, former dictator of Chile. He will be discussing the case at the First Congregational Church, 900 High St., Santa Cruz, on May 6 at 4pm as a fundraiser for the Salvador Allende Foundation. This was a groundbreaking event in international laws dealing with crimes against humanity. Call 429.9880 or 426.0237 for more information.

OTHER FILMS WORTH VIEWING. UCSC's Arts & Lectures is screening Norman Foster's Journey Into Fear (1942) at its new Media Theater, which is right near the box office for Shakespeare Santa Cruz. It stars Orson Welles, Joseph Cotton, Agnes Moorehead, Dolores Del Rio and the never-to-be-forgotten Hans Conreid. It's a WWII spy drama. On May 4, they're showing Walter Lang's Weekend in Havana, featuring Alice Faye, Carmen Miranda, Cesar Romero and comedian Billy Gilbert, who used to have a photo prominently displayed at the 1970s Boardwalk photo booth. Del Rio and Miranda are featured as part of UCSC's Women of Color film series. Call 459.2159 for information.

PACIFIC SPECIFICS. Santa Cruz's walking icon, Bob Hall, got a haircut, and that's not all bad. City on a Hill Press has an excellent crew this semester and is again worth reading. If you want to see the world's almost best and most creative website try www.zefrank.com. Go to Mein Kleine Draw Toy and try it out, then go to any of the 10-20 links on his menu--all fun. Get your tickets now to the July 3 Riot at the Hyatt. It's world-class professional boxing, and welterweight Jose Celaya from Salinas is the big draw. As usual, Jerry Hoffman's 12 Sports Productions will also have a women's bout. Call 688.1604 to charge by phone. Area artist Raymon Ginghofer has had a show of his serious paintings up for a month at Frederick Spratt Gallery in San Jose at 920 S. First St. It closes April 28, so hurry.

APROPOS OF NOTHING. Page Stegner included a great scene from the writings of his dad, Wallace Stegner, in the fine book Marking the Sparrow's Fall. Seems that his dad and a friend had been getting really drunk sitting on a curb. His buddy had been staring at the Eagle Bakery right across the street from where they sat for a long time. Unable to restrain himself any longer and wrestling against gravity and common sense, he staggered into the bakery, made very loud noises and demanded nothing less than one of its famous Baked Eagles. It may help to read this twice or, better yet, read the original, but it cracks me up every time I think of it.
---
Bruce critiques films every other Thursday on KUSP-FM (88.9)at 12:50pm. Reach Bruce at [email protected] 457.5814, ext. 400.
---
[ Santa Cruz | MetroActive Central | Archives ]