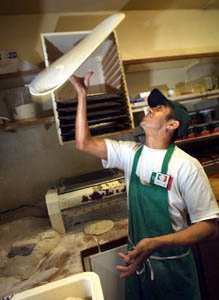 The Big Spin: Francisco Ortiz catches air with some pizza dough at Tony & Alba's.

Photograph by George Sakkestad





Pizza Pizzazz

Tony & Alba's builds a better pizza to the complete satisfaction of everyone with functioning taste buds

By Christina Waters

ARMED WITH a card-carrying teenager and a huge appetite, I headed to Tony & Alba's last week in search of some satisfying pizza. And that's exactly what I found. Although it was a Saturday evening, Tony & Alba's wasn't out-of-control crowded. The staff here knows how to preserve the illusion of order and calm, even with a throng of pizza fanatics lining up for their "to go" orders.

Sadie and I, however, decided to grab a table and have our dinner right there at the popular Soquel Avenue T&A's, where acres of picture windows gave us a gorgeous view of Mt. Umunhum glowing in the sunset. The process is simple. First you gather round the menu board above the cash register--or you grab a paper menu and negotiate.

Choices are endless. In addition to the usual suspects, the house lists a dozen inventive pizza specials, including the signature spinach pizza with ricotta, garlic and crushed roma tomatoes. Of course, there are plenty of pastas, soups and salads.

Sadie and I decided to create a customized dinner pizza topped with our choice from "gourmet toppings" that include kalamata olives, feta, shrimp, roasted bell pepper, grilled eggplant, artichoke hearts and pancetta. How civilized of Tony & Alba's to know that pizza doesn't have to be a one-dimensional, fraternity-party food experience. So we ordered a 14-inch pizza pie ($13.25) with three extras ($1.70 each): mushrooms, pine nuts (a stroke of genius) and prosciutto. How could we go wrong?

There was actually a guy in the kitchen twirling pizza dough high into the air, and we could watch him spinning those custom crusts from our spacious table against a room divider laden with hanging ferns.

While we feasted on huge wedges of complimentary hot foccacia, Sadie brought me up to speed on her plans for summer school and a graduation trek through Europe. I'm not sure which sounded better--the trip to Paris or the pizza topped with prosciutto and pine nuts.

But I didn't have to choose. And I wouldn't have to starve either. Those foccacia wedges were humongous, and the tumbler filled with Bargetto merlot ($3.50) wasn't bad either. Sadie's iridescent blue nail polish twinkled as she briskly sampled the large (nothing at Tony & Alba's is small) Caesar salad ($4). A monument to crisp romaine topped with an overabundance of croutons, the salad was delicious. A garlic-intensive dressing, kissed by anchovy, definitely hit the spot. This Caesar made no apologies for its pizza parlor surroundings and would have been acceptable at any ristorante.

Meanwhile, however, my fantasies of flavor-packed pasta alio e olio were dashed by this garlic-free version ($6.50). The spaghetti was almost al dente, but even nonfinicky Sadie agreed that the flavor was invisible, except for a dusting of pungent sun-dried tomatoes. The Caesar salad packed enough garlic power to make up for it.

Then came the pizza--perfectly cooked, with a toasty bronze crust and dripping just the right amount of cheese. Light but chewy, the crust supported our inspired combo of toppings. There was ample prosciutto--not overwhelmed by cheese, plenty of mushrooms and the crisp roastiness of those pine nuts. It was killer.

Sadie had to confess that while our order of "Italian potatoes" ($3.25) was "just French fries," they were nonetheless totally satisfying, especially when dipped into the accompanying marinara sauce.

The great thing about paying when you order is that you can box up your leftovers and leave anytime you want to. No endless waiting for your waitperson to notice that you're still alive. You're the boss at Tony & Alba's, where superior pizza is made from scratch just for you. Every time I have one of their pizzas, I have to revise my opinion of this beloved classic--upward.
---
Tony & Alba's
Address: 817 Soquel Ave., Santa Cruz
Phone: 831.425.8669
Hours: 11am-10pm daily
Service: Friendly counter people who know their stuff
Ambience: ** 1/2 More like an old-fashioned pizza parlor than a fast-food joint--clean, spacious, with lots of light
Cuisine: *** As far as pizza goes, T&A's sets the pace
Overall: A well-run, well-priced family business whose fine pizzas just can't be beat
---
[ Santa Cruz | MetroActive Central | Archives ]