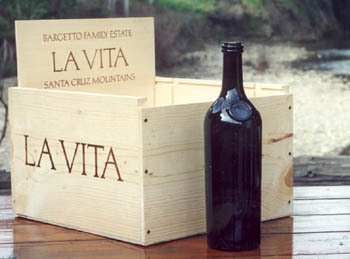 Photograph by George Sakkestad

Bottle Up and Go: A bottle of Bargetto's new La Vita awaits its label.

La Dolce Vita

Bargetto Winery introduces La Vita, a unique wine with a unique label

By Christina Waters

FOURTH-GENERATION WINEGROWER John Bargetto, of the region's 111-year-old winemaking family, gave me a call last week. He was excited about the upcoming release of a new winemaking venture for Bargetto Winery. A blend of estate grapes grown on the fog-cooled slopes of the family's Santa Cruz Mountain Regan vineyard, the new creation is named La Vita. Created from a voluptuous blend of 40 percent Dolcetto, 33 percent Nebbiolo and 27 percent Rebosco grapes--all classic Italian red varietals never before grown in our area--La Vita is "a unique wine, with a very unique label."

The upcoming 1997 vintage La Vita "has been eight years in the making," said the proud project director. Vines for the new blend were chosen and planted back in 1993. After the 1997 harvest, the varietals matured separately for two years in oak, in the Italian tradition. The three varietals were blended near the end of the cellar aging and then aged an additional two years before this week's release. A mere 4,500 bottles of La Vita were made, so you might want to line up now to make sure you can find one of these premium items.

The Bargetto family, long famed for well-made red wines, classic coastal chardonnays and its popular line of Chaucer fruit wines, is making a bid for even more upmarket elegance with the inaugural release. The concept is to have the 1997 La Vita kick off a whole new series for the winery. Priced at $50, this year's release will showcase the new labels, all using artistic masterpieces. Italian Baroque master Caravaggio's sensuous image of Bacchus, god of wine, will adorn the inaugural version of La Vita.

Also folded into this "ultrapremium" project is the commitment to give back some of the proceeds to the Santa Cruz community. The name of this year's recipient organization will be revealed at the gala release party this weekend, along with the unveiling of the beautiful label. You can join the celebration on Sunday (April 29), 2-4pm, at the winery. Tickets are $20 per person and may be purchased by calling 475.2258. You'll be able to taste and purchase the glamorous new wine. Bargetto Winery is located at 3535 N. Main St., Soquel.

Classic and Convivial

When you're through wandering around in the redwoods, park yourself at Scopazzi's in Boulder Creek, where Italian cookery has been popular since the 1950s. A true landmark, the restaurant fills a former boarding house for loggers; the dining room was added by the Locatelli family in the 1920s. It's all here: ravioli, Caesar salad, chicken cacciatore--mama mia! Scopazzi's is on the way to Big Basin at 13300 Big Basin Highway, Boulder Creek (338.6441).

Marco Verduzco can't stop cooking, and we wouldn't want him to. After all, that's why Convivio Trattoria is so deservedly popular. To make us all even happier, Convivio is planning a Winemaker Dinner Series. Convivio will be Celebrating the Locals, starting with Ahlgren Vineyards on April 26. On May 24, Convivio pays tribute to wines created by Pam and Steve Storrs of Storrs Winery. David Bruce Winery will be featured on June 21. Each wine dinner begins at 6:45pm and will offer wine and food lovers a five-course pairing of dishes specially created by the chef with the handiwork of our top local winemakers. The price is $80 per person, plus tax and gratuity. Convivio Trattoria is located at 651 Capitola Road, Santa Cruz. Reservation are a must--call 475.9600.
---
Email me your hot food tips, new favorite restaurants, discoveries, gripes and sudden culinary insights. You tell me--I'll tell everybody: [email protected]
---
[ Santa Cruz | MetroActive Central | Archives ]