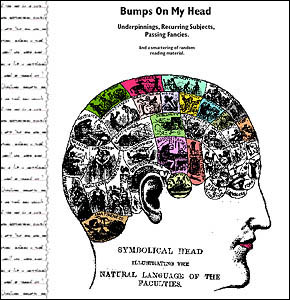 Head Games
Website is a road map into novelist's psyche
By Tai Moses
MICHAEL CHABON hasn't got around to updating his website, www.michaelchabon.com, yet. The 37-year-old Berkeley author is probably too busy calling everyone he knows with the news that he just won the Pulitzer Prize for his third novel, The Amazing Adventures of Kavalier & Clay. So it's a prime time to peek into his cyberpsyche before all the accolades and praise ruin Chabon forever.
What kind of website does a Pulitzer Prize winner have? A really, really cool one. "Bumps on My Head: Underpinnings, Recurring Subjects and Passing Fancies" takes its inspiration from the principles of phrenology; the antiquated belief that the bumps and irregularities on a person's skull offer clues into his or her personality. Click on a section of the colorful symbolical head and you're taken to a different part of Chabon's creative life: a chapter from his "failed novel," Fountain City; a list of the books that changed his life (Borges, Cheever, Nabokov); some previously published essays and stories, and the scripts to his two (never produced) television pilots.
On the whole, Chabon, the author of Wonder Boys and The Mysteries of Pittsburgh, comes across as such an amiable and humble guy that even other writers won't begrudge him his Pulitzer--and as anyone who's ever suffered from writer's envy knows, that's saying a lot.
[ Santa Cruz | MetroActive Central | Archives ]