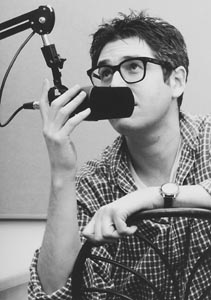 Radio Revolutionary: Ira Glass has earned high praise for his quirky approach to telling stories on the radio.


The American Way

With 'This American Life,' radio personality Ira Glass shows mainstream journalism how to get real

By Rob Pratt

WE'VE TALKED on the phone for nearly 45 minutes--more than double the 20-minute allotment his assistant suggested when I made the interview appointment--and Ira Glass, producer of top public-radio show This American Life, is starting to get vague.

He's told me about his years spent as a tape cutter, or audio editor, for National Public Radio's All Things Considered. He's detailed at length that--despite "preposterous" assertions in a recent American Journalism Review piece--This American Life is really nothing new, just good journalism, good reporting and good storytelling. And he's mused on one of the show's greatest mysteries: how week after week he and his small production staff manage to stitch together a patchwork of personal confessions, shrewd observations and compelling first-person narratives to craft an hour-long broadcast with the expressive lyrical feel of a good novel and the raw, truth-telling power of an investigative documentary.

"If there's something we're not excited about, we just don't do it," Glass explains. "We work on shows about four months ahead, and it usually starts with one story. We look for other stuff to go with it ... and after we get 20 or 30 ideas, we put stories into production. We do three or four or five on average per show, and there are usually one or two we've produced in addition that we kill. In some stories, something lucky happens, but we can't anticipate which story is going to do that."

It all sounds rather easy--find good stories and put them on the air, and once in a while some magic transpires. But Glass otherwise comes off as highly driven, the sort of person who makes things happens rather than letting them unfold as they may. When he talks, it's rapid-fire, focused and deeply detailed, often peppered with telling allusions and almost always presented with a strong, personal point of view. On This American Life, though his tone is conversational, Glass' monologues are thoughtful, measured and precisely edited.

So, how many hours, I ask, does he work every week to pull all that together?

"Sixty, 70, 80 ... ," he trails off.

He's headed somewhere else, I think. But it's not fatigue from our lively conversation that's distracted him. I get the impression that the show continually looms over him, that despite months of preparation for each installment of This American Life, Glass sweats the details right down to the last minute.

Later, while browsing the show's online archives (http://www.thislife.org), I find that my feeling was pretty much right. He declares as much in the Sept. 27, 1996, show, "Jobs That Take Over Your Life."

"A couple of weeks ago I realized two things about my job, my job producing this, this radio show right here, the one you're listening to," he says in his show-opening monologue. "I realized that, um, every week as I come to grips with the fact of actually having to do the show, I go through the five stages that Elisabeth Kübler-Ross says you go through to come to grips with death. ... That was the first thing I realized. The second thing I realized was that if I'm having these feelings, I'm spending way too much time at my job."

THE TITLE OF HIS TALK Friday at UCSC ("Lies, Sissies and Fiascoes") hints at the magic formula Glass has developed for This American Life. The show looks at the flip side of real life, inversions of day-to-day reality or otherwise typical incidents that degenerate from a "normal level of mishap" (as Glass put it during one of the show's most-requested segments, about a small-town production of Peter Pan that went disastrously wrong) into life-scarring or life-affirming turning points.

Subjects on the show talk about watershed moments in their lives--but these usually aren't freak occurrences. Instead they're everyday events writ large: the death of a beloved young son, the passion parents develop for pets when the kids grow up and leave home, the lives of people who traverse the outskirts of mainstream society.

This American Life created a sensation from its first season. Produced on a shoestring budget at the studios of Chicago public radio station WBEZ, the show premiered in November 1995 as Your Radio Playhouse. Two years and one name change later, This American Life had earned a Peabody Award--the radio equivalent of a Pulitzer Prize--and a $350,000 grant from the Corporation for Public Broadcasting. Glass' approach to radio journalism had also become a lightning rod for criticism.

Despite spending the better part of two decades working his way up the ranks of National Public Radio, Glass couldn't get the public radio network to get behind This American Life. His on-air delivery is rough--sometimes deliberately edited to preserve pauses, stutters and "ums." And despite the show's sometimes uncomfortably personal revelations, Glass has a cool, distancing, über-hip tone that didn't go over with NPR focus groups.

Some fans (like Marc Fisher last year in the American Journalism Review) call This American Life a "revolutionary" approach to journalism. Though stories on the show virtually never have any relationship to the news of the day, they have a strong sense of immediacy. Instead of following the mainstream journalistic formula of summarizing the main details of a story and using quotes to underscore or elaborate points, Glass lets his subjects speak in their own words. He giggles with them. He fumbles over questions.

But in many ways, Glass is the ultimate mainstream media insider. Virtually his first job out of school (he majored in semiotics at Brown University) was with public radio as a tape cutter at NPR's Washington headquarters. During the two decades since then, he has held almost every editorial position on every NPR news show.

"One of the reasons This American Life can break a lot of rules is that I have a lot of experience producing within them," he explains. "It's sort of a Nixon-goes-to-China kind of thing."

Which is when I start fumbling the questions.

"Uh, well, what do you mean by that?" I say. I thought he had said a "Nixon in China kind of thing" in a strange allusion to John Adams' minimalist opera--one of my favorites. I guess I was fixated on minimalists; Glass is a second cousin to minimalist bulwark Philip Glass.

"Oh, yeah. Me too," he continues after I explain my misunderstanding. "I just meant that only the most anti-communist president could open diplomatic relations with China. Nothing that we do on This American Life is revolutionary. It's all within the general territory that public radio has cut out for itself."
---
Ira Glass talks about "Lies, Sissies and Fiascoes: Notes on Making a New Kind of Radio" at Media Theater, Theater Arts Center, UCSC Friday at 7 and 9pm. Tickets are $20 general/$17 seniors and students. (459.2159)

This American Life airs locally on KUSP 88.9-FM Sundays at 7pm and replays Fridays at 4pm.
---
[ Santa Cruz | MetroActive Central | Archives ]