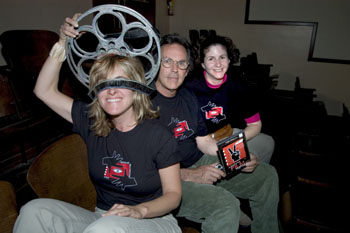 Strip Tease: Santa Cruz Film Fest director Jane Sullivan (left), board president Eric Thiermann and film wrangler Vicki de Mey want you to know that International Cine is the theme of this year's festival.

It's About the Human Condition, Baby!

The fourth annual Santa Cruz Film Fest focuses on questions of identity--at home, abroad and beyond

By Sarah Phelan

With the fourth annual Santa Cruz Film Festival kicking off May 5, SCFF director Jane Sullivan recalls a recent debate she had with SCCF board president Eric Thiermann about whether they should rename the festival the Santa Cruz International Film Fest.

"Eric said, 'Jane, people think this is a local film fest because of its name.' I said, 'Eric, if people read the program, they'll see that 20 percent of this year's 102 entries are from outside of the country, 10 percent are local and the remaining 70 percent are from around the rest of the country. By calling it the Santa Cruz Film Fest we're reflecting the reality that this is a community of intelligent, eclectic individuals, who travel around the world."

When asked which films she recommends, Sullivan laughs. "All of them." That said, she confides that one of her faves in this year's fest is the Real Dirt on Farmer John, which opens the fest on May 5 at 8pm.

"None of us get out of life without being pulled back by a community that doesn't understand us, or the family ties that bind," says Sullivan of the Real Dirt documentary, which follows the rise and fall of an Illinois farming family, focusing on the travails of John Peterson, who tries to overcome local prejudice by building a progressive organic farming community, in which he sometimes rides a tractor wearing a feather boa over his overalls.

"His is the typical human conundrum," says Sullivan of Peterson's plight. "Farmer John is Santa Cruz. He lets his freak flag fly, he looks weird, but looks can be every deceiving."

Sullivan says SCFF will continue its tradition of having audiences vote after every film (even though it involves processing 50,000-70,000 bits of paper) "because we're still a democratic film fest."

She recalls how last year one person, following the fest's screening of David Holbrooke's Time for a New God, wrote on a ballot, "This should be shown as a PSA in theaters everywhere."

Sullivan plans to frame said ballot and give it to Holbrooke who returns this year with his eclectic Freaks like Me, which also plays opening night.

"At first, David wasn't going to come. He had such a magical time here last year, he was afraid the magic wouldn't happen again. I guaranteed him the magic would happen--it might be different, but perhaps even more magical."

Holbrooke is just one of 90 directors who plan to attend, some with their crews--a response which bodes well for the local economy.

"This festival is blowing up. It's going off," says Sullivan, who is particularly excited that screenwriter/novelist Bob Seidman, who teaches documentary filmmaking at NYU and wrote the annotated version of James Joyce's Ulysses, is moderating the directors and producers panel (May 8 at 2pm at the Attic) on the business of independent filmmaking.

"Bob decided to attend because of the May 9 screening of Imagining Ulysses, a very unique documentary about how Joyce's classic changed the modern world, a documentary which also proves what a great and accessible art form film is, as illustrated by this film's ability to deal with something as feared and revered as Joyce's masterpiece in a few hours."

Speaking of feared and revered, Sullivan debunks the myth of the stand-offish film director.

"Contrary to popular belief, these people are some of the most accessible, energetic, generous and collaborative souls," says Sullivan, who organizes plenty of events, including post-film Q&As and afterparties throughout the fest so the public can meet the people behind the films.

"This is about empowering people, deflating the power of celebrity that's so dominant in our culture. Is Steven Soderbergh accessible? Are you likely to meet him when you leave the theater following one of his films? Not unless you live at Hollywood and Vine," says Sullivan, noting that the filmmakers and crews in attendance aren't here for the business.

"They're not here to sell to distributors, or pitch ideas to producers. They're here to take time out from their lives and support both the fest and the filmmaking process. We want people to come to the afterparties. All the directors will be there."
---
For more details, check out SCFF's free 'International Cine' program, distributed all over town this week, or visit www.santacruzfilmfestival.com.
---
[ Santa Cruz | Metroactive Central | Archives ]