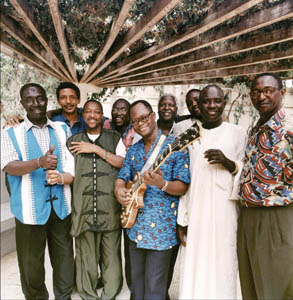 Afropop Goes the World: Dave Matthews and Trey Anastasio recently traveled to Senegal to jam with Orchestra Baobab.

The Return of the Kings

Orchestra Baobab are the undisputed Afropop kings of Senegal

By Yoshi Kato

The Seminal West African pop-dance ensemble Orchestra Baobab got its start in 1970, playing at Baobab, a nightclub in Dakar established as a meeting place for politicians and businessmen to socialize and strategize. As Friends' Chandler Bing might say, "Could there be a less hip audience?"

The thought of seeing a crip-walking John Ashcroft or Bill Gates doing the Harlem Shake is enough to send one into the therapist's office, but in Senegal, having a good time isn't restricted to class or military rank. "Senegalese people--African people, in general--whatever your social class is, you love music," says Baobab rhythm guitarist Lafti Ben Geloune. "So if you saw a minister or a common person dancing somewhere, you couldn't tell the difference."

People of all walks of life will enjoy the live Orchestra Baobab experience this weekend during a series of concerts. The Afropop group performs Sunday night at the Rio Theatre in Santa Cruz, preceded Saturday by a pair of shows presented by SFJAZZ as part of its Spring Season 2004. These shows come on the second wave of a reunion, which kicked off in 2001, some 15 years after the group disbanded. That year, a collection of Baobab recordings from the '70s was released as the compilation Pirates Choice by World Circuit/Nonesuch, the label responsible for issuing recordings in the late '90s by musicians associated with the Buena Vista Social Club. A reunion album, Specialist in All Styles, was also recorded late that same year.

"You can talk to musicians in our country, and the first thing they tell you [is that] they have been influenced by the way we used to play," he says. "We have a lot of influence in Senegalese music."

Joining Orchestra Baobab about six months into its formation, Geloune says that the local music of the time was influenced by the Afro-Cuban sounds coming back from the Caribbean. The generation of musicians prior to his took in the rich compositions found on the 78 rpm records imported into Senegal via Lebanon.

"The people before the independence of my country were influenced a lot by Cuban music. And it's very easy to understand," he explains. "Cuban music is just a mix of classical music from Western and African rhythms. So it was just a return of a thing gone and come back. "But for my generation, it was not a very, very important influence," he points out. "We were more influenced by guitarists like Jimi Hendrix, Eric Clapton and the rhythm and blues of the people of Stax."

By combining American rock, soul, blues, pop and Cuban music with other sounds from the African diaspora, Orchestra Baobab struck on a distinct hybrid. They are pioneers whose influence can be heard in the Afropop of today. And just as he and musicians of his generations were inspired by Western rockers, so, too, has their inspiration headed back stateside. Dave Matthews and Phish man Trey Anastasio recently traveled to Senegal to jam with the orchestra. That encounter was filmed for a VH1 special that will air May 8. Anastasio will also guest with Baobab May 10 on the Late Show With David Letterman.

"In general, instruments, they are not oceans. I'm sure that Trey was not surprised to find musicians having the same feeling and expressing themselves by the same way as him," he reflects. "And musicians have open ears. People talk about so-called world music. But it's not that distant. We are all in a big village, actually."
---
Orchestra Baobab performs on Sunday (May 2) at 8pm at the Rio Theatre, 1205 Soquel Ave., Santa Cruz. Tickets are $25 advance/$28 at the door. (831.427.5531)
---
[ Santa Cruz | Metroactive Central | Archives ]