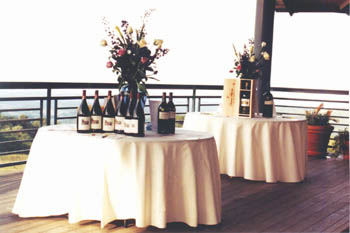 Mountain Summit: All 66 vintners in the Santa Cruz Mountains Winegrowers Association will get together for the 'Wine With Heart' benefit on May 2.

Big Heart Red

The 'Wine With Heart' benefit is the only event that brings all 60 Santa Cruz Mountain vintners together in one place

By Jessica Neuman Beck

That red wine you're drinking might not just be good for your heart--it might be good for your soul.

For eight years now, the Santa Cruz Mountains Winegrowers Association, a group comprised of over 60 local wineries, has held an annual auction to benefit the American Heart Association and Stanford Vascular Research Center. Called "Wine With Heart," the auction raises money for heart-related medical research.

"Wine is such a benefit for your heart that they make a perfect marriage," says Shannon Flynn, operations manager for SCMWA.

Moderate amounts of alcoholic beverages have been shown to increase the ratio of high density lipoprotein (HDL) to low density lipoprotein (LDL--also known as the "bad" form of cholesterol). Low concentration of HDL is associated with an increased risk of heart disease. Wine, specifically, contains phenolic compounds that come from grapes--compounds not found in other forms of alcohol. The theory is that these compounds further reduce those nasty LDL levels.

So what does all that mean? That wine is, in essence, good for you.

"Red wine, in good quantities--not huge quantities--is good for the heart and for the vascular [system]," says SCMWA director Karen Hibble. And that makes this benefit a good match. "Over the course of our tenure we have raised over $600,000 for each organization. We've really worked hard on it, and we're really proud to think that we may have made a difference in somebody's life."

Some of the items being auctioned off at this year's "Wine With Heart" include limousine tours, hotel stays--and, of course, wine. Burrell School Vineyards, for example, are auctioning off a blending session.

"A group of people get to go up to the winery and make their own blend," says Flynn, "and they're actually going to bottle it and label it and sell it." The auction winners will be working with the vineyard's well-known--and expensive--Valedictorian label, and after they create their custom blend, they'll get to take home a case.

Each year's "Wine With Heart" auction is held at a different venue.

"We've been to Hayes Mansion, Stanford Faculty club, Running Mead, which is a beautiful place off of Highway 1," says Hibble. "We've been all over."

This year's event will be held at the Crowne Plaza Cabana in Palo Alto on Sunday, May 2.

"It's the only event in which all 60 of our wineries participate," says Flynn. "It's the only event where you'll find all the Santa Cruz Mountains Winegrowers in one room. For that reason alone, it's really exciting."

The event starts at 2pm with a silent auction, and then at 4pm the live auction will begin. The auction serves the double purpose of raising money for a good cause and showcasing the diversity of the Santa Cruz Mountain wineries.

"What's really nice about this is that we get people who will come from Santa Cruz, but also people who will come learn about our wines from other areas," says Hibble. "People are surprised at not only the depth of the wine but also the wonderful varieties we have because of our diverse climate."
---
Wine With Heart will be held Sunday, May 2, at the Crowne Plaza Cabana, 4290 El Camino Real, Palo Alto. For more information or to make a reservation, contact the Santa Cruz Mountains Winegrowers Association at 831.479.WINE (9463).
---
[ Santa Cruz | Metroactive Central | Archives ]