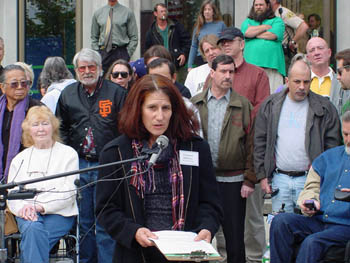 Photograph by Sarah Phelan

This Time, It's Medical: Valerie Corral and WAMM are going after the feds in response to the DEA raid on their land.

Nüz

Unlucky 13

Will the case of the Capitola 13--the group of 13 activists that blocked military recruiting offices in Capitola last month--be as unlucky for District Attorney Bob Lee as their name suggests?

Insiders say the case is one of the stickiest Lee's had to handle, since assuming his nonpartisan position five months ago. On the one side stand the peaceniks, who consider the group heroes for the action they took the day after the bombs started raining down on Baghdad. On the other are those--including, presumably, the SWAT team that arrested the group--who want them prosecuted to the fullest extent.

Which may explain why, when the group showed up at court last week, their names weren't even entered on the docket. Unfazed, the group headed upstairs to the DA's office, where they serenaded the DA, until he emerged, red-faced, to say several attorneys have been ill, and could y'all come back May 2?

Rumor has it that prosecutors were planning to reduce the charges from a misdemeanor, but were unable to find a suitable infraction in Capitola's less than voluminous code. Further complicating the issue was the possibility that the Capitola 13 might demand a jury trial in the hopes of a public acquittal from this liberal-leaning town, not to mention more publicity for their antiwar cause.

Conn Hallinan, who runs UCSC's journalism program and whose brother Terence Hallinan is San Francisco's district attorney, understands Lee's dilemma all too well.

"Since Sept. 11, the press in general has given up on reporting in a fair and balanced way, and instead has been responding to the sound of empire, which means elected officials have to play a particularly sensitive role," says Hallinan, whose bro swiftly dropped all charges against antiwar protesters arrested in SF the day after war broke out.

"My brother's decision illustrates his belief that the job of the DA is to make sure we have a community where people can get along and feel safe--including feeling that constitutional rights are safeguarded. My brother has made it clear that if there's a choice between upholding the Constitution and law, unless anyone's safety is threatened, he'll uphold the Constitution."

Or, as Capitola 13er Leslie Harrison, who describes herself as "a lesbian witch," put it in her statement, "We are told the Patriot Act 1 (and the proposed Patriot Act 2) will further protect us against terrorists ... This supposed anti-terrorist act is stealing our right of assembly, free speech, immigrant rights, legal rights, privacy and political freedom."

Stay tuned to see if Lee can keep the Constitution and his smile intact throughout.

Wakeup Call

While the Capitola 13 were busy serenading the DA on the second floor of the county building, reps from the city and county of Santa Cruz were assembled outside in the sunshine, along with seven members of the Wo/Men's Alliance for Medical Marijuana, to announce that they are suing Attorney General John Ashcroft, acting administrator of the Drug Enforcement Administration John Brown, drug czar John Walters and 30 DEA agents who raided the WAMM gardens last September.

The suit asks the federal court to stop the feds from raiding the WAMM gardens in the future, an act that founder Valerie Corral says was in violation of California's Prop. 215, which she helped author.

"We trust the American courts will protect us from further injustice. We are community members, parents, grandparents, teachers, secretaries. The only difference is that most of us are terminally ill, and commonly share our suffering. It's difficult to understand why the federal government would want to add to our troubles," said Corral, who is named as a plaintiff in the suit along with fellow WAMMsters Eladio Acosta, Dan Baehr, Dorothy Gibbs, Jennifer Hentz, Harold Margolin and Michael Cheslosky.

Corral's husband Michael said he felt "a lot of happiness and a little fear, because we're taking on John Ashcroft, the meanest man in America," while WAMM co-plaintiff Michael Cheslosky said, "It's been a few nights of not a lot of sleep, worrying if jackboots are gonna be kicking down my doors and stealing the five grams I've got in my house. But the real thing I'm worried about is my mother's phone call asking me what on Earth I'm up to now."

Cheslosky was diagnosed with HIV/AIDS in 1983. "Without medical marijuana, my only relief from the effects of the virus, chemotherapy and other AIDS-related diseases, would come from "horrible, debilitating tranquilizers and drugs," he said.

County Supe Mardi Wormhoudt, who wants to introduce an ID card system to protect medical marijuana patients from harassment, pointed out that "unless we allow people who are willing and able to help themselves, many will need help from the county at a time when we can barely serve those already in need." Santa Cruz Mayor Emily Reilly pleaded with Ashcroft "to use this group for research."

Meanwhile, Santa Clara University law professor Gerald Uelman argued that controlling the circumstances of death lies at the heart of this matter.

"Becoming a plaintiff would not be a priority for me at the time of death, and many of these patients will frankly not live to see a successful outcome, but they are interested in leaving a legacy, in not having the DEA as an uninvited guest at their bedside."

Naked Bandwidth

Donna Sheehan of the UnReasonable Women of Marin had what she describes as "a fit" when she discovered she owed Earthlink $17,000 for charges incurred for hosting JPEGs of mostly naked peace signs at www.baringwitness.org, a website that was receiving 14,000 hits daily at the height of the antiwar movement.

"I told Paul my partner it's time to leave the country, change our names and start over," jokes Sheehan, who instead responded by writing Earthlink CEO Gary Betty.

To Sheehan's delight, Betty replied to say the communications company was dropping 90 percent of the charges, leaving her only $1,700 in debt.

Sheehan contacted Nüz with this news because the naked peace sign that Metro Santa Cruz printed as part of its Dec. 25 cover story is posted at her website, along with hundreds of other photos from around the world, including several others from the Santa Cruz area.

"It's an opportunity to plug in our new ideas and paradigms," says Sheehan, who is now encouraging people "to spell peacetime words, naked or clothed--in the language of any country we've pissed off."

Check out www.barewitness.org/photoalbum/photoalbum.htm.
---
Nüz just loves juicy tips: Drop a line to 115 Cooper St, Santa Cruz, 95060, email us at , or call our hotline at 457.9000, ext 214.
---
[ Santa Cruz | Metroactive Central | Archives ]