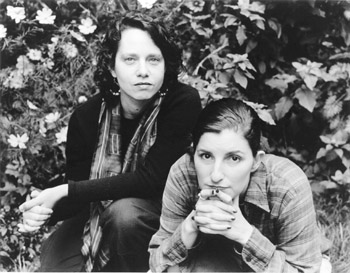 Photograph by Maria Soghian

Stripped of Illusions: Vicky Funari and former exotic dancer Julia Query teamed up to co-direct 'Live Nude Girls UNITE!,' featured in the upcoming Labor Day Film Festival.

Festival Overload

Critics think film fests are reaching critical mass

By Richard von Busack

THIS WEEKEND begins the Santa Cruz Film Festival, which I may or may not be involved with. I'm thanked on the fliers, because of one telephone conversation I had with its director, Jane Sullivan. Last week, I learned my co-host on local television's CinemaScene, Morton Marcus, withdrew his name from this fest. Since Morton's a wiser man than I am, I'm following his lead, though it's probably too late. I had seen exactly one of the films scheduled to play at the Santa Cruz Film Festival, the highly recommended San Francisco documentary The Cockettes, which follows the rise and fall of a polymorphous, perverse and charmingly clunky tribe of midnight-movie artistes of 1969.

Unfortunately, this first Santa Cruz Film Festival arrives right in the wake of the San Francisco International Film Festival. Moreover, the new fest goes head to head with Santa Cruz's May Day Labor Film Festival and the Jewish Film Series. These film festivals conflict with one I'd wanted to attend badly, last week's Sonoma Valley Film Fest. Programmed by Chris Gore, critic for the indie movie review site FilmThreat.com, who is also the author of The Ultimate Film Festival Survival Guide. I'd love to read this book, but meanwhile I need to get started on writing up the traveling show from the Ann Arbor Film Fest, and the San Francisco Documentary Fest, both of which are opening on May 10. And this in addition to the seven to 10 screenings I'd see in an ordinary week.

Even the parties at the San Francisco International Film Festival conflict with other mainstream movie screenings (which, frankly, isn't a bad thing). I know a few who avoid the closing-night parties because they've seen what happens. They meet in a room full of people they're burning to talk to in a nightclub where the music is turned up to 60 zillion decibels, drowning out all conversation. Like a fellow critic says, "These festivals aren't for us."

They're for the studios and they're for filmmakers who want to exchange phone numbers. Sometimes, they're for the public.

Certain film fests are plainly meant to improve the community's chances to pick up tourism. Part of Sundance's reason for existing was to attract skiers to Park City, Utah; Telluride is held to get people up to a tiny tourist destination in Colorado's Rocky Mountains. Deauville, on the north coast of France, is held in late August at the end of the tourist season. Similarly, the Hamptons Film Festival is held in a beach town that's getting very chilly indeed in October.

In the House

Some film fests are encouraged by studios as a means to increase name recognition, to give non-Hollywood films a boost, such as 13 Conversations About One Thing and The Triumph of Love, the two slender art films that opened the 2002 San Francisco International Film Festival. But these two films--and about 40 others at the SF Fest--are on a "hold review" list. What does that mean? It means we're requested not to write about these films at length until they're released. These "hold review" films have already been picked up for distribution, perhaps by the boutique-film division of a major studio, such as Sony Classics or Fox Searchlight. Usually, this purchase would have occurred months earlier at Sundance or Toronto, the two most important North American film fests. At Toronto one has a chance of seeing truly alternative work. But as critic Jonathan Rosenbaum says in his book Movie Wars, Sundance is "an industry-run affair misleadingly represented ... as a celebration of independence."

Many film festival selections will be playing in the area, and we might have more luxury to experience them and weight their merits if we weren't seeing six other films that day. In fact, 13 Conversations and The Triumph of Love are both opening within about a fortnight, as is the SF Fest closing night film, Woody Allen's Hollywood Ending.

In some Midwestern Melonville, where there's no place to see films but the 24-screen behemoth on the edge of town, a film fest might be an event. But in the Bay Area there's never a lack of movie selection, from Hollywood juggernauts to the weekly programs at the Nickelodeon, to the tiny closetlike exhibition spaces in the artists' ghettos of the Mission.

Still, even in a region with fewer art houses, like Chicago, it's hard for critics to brush aside their ordinary workday to see this week's film fest. Roger Ebert was on KQED radio plugging his new book The Great Movies and he was describing his reluctance to go to the Chicago Underground Film Fest. Ebert said, "I could go, but I'd have to see all 40 movies at once, because they don't spread them out."

Here, he's being a little crafty--most film fests do have preview "screeners," dubbed copies that the critics can watch before opening day. Ebert continued that there's not much of a chance to interest his editors at the Chicago Sun-Times to advertise some experimental film if it's playing for one night only. And even if Ebert's the most famous movie critic in the country, there's a lot he isn't allowed to do.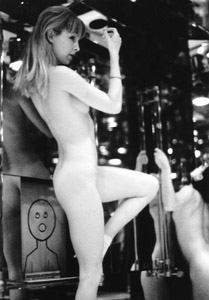 Body of Work: Sex workers protest working conditions at Lusty Lady in documentary 'Live Nude Girls UNITE!'
Photograph by Diane Dunn

Director's Cut
Part of me wants to see 1,000 film festivals bloom, but the fest system is at critical mass and there are going to be a lot of failed fests before the smoke clears. Chris Gore writes, "It seems as if I hear about a new festival starting up almost every week. I've heard many say that this spread of fests across the country is not a good thing. There are just too many. (Most people who share that opinion seem to be other film festival directors who fear competition.) I disagree passionately. To me, this increase in the number of festivals is a positive step forward for indies."
But as Gore notes, many filmmakers who don't win the prizes pay for the screenings of their own films in entry fees, self-promotion and shipping. Some of the filmmakers are deluding themselves. In any given film festival, there are films so poor that it would be gross flattery to call them forgettable.
The future of smaller film fests seems to be in niche programming: gay and lesbian fests, Asian American fests, the varied Jewish film fests--can a Christian film fest be far behind? The May Day Labor Film Fest in Santa Cruz (www.reelwork.org) has a schedule of revivals and documentaries with an international focus, such as Santa Cruz filmmaker Geoff Dunn's Dollar a Day, Ten Cents a Dance, Barbara Koepple's Harlan County USA and Live Nude Girls UNITE!, a surprisingly inspirational documentary about the unionization of nude dancers at San Francisco's Lusty Lady.
The May Day Festival is doing things right: it's starting on a modest scale with a specialized theme. Another sustainable way of seeing independent films is the film clubs hosted by Morton Marcus in Santa Cruz, Ken Karnes in San Jose and Michael Fox in San Francisco. These clubs and minifests gather up a regular audience for alternative films. This lessens the financial risk of an all-or-nothing proposition like a fledgling film festival, which perpetuates a system that's becoming more useful to the studios than to filmgoers or filmmakers.
[ Santa Cruz | Metroactive Central | Archives ]