[ MetroActive Central | Archives ]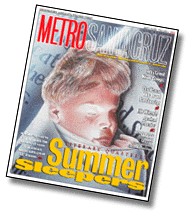 This Week


May 2-8, 1996

Literary Quarterly
All Rivers Run to the Sea:
By Elie Wiesel.

California Fault: Searching for the
Spirit of a State Along the San
Andreas: By Thruston Clarke.

All the Time in the World: By Robert Peterson.

Drive By: By Gary Rivlin.

News
Nuz: The prize bearded ones, holiday on wheels, dope shtick, and gas guzzlers.

Why Greed Never Sleeps: While timber clearing at Grizzly Flats has ground to a halt for now, a real jolt to the environment may just be right next door.

Arts & Entertainment
Movies: Reviews and show times for Santa Cruz County.

Baby Blues: Sista Monica is young and on the way.

Talking Pictures: Legal superstar Alan Dershowitz wants to send Primal Fear up the river.

Notes From the Underground: Caffeine and sugar fuel Ferrell's variety show.

Pissed!: Remembering how the record-industry wimps took the bite outta the Nervous Eaters.

Menu
Tony's Con Brio: Vibrant, honest flavors provide the real artistic signature of a seasoned chef who cooks with earthy strokes.

Hometown
The Woman Who Loved Bat Dancing: Patricia Winters believes her small friends could hold the world's fate in their tiny wings.

The Search for Angela Davis: Thanks to a wham-bam, jammed schedule of lectures, campus-hopping, globe-trotting, and other adventures, celebrity professor Angela Davis is a hard woman to nail down.
---
This page was designed and created by the Boulevards team.
Copyright &copy 1996 Metro Publishing and Virtual Valley, Inc.