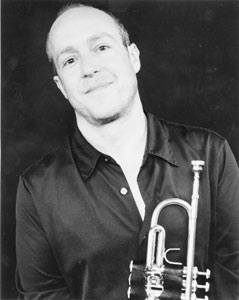 Brass Monkey: Trumpeter Dave Douglas is all over the place with the more than a dozen projects he's currently working with.

Mister Mouth

Trumpeter Dave Douglas just can't keep from blowing it as he brings his quintet to the Kuumbwa

By Peter Koht

Most musicians with a successful full-time gig are considered overachievers if they can find time for a single side project. A few will find time for two or three, maybe even four projects.

Trumpeter Dave Douglas has more than a dozen. We're not at liberty to speculate about what laws of time and space this man has to violate to be in all of these groups, but we can tell you that with them he has explored nearly every kind of improvisational music, one minute paying homage to great jazz artists like Mary Lou Williams and Miles Davis, the next minute taking on klezmer, Indian and even experimental electronic music. Most amazingly, Douglas is responsible for the bulk of the compositions that these groups play.

With 21 records as a bandleader to his credit, Douglas, who performs at the Kuumbwa Monday, has become one of the most critically celebrated musicians working today. While many of his contemporaries (I'm looking at you, Wynton) are content with carrying on the conventions of "classic jazz," Douglas has spent his artistic life continually redefining and expanding the improvisational repertoire. Although his work strays quite far from the safe sounds of contemporary jazz, he has become a darling of the press, winning countless awards from every major jazz publication.

Nowhere to Blow But Up

Born March 24, 1963, in Montclair, N.J., raised in New York City and educated at NYU, the Berklee School of Music and the New England Conservatory, Douglas honed his chops working with Horace Silver and John Zorn's Masada. While his early reputation was based on his blistering chops on the trumpet, he has moved away from being a sideman and grown into quite an accomplished composer and arranger.

For his upcoming performance at the Kuumbwa, Douglas will take the stage with his touring quintet, which features Seamus Blake on tenor sax, Uri Cane on the Fender Rhodes, James Genus playing the bass and Clarence Penn holding down the drums. Each of these musicians are virtuosi in their own right, but the overall group dynamic is much more important to Douglas.

"Once I've written the large ideas of a piece, I'm most concerned with making it work for the band," he told All About Jazz. "That means that each person has a part that makes sense and they are happy to play; that they have enough flexibility within the part to find new things and provoke the parameters of the piece."

The majority of the set will likely be drawn from his latest effort, Strange Liberation, which showcases another trait common to his work: an explicit concern for politics and equality. The album, recorded with the quintet and featuring guest guitarist Bill Frisell, is based around Douglas' feelings regarding the current situation in Iraq. The music is thoughtful and elegiac, but it also contains moments of exuberance and hope.

About the political content of his work, he has said, "What's going on in the world is extremely important to me and I think it should be to all of us. But I don't interpret that in any kind of realistic way. For me, music is really beyond words and it's all about feelings."

This commitment to musical feeling based on conviction is nothing new for Douglas. In the liner notes to his Witness CD, he dedicates the music to a number of unsung activists, from Nigeria's Ken Saro-Wiwa to Palestine's Edward Said. "Each piece is dedicated to those who have creatively challenged authority, sometimes endangering their own lives, but inspiring the rest of us to resist. I see it as proof that we can protest the senselessness with grace and courage--without losing our humanity, our personality or our sense of humor."

The man who once told Jazz Review that he feels like apologizing for the Bush administration each time he takes the stage while traveling abroad is firmly committed to making a difference, both through his activism and his music. "We have to try to change it," he says. "It's very painful and difficult, but it's just another thing that we have to do."
---
The Dave Douglas Quintet performs Monday, May 10, at the Kuumbwa at 7pm and 9pm. Tickets are $23/$20; call 831.427.2227.
---
[ Santa Cruz | Metroactive Central | Archives ]