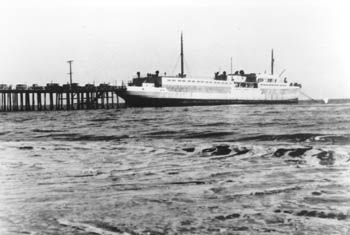 Covello & Covello Historical Photo Collection

Aptos' Famed Concrete Ship: Even Donald Clark in his classic and indispensable book 'Santa Cruz County Place Names' gave up and called this 'the cement ship.' Cement is powdery or like sand and is used to make concrete or in this case a ship. Impress your friends, be nice to tourists--and tell them the truth: this is a concrete ship. The tanker was made during World War I by the Henry J. Kaiser shipyard and launched as the 'Palo Alto' on May 27, 1919. It was never used, and was purposely moored right where it is and used as an amusement center. It's been owned by the state since 1965. Along with London Nelson and Cabrilho as in Joao Rodriguez Cabrilho, it's another local monument to mistaken identity.

Bruce Bratton

EAST BERLIN. It only dawned on me a day or two before I left Berlin: aside from exactly three bus trips, I spent my entire time in East Berlin. The opera house, the museums, my pension, all shopping and the little touristing I did were all in that part of Berlin once occupied by the Soviets and separated from the more prosperous, greener West Berlin by The Wall or as you still hear almost daily, Der Maurer. That made much more of a difference in my impressions of Berlin than I realized.

THE WAGNER EXPERIENCE. It wasn't a record, but the audience stood and applauded for 28 minutes at the close of Parsifal, Richard Wagner's last opera and the last of the 10 Wagner operas I went to Berlin to see, hear and revel in. I lost count of the curtain calls. There were only two last-minute substitutions in all of the 10 performances and they were replaced from within each cast of famed European Wagner veterans. Opera houses around the world are smaller by at least half than most of the American venues. That means performances are more intimate, and the sound is sharper. With a typical Wagner orchestra of over 120 players, singers have a tough time being heard anywhere, but in Berlin it was a fine balance. The controversial Harry Kupfer, who directed and staged all 10 operas, was also gutsy enough and had the money and time to cast each role for looks and acting ability as well as the necessary vocal prowess to handle Wagner, so as I've mentioned, we had a perfect mix of voices, music and drama, plus settings that will cause debates as long as there are people who care about Wagner.

ODD QUESTIONS. Several times in Berlin or Bayreuth, when newspaper people or locals found out I was from someplace near San Francisco, there were questions like, "Are those little railroads still running?" Few remembered the name "cable cars," and most were surprised when I told them how the cable cars were powered by hooking onto an underground cable. The next question asked was, "Where does the Golden Gate Bridge lead to?" They all knew it was anchored on one end in S.F., and I had a tough time explaining Sausalito and Marin County. Many, many times folks would say, yes, they'd been to S.F., Half Moon Bay, even Moss Landing, plus of course Monterey and Carmel, and yes, they loved driving Highway 1, but where is Santa Cruz? I almost said it was near the River Street sign, but I figured it'd be gone by now.

LOUNGING IN L.A. After three weeks in Germany I went to my niece's wedding in Valencia and stayed four days in L.A. with daughter Jennifer and family. She took me to see the new Kodak Theatre/Graumann's Mall at Highland Avenue and Hollywood Boulevard. where the Oscars were this year. It's a billion-dollar mall of schlock, with only a few upscale stores to give it any sense of validity. Besides that, they keep the Oscar theater locked--no tours. Now, if you want a real L.A. shopping experience, go see the also-brand-new Grove. The Grove is where the northern half of the Farmer's Market on Fairfax used to be near CBS and Third. It's like a theme park with shopping and money as the theme. It looks like Old Town in Disneyland complete with trolley plus FAO Schwartz, Anthropologie and lots of very smart planning.

TRAVEL NOTES. The new SFO Airport is really not much to look at. Big, barnlike, about $8.12 spent on aesthetics and very cold and unfriendly. But the really huge German airport about to open midway between Leipzig and Halle is gorgeous. The bus stopped there on my way to and from Bayreuth. The functions of the two airports are the same, but what a difference in design. And from what I heard many times, Germany's economy isn't any better off than ours. Benzine (gasoline) is about $ 5.00 per gallon in Germany, so of course more folks use public transportation, which of course means their public transportation is way better than ours. It rained almost every day while I was in Berlin, plus the fact that I wasn't there to see sights--just opera--means I didn't see many of the usual tourist attractions. I did go to KaDeWe, the second biggest department store in the world. I bought a candy bar and an excellent bowl of bouillabaisse on the legendary sixth floor, which is made up of food counters, delis and purveyors of comestibles like we've never seen.
---
Bruce critiques films every other Thursday on KUSP-FM (88.9). Reach Bruce at [email protected] or at 457.5814, ext.400.
---
[ Santa Cruz | Metroactive Central | Archives ]