[ MetroActive Central | Archives ]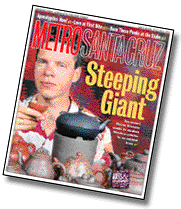 This Week


May 9-15, 1996

Cover
Steeping Giant: Tea expert
Wayne Brennan wants to awaken
Western palates to an ancient brew.

News
Nuz: Daily grind, screwing around,
fish story, grease increase.

Apocalyptics Now!: The author of Divided Planet: the Ecology of Rich and Poor examines dire environmental prophecies and America's collective denial.

Arts & Entertainment
Movies: Reviews and show times for Santa Cruz County.

Burn These Punks at the Stake: Bad Religion signs with a major label.

Notes From the Underground: Punkoid geeks and four-eyed ukestars entertain the kids.

Pissed!: For crissake, kill the accountants!

Menu
Jonesin' for Some Java: A coffee sociologist examines the social hierarchy of caffeine addicts.

Love at First Bite: For many devotees, chocolate is the ultimate sensual nourishment.
---
This page was designed and created by the Boulevards team.
Copyright &copy 1996 Metro Publishing and Virtual Valley, Inc.