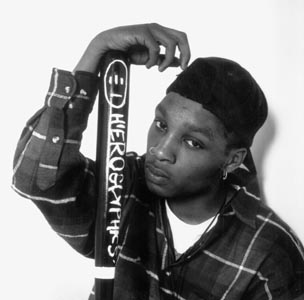 Sample Case: Del tha Funkee Homosapien moves to composing on his latest CD.

Brain Power

Del tha Funkee Homosapien and Blackalicious expand on their new albums

By Bill Cassel

TWO UNDERGROUND hip-hop legends with Oakland connections--Del tha Funkee Homosapien and Blackalicious--will appear together at Palookaville this Friday (May 12). Both are promoting excellent recent releases: Del's Both Sides of the Brain is his first solo CD in six years, while Nia is Blackalicious' first full-length release in its 13-year existence.

Del's debut album, 1991's I Wish My Brother George Was Here, co-produced by his cousin, Ice Cube, was more party soundtrack than Cube-style gangsta rap. Its lighthearted vibe and George Clinton­descended sound harked back to an earlier era of funk.

His next release, No Need for Alarm, sold well, but just prior to the scheduled release of his third album, Del's label, Elektra Records, dumped him. In the wake of this drastic rise and fall, Del dropped out of sight for awhile. Rumors abounded that he was deep in a funk, and not the good kind.

In retrospect, though, his "disappearance" looks more like a strategic retreat. He returned to the public eye in 1998, but in a very different way: as part of the Oakland-based Hieroglyphics crew, which also included longtime associates Souls of Mischief and Casual.

Significantly, the 1998 Hieroglyphics album, Third Eye Vision, was released under the auspices of the group's own label, Hiero Imperium. Tired of major-label headaches, the Hieros decided to do things their own way, building from the ground up. With Both Sides of the Brain, Del hopes to capitalize on this success--and, more importantly, to have a lot of fun doing it.

Although he dismisses the significance of the title ("It just sounded fresh," he confesses), it says a lot about what he's up to. His music has always been very much about the mind--specifically, Del's mind. At times, he's reined in its wanderings, but these days he's content to let it flow.

Both Sides of the Brain finds him addressing such favorite topics as video games and people who bug him, and introducing a futuristic alter-ego, Deltron Z. The music reflects the relative luxury afforded by a six-year gestation period: The 19 tracks are layered and deep, built on intricate drum programs and bass lines.

Like Beck's Midnite Vultures, which Del cites as his favorite rock record of recent times, Both Sides of the Brain grabs you on the first listen with its hooks and beats, then reveals more and more depth on each subsequent spin.

The album also shows Del moving away from sampling and toward composition, which he intends to do even more of in the future. The tracks that he's working on hint that he's opening up whole new vistas with music theory and his recently acquired 16-track digital home studio. Some of them should make it onto the Internet-only album Del is planning for his fans, Achilles Heel. (Check out www.hieroglyphics.com for the latest.)

IN CONTRAST to Del, Blackalicious never even tried the major-label route. From the beginning, Oakland-born Chief Xcel (DJ) and L.A. native the Gift of Gab (MC) have preferred to remain unseen and mostly unknown, laboring away patiently at their craft as fashions come and go, surfacing occasionally to deliver extremely high-quality hip-hop.

The two met at their Sacramento high school in 1987. Later, in Davis, they hooked up with the Solesides crew, which included Latyrx and DJ Shadow. Blackalicious's first single, the 1994 underground classic "Swan Lake," came out on the Solesides label, as did the 1995 Melodica EP. The duo's next release, the stupendous A2G EP, appeared in 1999 under the imprint Quannum Projects. Having fulfilled its purpose, Solesides was "decommissioned." Its replacement, the Quannum Collective, included Shadow and Latyrx, and released a group CD, Quannum Spectrum, also in 1999.

Thus the Blackalicious CD Nia has been a long time coming. Was it worth the wait? In a word, yes. On Nia, Blackalicious combines a mellow, soulful groove with a flair for booming, window-shaking funk, all of it assembled with loving, impeccable precision. This is the beauty of two turntables and the English language in skilled hands.

Nia (Swahili for "purpose") offers a bounty of gifts, including the mind-blowing beat of "The Fabulous Ones," African chanting on "You Didn't Know That Though," and shout-outs to just about everybody on "Making Progress."

Gab's rhyming distinguishes itself both by dint of sheer prowess and by being resolutely, even defiantly, positive. As he puts it, "Hip-hop can be any kind of music from anywhere. You can talk about anything. ... There's no limit to it. It's about expansion."

There's a lot of expansion, and a lot of love, going on in the hip-hop community these days. Del tips his hat to Q-Tip and the RZA; of Blackalicious, he says, "I like them cats." Gab and Xcel praise Planet Asia, Dilated Peoples and Jurassic 5. And, says Gab, "Del is one of our favorite MCs--the dope thing about West Coast underground right now is everybody's supporting each other. It's a whole kind of unity thing, everybody coming together as peers. It's a really good time right now."
---
Del tha Funkee Homosapien, Blackalicious and Blood of Abraham appear Saturday (May 13) at 9pm at Palookaville, 1133 Pacific Ave., Santa Cruz. Tickets are $13 adv./$15 door. (831.454.0600)
---
[ Santa Cruz | MetroActive Central | Archives ]