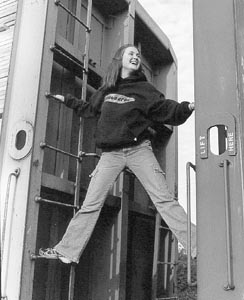 Hear Me Roar: Erica Terence Speaks Out! at the Youth Coalition's third annual forum May 12 at the Louden Nelson Community Center.

Photograph by Heather Skibbins





Nüz

Teen Speak

These teens have more than a thing or two on their minds. And they'll be speaking their proverbial gray matter May 12 at Youth Coalition Santa Cruz's third annual Speak Out!, an open forum for youth.

All ages are invited, but talk-time is reserved for teens. Adults should be seen, not heard.

"For adults, it's partly to encourage them to think about what it's like to be young," says Erica Terence, a Santa Cruz High junior and YCSC member. "But we're also saying look at us, we're intelligent, we're capable, and we have a lot of ideas, but you can only use them if you are willing to sit down and accept them."

YCSC members have been planning Speak Out! for the past few months. With events such as the passage of Props. 21 and 22, and the Santa Cruz teachers' contract negotiations hot on their minds, the teens chose a list of topics for discussion that includes diversity, homophobia, education, juvenile justice and global issues.

Miriam Swaffer, a junior at Santa Cruz High, says she is concerned that her fellow students are not paying sufficient attention to world events.

"It worries me that my peers don't see these things happening and ask questions. I am looking forward to this as an opportunity for youth to speak out about why they don't know and why they are not involved. I think as youth, we often forget that we have a voice."

The forum will be held 4 to 5:30pm at the Louden Nelson Community Center Laurel Park area. Leaders of Today: Positive Images of Teenagers in Santa Cruz photography show and reception by UCSC student Heather Skibbins will follow from 5:30 to 6:30pm. For more info call 427-5066.
---
Will Patty Approve?
A deal for Santa Cruz's most famous nightclub, The Catalyst, has been inked, but the new owners have at least two fiery hoops to jump through before they can open up shop.
Longtime Catalyst owner Randall Kane told Nüz that a tentative pact was signed May 5 with attorney David Farling, co-owner of the Usual nightclub in San Jose. Farling, who did not return calls, paid the $300,000 asking price for a deal loaded with contingencies. Most notably, Farling has to qualify for his own liquor and entertainment licenses, which the prohibitionists led by Lt. Patty Sapone at the Santa Cruz Cop Department have been making difficult lately. Farling takes over all the business operations, including food service, but Kane will continue to own the building and property.
Farling has the option of changing the name of the club, although that's unlikely. "Not unless he's insane," commented the ever-reticent Kane.
---
Your Brain on Soy
The commercial possibilities are endless. Your-brain-on-drugs commercials are old hat, but brain-on-tofu television slots? Any questions?
According to a long-term study, the popular health food may lead to shrinkage--of the brain, that is. Which may explain a lot about Santa Cruz.
Soy champions credit the curd with helping prevent osteoporosis, prostate cancer and hot flashes.
But according to a 25-year study of 8,006 Japanese-Americans in Hawaii, the pasty white cubes are not all that they are cracked up to be.
The Los Angeles Times recently reported that the study found that test subjects were more likely to suffer from accelerated brain aging, mental impairment and even Alzheimer's if they ate tofu at least twice a week during midlife.
Critics, however, say it's too soon to toss the tofu.
A 1993 study of 272 Californians, matched for age, sex and ZIP code, found that those who ate meat were more than twice as likely to suffer dementia as their vegetarian counterparts.
Bill Theis, vice president of medical and scientific affairs for the National Alzheimer's Association in Chicago, told the Times that the findings were too preliminary to jump to any conclusions.
"If I had a strong taste for tofu, I'm not sure that this study would keep me from eating it."
One local soy supporter, Food Bin general manager Dario Dickinson, says don't turn away from the white stuff just yet.
"This is a very inconclusive study--I wouldn't make anything out of it. I don't think this study should deter any person from consuming tofu."
---
Sea of Controversy
Local divers say there's something fishy about two Monterey Bay National Marine Sanctuary studies.
According to the studies, "Diver Disturbance in Kelp Forests" and "The Effects of Small-Scale Kelp Harvesting on Giant Kelp Surface Canopy Dynamics in the Ed Ricketts Underwater Park Region," divers detach 130,000 kelp blades per year, or about two blades per dive.
Kelp harvesters, on the other hand, removed more than 9 million pounds of kelp from the sanctuary in 1995.
Yet somehow, divers complain, the diving study concludes that "recreational SCUBA diving causes a variety of disturbances to kelp communities" and recommends restricting access and limiting diving to underwater trails. Meanwhile, the kelp-harvesting study concludes that harvesting doesn't hurt the forests and steers clear of recommending regulations on harvesting.
"The sanctuary has handled the two studies in a very biased way," says MBNMS Advisory Council diving representative David Clayton.
Clayton says the diver-restricting recommendations were noted in the first draft of the sanctuary's Kelp Management Plan, even though he says MBNMS Superintendent William Douros agreed not to use the study for future policy-making decisions. The second draft is due out in a few weeks.
Douros tells a different story. "They [the diving community] asked us to make the study go away entirely and we won't do that," Douros says.
MBNMS diving supervisor and environmental scientist Patrick Cotter assures Nüz that the sanctuary will not restrict diver access.
"We value the divers' partnership," Cotter says. "Underwater trails, entry and exit points--we are not considering doing anything like that, as we have told the diving industry several times."
But Clayton's not convinced, pointing to a memo by Douros that precedes the Diver Disturbance Report. "[I]n the planning of future parks and reserves," the memo reads, "factors such as the location of entry and exit points, continual education, and the concept of 'trails' should be considered."
---
Steal Magnolias
Nüz loves rhetorical flourish--as in the present case involving Diederik and Jeannie Lagerwerff, owners of White Magnolia Restaurant in Aptos' Bayview Hotel Bed & Breakfast. The Lagerwerffs have been looking for a buyer for the restaurant since closing it at the end of the last year. During that time the couple has continued to pay the rent on time, according to broker Jim Roberts.
The Lagerwerffs were in escrow on a sale of the restaurant to Lake Tahoe attorney John Thomas when they received a hand-scribbled note May 4 from Sandy and Roland Held, the new owners of the B&B, informing the Lagerwerffs that they considered the premises abandoned. When Diederik attempted to enter the building two days later the locks had been changed, and when he tried to pay his rent for May the same day, the Helds refused to accept it.
With nearly two years left on their lease and a lot of expensive equipment at risk, the Lagerwerffs turned immediately to attorney Martin Drobac. In a letter dated Sunday, May 7, Drobac minced no words with the Helds.
"You are making a very serious mistake, and you should stop before this foolishness goes any further," Drobak wrote. Then, after listing the Helds' legal transgressions as he saw them, Drobak closed with:
"I recommend very strongly that you reverse your position immediately, restore the space that was leased to White Magnolia Inc., and the personal property you confiscated, and otherwise make amends with your Lessee, before it is too late. In the alternative, read Paragraph 39 of the Lease, and calculate, if you can, the money you will spend on attorney fees, yours and White Magnolia Inc.'s." Ouch.
The Helds did not return repeated phone calls from Nüz.
---
The Lane Game
Quinn McLaughlin of Santa Cruz console game developers Osiris Software Design Studios is totally stoked. This week he's heading to Los Angeles for the Electronic Entertainment Expo (E3) trade show, where the company's latest development may get its debut.
PlayStation game publisher Acclaim has green-lighted McLaughlin's pet project: a surfing game modeled on the hot-dogger scene at Steamer Lane. Already signed as a featured surfer in the game (working title: Big Wave Surfing) is top pro Sonny Garcia. McLaughlin says that he's also talking with a number of local shredders.
Though surfing seems a natural for PlayStation (similar extreme sports titles like Tony Hawk's Skateboarding rank as top-sellers), console game graphics have only recently reached the point where they can go after the holy grail of real-time rendering--water. The high-end graphics horsepower of Sony's new PlayStation 2, set for release in this country this fall, makes it possible.
"We're in the perfect spot," McLaughlin says of the company's new Cooper House offices. "We're in the same building as a new surf shop and across the street from another."
---
[ Santa Cruz | MetroActive Central | Archives ]