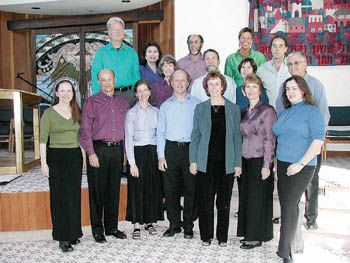 Sweet Sixteen: We were told there would be no math on this job, but at last count, and we tried three times, we found 16 Ariose Singers in this photo ...

In Praise of Music

Ariose Singers move from secular choir music to the sacred

By Scott MacClelland

Now approaching the end of their fourth season, Leta Miller's Ariose Singers have chosen to celebrate music itself with a program this weekend whose texts do the same. Among the earliest with such descriptive references are the Psalms, with Psalm 150 famously punctuating its alleluias with shofar, pipe, psaltery, harp, cymbals, strings, timbrals, dance and voices. (You can hear those instrumental effects in the last movement of Stravinsky's Symphony of Psalms.)

Three settings of 150 will be included in the Ariose program, one each by the early 16th-century priest Antoine Brumel, the 19th-century German Louis Lewandowski and the living German-born Israeli Tzvi Avni. Working in Berlin, Lewandowski was largely responsible for restoring choral singing in the synagogue, inspired in part by the Protestant church choral tradition. The Avni setting is part of Psalm Songs, composed in 1967, that includes verses from Psalms 47 and 48.

Ariose has until now concentrated on secular choral music, but the theme here has opened the door to the sacred. Once through it, Miller couldn't help but add two sacred motets by Brahms that she loves, even though their texts do not speak about music. The program includes many short pieces and, after an introductory piece by Josquin des Prez, is grouped into Psalms About Music, Songs About Music, Britten's Hymn to St. Cecelia, the Brahms motets, More Songs About Music and, finally, Avni's Psalm Songs.

The Britten sets a vividly expressive poem by W.H. Auden. While popular with a cappella choirs, many of them don't know the background of Auden's arcane phrases, Miller says. She cites a Britten biographer, Humphrey Carpenter, who explained that it was Auden's exhortation to the composer, his one-time lover, to celebrate rather than regret his loss of innocence. The third of the three verses challenges Britten to resolve his homoerotic desires instead of feeling afflicted by them--if not in so many words.

Among the Songs and More Songs are Gerald Finzi's "My spirit sang all day," Hubert Parry's "Music, when soft voices die" (on words of Shelley) and Frederick Delius' harmonically rich "The splendor falls on castle walls" (to words by Tennyson). John Bennet's "All creatures now," a pastoral paean to Oriana (Queen Elizabeth I) and Hans Leo Hassler's "Tanzen und springen," set to a galliard rhythm, both come from the early 17th century. The living Estonian composer Veljo Tormis is represented by "dance songs" from his Ingrian Evenings, haunting folk songs of the Izhorians of Ingria--sometimes known as Karelia--set to lively rhythms (and sung mostly in English because the singers were sweating bullets over the Votian dialect).

The 17 Ariose Singers have developed an enthusiastic following, not least for their adventurous programming. And Miller does allow--with a coy smile--that they are better now than when they were just starting out.
---
Ariose Singers perform a variety of a cappella choral works that celebrate music, Friday, May 13, at 8pm, and Saturday, May 14, at 8pm, St. Andrew Church, 9850 Monroe Ave., Aptos; 831.462.2449.
---
[ Santa Cruz | Metroactive Central | Archives ]