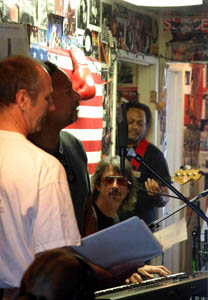 The 'Rubber' Breaks: The all-star ensemble that brought you 'The White Album,' shown here at KPIG, is now taking on two more Beatles albums.

He Wants to Tell You

Dale Ockerman has got lots to say about the White Album Ensemble's 'Rubber Revolver.' Too bad our reporter is totally tripping out.

By Mike Connor

'If the Beatles were to go on the road today, do you'd think they'd say, Let's scrimp and save?" asks White Album Ensemble member Dale Ockerman, his words whizzing past me like hummingbirds teasing a curious sloth.

My brain has hardly registered his "scrimp and save" reference when he's wrapping up his point that it makes sense to go all-out when you're re-creating Beatles music. He uses the Concert for George as an example: " ... and it was, like, holy shit, they've got four drummers, they've got Clapton and George's son ... two chicks singing from the Clapton band. They didn't fuck around, they'd pull out all the stops you know, put it in the red."

A team of ambitious neurons in my head lumbers to get a word in edgewise, misses, rests. The new logo is there on Ockerman's press release: a flaccid rubber revolver with a rose in the barrel. "As with the White Album shows, there will be a raffle at intermission, with proceeds benefiting Guitars Not Guns, a non-profit organization. For more info, go to guitarsnotguns.org ..."

A plane flies overhead. Sky of blue, and sea of green ... blah blah blah ... submarine!

Still, I hear the sound of Ockerman's voice on the phone. "Timb, the violin player for Estradasphere, he's putting together a string quartet on 'Eleanor Rigby' ... I was first trumpet first chair in the Cal State Youth Symphony when I was 10, now I'm 51 years old ... Playing the trumpet, you gotta do that with your face, man, it's hard to explain ... You gotta have your shit together ..."

I'm playing an oversized trumpet with my face. The vibrations tickle on the forehead.

Ockerman's excitement for the White Album Ensemble's new project, which they'll be performing all weekend at the Rio Theatre, snaps me into the present. It was partly this enthusiasm that led to the genesis of Rubber Revolver, a live, faithful reproduction of two back-to-back Beatles records from '65 and '66, Rubber Soul and Revolver.

Again, Ockerman's press release: "These records symbolize the transformation of the Beatlemania-driven Fab Four's cheery visages into more sophisticated, mature artists who used the recording studio as their paintbrush, exploring much darker, deeper themes ..."

Rick "Ukulele Dick" McKee dreamed up the White Album Live! concept during a long, long drive. Considering the success of that project, it was only natural that they use the momentum to pull off another Beatles album or two. Ockerman credits ex-Palookaville owner Michael Horne as the first to suggest Revolver.

"Everybody else was like, 'Let's do Sgt. Pepper and Magical Mystery Tour,'" says Ockerman. "But then we looked at it and were like, 'Holy shit, that's a lot of fuckin' work.' Not to mention we'd have to have an orchestra."

The walrus costume might not have been cheap, either. So there was definitely some contention among the ranks as to which project would be next.

"If you have eight different people, you're gonna have eight different opinions," Ockerman explains. "But people kinda snapped to the grid eventually."

In addition to the original eight members of the group, six new musicians are joining the party to fill out the Ensemble's capabilities--expect live horns, a string quartet, tablas and a sitar.

"We have a sitar player come in. Ernie Baber came in to play the sitar, he learned how to play in Calcutta, India, and even though he's Caucasian, when you hear him play you go, 'Damn, that takes me to another world.' You feel like you're on acid or something."

Yeah ... or something.
---
The White Album Ensemble performs 'Rubber Revolver' at the Rio Theatre on Friday, May 14, and Saturday, May 15, at 8pm, and on Sunday, May 16, at 3pm. Tickets are $25 general admission/$40 Rubber Circle, available at Streetlight Records, 831.421.9200, and Etc. Etc. Etc., 831.479.9421, or on www.ticketweb.com.
---
[ Santa Cruz | Metroactive Central | Archives ]