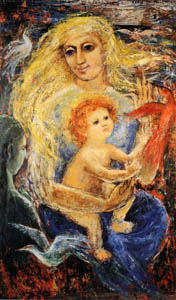 Holmes Is Where the Art Is: Mary H. brought 'Joy' to the local art world.

Mary Visionary

The influential art and ideas of founding UCSC faculty member and all-around Santa Cruz icon Mary Holmes are remembered in a new book

By Rebecca Patt

The spirit of Mary Holmes, beloved matriarch, professor and artist of the Santa Cruz community, lives on in an inspiring and gorgeous book created by one of her former students, international balloon hat maker Addi Somekh.

Mary Holmes: Paintings and Ideas features photographs of Holmes' luminous paintings and her thoughts about the relationship between art, life and spirituality as she related them to Somekh in a long series of interviews shortly before she passed away in January of last year at the age of 91.

Holmes, one of the first faculty members to come to UCSC in 1965, possessed legendary powers as an art history professor and lecturer. Somekh describes her as "mesmerizing."

"I heard Mary talk for the first time and did a double take, almost like in the cartoons," says Somekh, who'll discuss the new book May 15 at Capitola Book Cafe. "My sociology classes at UCSC were an unfortunate combination of predictable and irrelevant, and when Mary spoke she was direct, passionate and classy. And her ideas were so unique that I had to write them down instantly because they were so new to me that I would forget them instantly."

Somekh first encountered Holmes about 10 years ago while she was giving one of her lectures at Penny University, a weekly conversation group held every Monday in downtown Santa Cruz for the last 30 years.

"The three words that would always appear in her talks, no matter what the subject, were 'love,' 'paradox,' and 'meaning.' For Mary, these were not just unavoidable aspects of life, but at the core of existence," says Somekh.

Holmes also created large oil paintings, often featuring mythological female figures. Her paintings depict themes such as the importance of faith or hope or fate in human lives.

"If there is a common thread that connects all of Mary's paintings, and even her lectures as a teacher, that thread would be the relationship between of physical and spiritual lives--the sometimes awkwardness, the pain, confusion, and the joy and beauty of that relationship," says Somekh.

Since the 1950s, Holmes never tried to sell any of her paintings. She also did not make an effort to show her paintings in the typical style of getting a gallery to hang them. She built a chapel on her land and hung her paintings there, welcoming everyone to come visit the chapel and see the paintings for free.

The depth of Holmes' ideas and art profoundly impacted Somekh, who, by the way, is best known these days as a world-traveled balloon hat maker.

"A great teacher is, in Plato's metaphor, one who presides like a midwife over the birth of vision in others, who inspires a new and authentic understanding of the world. Anyone who knew Mary Holmes, whether from a single lecture or through years of friendship, would agree that she was such a teacher," says Somekh.
---
Addi Somekh will appear Thursday, May 15, at 7:30pm at the Capitola Book Cafe, 1475 41st Ave., Capitola, to show slides of Holmes' paintings and discuss her ideas, plus show a few balloon hat photos. For more info, see www.maryholmesbook.com.
---
[ Santa Cruz | Metroactive Central | Archives ]