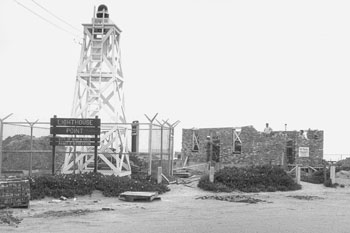 Photograph by Covello & Covello Historical Photo Collection.

New Lighthouse Museum: Contractor Milt Macken was building our new lighthouse back in May 1967. There has been so much written on this combination lighthouse-museum-mausoleum lately that all that's left is to go visit it quick before the tourists get here.

Bruce Bratton

FILM SCREENINGS AND SYMPOSIUM. This weekend at UCSC, three rarely seen Satyajit Ray films will be shown and an international panel of Ray enthusiasts will discuss his contributions to cinema. The films will be shown in their original 35mm format. On Saturday (May 19), The Golden Fortress (1974) will screen at 12:30pm and The Company Ltd. (1972) at 3:30pm. On Sunday (May 20), The Chess Players (1977) will screen at 12:30pm, followed by the symposium. Filmmaker Gregory Nava (who directed El Norte and Selena), Dr. Aida Sofian from Moscow, Peter Rainier, president of the National Society of Film Critics, and Dr. Partha Mitter from the University of Sussex in England will all talk about Ray ("wry"). Ray was best known in this country for his Apu Trilogy. Most of his films in the '80s and '90s were not distributed in the United States. It all happens in UCSC's Media Theater and is open to the public for free (although donations are encouraged). This event was created by UCSC's Satyajit Ray Film and Study Collection under the direction of professor Dilip Basu. Call 459.4012 or check Ray FASC at http://arts.ucsc.edu/rayFASC/welcome.

APPROVING THE RITTENHOUSE BUILDING. I was appointed to and served on the Santa Cruz Downtown Commission for about a year and a half. I resigned last week. I was going to resign months before because (1) it was a waste of time for so many volunteers to spend so many months dealing with such issues as sidewalk-cleaning and sealing, parking-district problems, etc., and (2) the communication between the City Council and the commission was nearly nonexistent and ineffective. Then, a week ago Tuesday, when the City Council voted unanimously to approve the Rittenhouse building and completely ignore the Zoning Board's unanimous vote to send the building back to the drawing board, it was too much, and I resigned. If the City Council is going to ignore its boards and commissions in approving Louie's building, who do they think they're representing? SCAN endorsed a plaza at that corner, so did the Cabrillo Music Festival, Tandy Beal, members of First Night, Shakespeare Santa Cruz and 3,000 signers of a petition. Those groups were all ignored by the City Council in that shocking 7-0 vote. They ignored environmentalists who wanted green space downtown; they ignored business experts like Ken Burns, who said a plaza there would help business. The council never explored the funding sources to buy property specifically for urban parks and plazas. For more than two years the council never consulted parks and plaza experts. One thing is clear: no one can ever call this council unfriendly to business. When they vote 7-0 for "continuous retail," as Louis calls it, instead of even minimal open space for community use, they no longer represent me, and vice versa, for that matter.

DARK PLEASURES. I almost forgot about Shadow Magic now at the Nick. It's a fine, cute, nice film, about like The Dish. It won't make you think much, or challenge anything--you just sit back and enjoy it for what it is. A Knight's Tale is even cuter. It's made for teenagers and has medieval knights and their courts doing waves, rocking out and other anachronistic Hollywood touches, so don't go unless you're very desperate. Wayne Wang directed The Center of the World, and I'll bet it wasn't his favorite project. It has a forced and contrived plot about a geek seeking some kind of love. It's got some interesting ideas going but doesn't end up saying much or entertaining anybody. If you liked the best of Hitchcock you'll love With a Friend Like Harry. It's about what you imagine Hitchcock films would be like if he were still directing. Go see it, no matter what. I think Wong Kar-Wei's Ashes of Time is, frame for frame, the most beautiful film I've ever seen. (Wong's In the Mood for Love was almost as beautiful.) It took almost 10 pages on www.mrqe.com to explain the plot. I saw it on DVD at UCSC's Thursday and Friday Nights in May series at Social Sciences II.

RANDOM NOTES. John Yewell, formerly of this paper, is not happy in North Carolina. He's been calling media friends here re his sad situation. ... Word is out that the new publisher of Good Times is Ron Slack of Monterey's Coast Weekly. ... The Anna Jean Cummings Park in Soquel is wonderful. Check out the very new and creative play equipment. ... Get tickets now for the UCSC Music department's Elixir of Love May 31, June 1-3; call 459.2159 for tix. ... Erica Lann-Clark's one-woman show, Once There Was a World, has music, Yiddish tales and lots of Erica's fertile creativity. It plays June 1-10 at Actors' Theatre; call 479.1874 for tickets.

SWIFT HISTORY LESSON. After a captivating tour of the current Rispin exhibit at the Capitola Museum, Carolyn Swift reminded me of some fascinating historical data. You probably knew that Love Creek was named after Harry Love, Trout Gulch was named after Mr. Trout, and Olive Street and Olive Springs Road after Rich Olive's forefathers. So guess who Morgan Hill was named after. Nope. It was named after Mr. Hill, Morgan was his first name. Rich Olive has loaned me his Olive family photo album, a treasure of great early county photos. Watch historic photo space above asap.

URGENT FISH QUESTION. I've never been sure. Where's the best place to buy locally caught fresh salmon? Where are the best buys? Is it better to buy off a boat? Which markets get and give the best prices? I'll be happy to share any information you have or keep it quiet, whatever.

PLANNED HISTORIC HOMES TOUR. Planned Parenthood Advocates holds its annual Downtown Historic Homes Tour this Saturday. You can tour four carefully restored homes in the downtown area. One of my personal favorites is the 1895 Queen Anne home that was once the law office of attorney and mandolin player Mike Hugh Johnston and Henry Faitz. Henry, a loyal Democrat. ran for state assembly in 1972, and we really lost that election (full disclosure: I was the campaign manager). The omnipresent Lillian McPherson Rouse will be in her birth home, a 1920s Craftsman-style dwelling. Call 425.1551, ext. 35, or stop at 219, 231 or 236 Walnut or 312 Maple streets to get the $25 tickets, which go to help elect pro-choice candidates.

TOURIST NEWS. Matt Gutierrez (ace physical therapist from Dominican's Rehab Center) emails from Paris to say Rick Steve's guidebook works wonders. Matt and his "serious other," Brit, toured Paris complete with Notre Dame, the Latin Quarter, the Eiffel Tower, Rodin Musée, Invalides and even Westminster Cathedral the week before.

CAPITOLA, THE NAME. In visiting the Capitola Museum, as previously mentioned, C. Swift stated she's convinced the name Capitola came from an immensely popular series of novels about an exciting young woman named Capitola. The books were written by E.D.E.N. Southworth and included such titles as Capitola, Capitola, The Mad Cap and Capitola's Peril. The museum has copies of each of them. Carolyn also said that the museum has had calls from women actually named Capitola, because their mothers were such fans of the novels.

BUMPER STICKERS. Actor/seeker/artist Simon Kelly sent in these gems: "Wanted: Meaningful Overnight Relationship." "The More You Complain, the More God Makes You Live." "I used to have a handle on life, but it broke." "Beauty is in the eye of the beer holder." And "You're just jealous because the voices only talk to me."
---
Bruce critiques films every other Thursday on KUSP-FM (88.9) at 12:50pm. Reach Bruce at [email protected] or 457.5814, ext. 400.
---
[ Santa Cruz | MetroActive Central | Archives ]