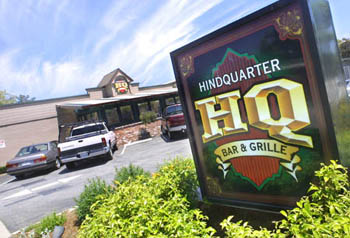 Photograph by George Sakkestad

Sign of the Times: The Hindquarter's sign steers diners to its strong point: beef.

And the Beef Goes On

Another restaurant landmark rests on its laurels with attentive service but uneven culinary results

By Christina Waters

THE DARK WOOD bar, which has seen and heard more than its share of juicy secrets, holds its own next to the Hindquarter's well-worn dining rooms. Elena and I already had firm ideas about dinner, so while she checked out the seafood listings, I zeroed in on a classic filet. Even better, why not steak and scampi?

"Would it be wrong to order pasta?" Elena mused. Eyeing a lavish order of fettucine alfredo at a nearby table, I told her it looked like a good idea. After some negotiation about vintages with our extremely attentive waiter, we settled on a 1998 Pinot Noir from Wild Horse Winery ($30).

A cocktail of chilled giant prawns arrived in a goblet filled with delicious salsa fresca ($9.99). The whole idea of a prawn cocktail appears to fulfill a "no-risk" dining philosophy at many restaurants. Many diners like to keep their gastronomy simple and straightforward. Another starter of baby greens was delicious, though stocked with not-so-baby greens that required cutting in order to fit into the human mouth. A crumble of blue cheese and tangy balsamic vinaigrette added appeal, but the addition of cloying sweet candied walnuts mystified us. Why lace a salad with something that will shut down the appetite? Unclear on some concept or other.

Our waiter made a laborious show of clearing our plates, intent upon engaging us in conversation even though he was clearly interrupting the one we were already having. This elaborate performance of presenting and clearing dishes continued throughout the meal, and was almost as annoying as his description of menu items, e.g.: "That's going to be a farm-raised Atlantic salmon." It's "going to be?" When? Then what is it now? (While I'm on the subject, it's a real shame when a local restaurant runs farm-raised Atlantic salmon during our own local wild salmon season.)

With much flourish our entrees arrived. Our server wouldn't budge until we'd fussed over the linguine ($14.99) smothered with two dozen clams in their shells (not exactly the linguine in clam sauce we'd anticipated) and a gargantuan array of "scampi," asparagus, soggy fries and tepid filet mignon ($25.99).

Tepid or not, the filet was perfectly cooked and the Paul Bunyan-sized asparagus were firm and fresh. The less said about the scampi, however, the better. Let me simply observe that this chef's version involved an acrid-tasting sherry that utterly ruined a few good prawns. Handfuls of button mushrooms suffered a similar fate. Has the management tasted this dish, I wondered? Under all those shells, the linguine was decently prepared--abundant and al dente, though without much in the way of garlic.

Elena believes that dessert can salvage even a disappointing dinner. At this point in the meal, I was no longer even making eye contact with our waiter, though he assured us we would like the Fallen Angel Torte ($5.50) because "it's real popular." Covered with shaved chocolate, the torte was one of those generic brown-tasting gooey sweet desserts that one might find at Bakers Square. Elena will eat anything claiming to be chocolate, so she was not unhappy. My key lime pie looked tired ($4.50), but was properly tangy and almost creamy, though the huge strawberries accompanying were utterly tasteless. I know it's strawberry season, so I just don't get it. Why would the kitchen bother to use a fine fresh fruit merely as a touch of color? How about flavor? Ripeness? I left Hindquarter last week reminding myself that its name is, after all, Hindquarter. Not "fresh seafood," or "in-season strawberries." Hindquarter--where beef is still what's for dinner.
---
Hindquarter
Address: 303 Soquel Ave., Santa Cruz
Phone: 831.426.7770
Hours: Lunch 11:30-2pm Mon-Sat; dinner nightly from 5:30pm
Ambience: * 1/2 Pleasant, if dated, steakhouse décor
Service: ** Timely and helpful, but often inappropriately intrusive
Cuisine: * 1/2 Inconsistent, with occasional lapses between kitchen preparation and table presentation
Overall: After many years of dining here, I'd have to say that I've had some nice meals at Hindquarter. The current kitchen needs to reevaluate its attention to detail.
---
[ Santa Cruz | MetroActive Central | Archives ]