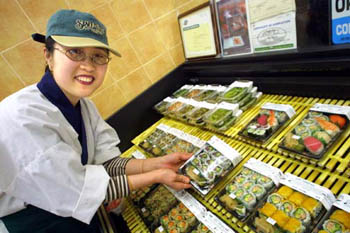 Photograph by George Sakkestad

Stocking Up: Heidi Ko tends the new sushi bar at Staff of Life.

Not by Bread Alone

Santa Cruz tradition Staff of Live continues to expand and evolve

By Christina Waters

IT'S NOT YOUR FATHER'S Staff of Life anymore. If you haven't visited the East Side's mighty landmark of natural foods and fresh attitude lately, you will be blown away. I was last week, by the evolution and expansion of delicious services at this organic paradise. Where once the vitamins and aloe beauty products were stocked (they're now across the parking lot in their own attractive annex) is a contemporary deli counter and salad bar. Grilled vegetables in olive oil, artichoke frittata, myriad spring rolls and more in the way of ready-to-go salads and main dishes wait at the counter where you can also order a tofu veggie burger and a fresh fruit smoothie.

An inviting salad bar holds down the center of the spacious, light-filled room, which is now highlighted by a full-service sushi bar. You can order custom udon and soba noodle creations, your favorite made-to-order sushis, or walk away with gorgeous boxed selections of rolls, nigiri and inari creations. Yeow! These new designer-food sections make Staff of Life absolute heaven for busy workers and families in need of delicious alternatives to fast food. Of course, the pastry case still contains all those yummy, gargantuan muffins, tarts, turnovers and the mighty sunflower-seed cookie.

The produce area continues to show off the best local, seasonal items, and the wine section now includes a Who's Who of varietals from our local wineries. The natural seafood and meats counter continues to blow me away. In front of the glass-front counters loaded with exotic seafood and game are giant wooden ice chests filled with treasures of whole fresh fish, Last week, the seafood counter featured an electric orange pyramid of just-off-the-boat wild local salmon. Everything is so beautifully presented--whole wild local salmon on ice, whole wild local sand dabs, snapper, calamari--that I fantasized a barbecue starring mesquite-grilled salmon stuffed with branches of rosemary. You'll be fascinated by the jewel-like slabs of opa reef fish, yellowtail, tombo, ahi, trout. Continually reinventing its savvy approach to the freshest and tastiest, Staff of Life is truly one-stop shopping for the enlightened culinary consumer. It's still located at 1305 Water St., Santa Cruz, near the corner of Morrissey and Water (423.8632).

Viva Odwalla!

The latest brainchild from Odwalla--Viva Las Veggies!--is easily the finest product this great team has produced since the day it squeezed its first orange. Imagine the world's greatest V-8 juice. Now imagine that it's unbelievably bold-tasting and complex, filled with juice of tomatoes, carrots, red bell peppers, beets, celery and lemons--and lots of unexpected twists too. Mango and habañera chiles make this crimson juice do a mambo in your mouth! And there are also top notes of celery, vinegar, coriander and cumin.

When I ran into Odwalla founder Greg Steltenpohl in New Leaf and congratulated him on the new drink, he happily admitted that VLV was the result of the company's longest R&D testing ever. You just flat-out will not believe how good it is--and a mere 120 calories in the whole 15.2-ounce container. It's at all your favorite places. And it's a knockout. Go get it!

BTW: Incidentally, if you read a dining piece anywhere that includes a photo of the columnist, then you can be sure that you are not reading a review. Reviews, in order to be honest and not compromised by special treatment, must be anonymous. That means, the management and servers don't have a published photo of the reviewer to refer to. So if somebody has her picture in the paper, she is a columnist. Not a reviewer.
---
Email me your hot food tips, new favorite restaurants, discoveries, gripes and sudden culinary insights. You tell me--I'll tell everybody: [email protected]
---
[ Santa Cruz | MetroActive Central | Archives ]