[ MetroActive Central | Archives ]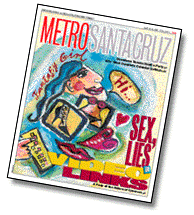 This Week


May 16-22, 1996

Cover
Sex, Lies and Video Links:
A peep at the future of cybersex.

News
Nuz: Monterey Bay goes boom!

Get Down(town): Santa Cruz throws itself a party.

Arts & Entertainment
Movies: Reviews and show times for Santa Cruz County.

Film's Ray of Hope: Saturday marks the 75th anniversary of the birth of Satyajit Ray, a film maker with great international influence, although winning the West has proved a struggle.

Above the Rim: Films from Mongolia, India, Asia, Japan and the Philippines highlight SC's annual Pacific Rim Film Festival.

Notes From the Underground: Trio salvages raided show with a rare, intimate set.

Pissed!: Don't need a weatherman to know which way the Hooties blow.

Menu
Double Dip: Lavishly casual buffets or intimate New American dining, Charminade caters to finicky palates and floats above it all.
---
This page was designed and created by the Boulevards team.
Copyright &copy 1996 Metro Publishing and Virtual Valley, Inc.