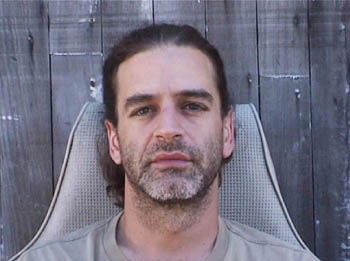 Darryl Devil: Jesse Rose DeRooy had to cut 20 hours of footage she had shot of Darryl Ferrucci's life down to 50 minutes for 'DF41.'

Public Artist

Jesse Rose DeRooy's 'DF41' gets underneath the layers of a fascinating Santa Cruz personality

By Rebecca Patt

One of the gems of the Santa Cruz Film Festival, full of thought-provoking, absorbing and sometimes hilarious moments, is a locally made documentary called DF41: Portrait of an Ex-Artist. Created by first-time filmmaker Jesse Rose DeRooy, the film gives an intimate glimpse into the life of Darryl Ferrucci, 41, doing his part to help Santa Cruz live up to its reputation for offbeat, soulful and creative inhabitants.

Darryl Ainsley Cloud Finnerty Fitzpatrick Ferrucci, as his parents named him, is an artist who has been on the local scene for years. He's been the recipient of several grants to create public art displays around Santa Cruz, and he's best known for his large-scale photographs of dancers. Those photographs of dancing figures on the top of the brick wall of Lulu Carpenter's are Ferrucci's, and so is that photo on the cable box on the corner of Laurel and Pacific.

DeRooy's professional moniker is "audio goddess." She's the senior editor of a program on Public Radio International called "Outright Radio" hosted by David Gilmore, along with working as the projectionist and media and events director at the Rio Theatre.

"I've paid my dues learning how to tell a story, working with radio, and when you know how to tell a story, you can tell it in any medium," said DeRooy.

DeRooy shows a remarkable knack for editing the various elements of Ferrucci's life into a multilayered and cleverly crafted collage of dialogue, imagery and music. It doesn't hurt that the movie features lots of interviews with Ferrucci and his friends, all of whom seem to be quirky, intelligent people with insightful things to say.

DF41 was filmed over three months, and DeRooy cut 20 hours of footage down to 50 minutes of finished product in 48 hours. Her vision was to make a movie capturing the essence of Ferrucci's character, and to premiere it at his birthday party last summer, which she did.

Ferrucci just put up a new photo mural on the side of the Rio Theatre--a project that had been stalled for a couple of years due to lack of funds--and his work is appearing in a group show at the new gallery at the University Town Center on Pacific Avenue. This September, he'll have a major show of his work, a retrospective of his public art from 1996 until now plus some newer dance photos. Ferrucci is a member of the Moving and Storage Performance Company, also known as the Crash Burn and Die Dance Company, and the show is going to be tied in with the group's 20th anniversary performance.

According to Ferrucci, life is all just one big theater piece.

"I know that, so I behave like I know that, so it's OK for me to be entertaining in the particular ways that I know how," he says. "Everyone has a unique contribution to the play."
---
DF41 plays at 4:30pm on Friday (May 21) at the Rio Theatre. A sidewalk reception will be held beforehand at 3pm in honor of Darryl Ferrucci's new mural.
---
[ Santa Cruz | Metroactive Central | Archives ]