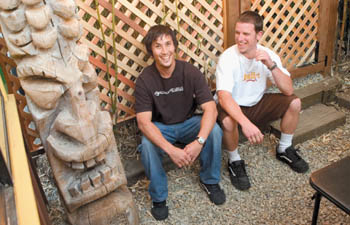 Photograph by Stephen Laufer

Aloha Soul: Aloha Island Grille owners Numa Trepanier and Tim Hunt call their menu 'Hawaiian soul food.'

Hawaiian Punch

Despite this town's obsession with Hawaii, we haven't had a taste of aloha in two decades. Now, Numa Trepanier and Tim Hunt are feeding our island fever.

By Jessica Neuman Beck

Santa Cruz has a Hawaii fetish. Walk down Pacific Avenue and you can't help but wander into Kaleponi, a gift store selling all things Hawaiian. Glance into parked cars and you'll notice that every third one has Hawaiian-print seat covers. Even if it's just a Hawaiian shirt, "I don't think there's a single person in this town who doesn't have something related to Hawaii," says Numa Trepanier, co-owner of Aloha Island Grille.

It's kind of surprising, therefore, that until Aloha Island Grille opened up in March, there hadn't been a Hawaiian restaurant in Santa Cruz for fully 20 years.

"The last one was in Aptos," says Tim Hunt, Aloha's other owner, "a place called the Lanai."

Hunt didn't come to Santa Cruz intending to open a restaurant, but once he was here his Maui roots took over. "I missed the food," he says. "That was the main thing." He partnered with Trepanier, a friend of his sister's from college, and Aloha Island Grille was born.

Taking over the location on Portola and 17th that once housed Michael's Pizza, Hunt and Trepanier did a remodel of the building to match their vision.

"We turned the place around. We completely tore it apart and rebuilt it, and turned it into a wonderful place that definitely reflects the islands," says Hunt. "That's the first thing that 99 percent of the people who walk in the door say. Some people, it brings tears to their eyes. Hawaii is instilled in so much of this town. It has been for many, many years. To bring a part of it here to Santa Cruz in the way that we did was really important to a lot of people, and we're seeing it by the faces that come in the door."

The restaurant serves Hawaiian-style plate lunch. "The best way to describe it I guess would be Hawaiian soul food," laughs Trepanier. Hunt agrees. "Any island you go to, you're going to find this, down to a little shack," he says. "Even a restaurant will serve some kind of plate lunch."

The origins of the plate lunch began in the sugar-cane plantation fields. Workers from all over the world followed the industry to Hawaii and ended up sitting next to each other at lunchtime, comparing notes about the various traditional lunches with their neighbors.

"It became sort of the standard thing for those lunch trucks to have not one style of food but many styles of food," says Trepanier. "This is sort of the working man's food."

Dishes like Loco Moco and Chicken Katsu certainly don't seem like working-class fare, but the multicultural influences are easy to spot.

"We've got beef teriyaki, which is reflective of the Japanese culture," says Hunt. "We've got Kal-bi ribs, which are marinated, sweet ribs--that's reflective of the Korean culture. We've got the Loco Moco, which is a huge plate--it's two scoops of rice, with two hamburger patties on top of that, two eggs, gravy on top of that, and green onions to top it. That's reflective of Portugal." And then there's the Kalua pig. A traditional Hawaiian plate, Kalua pig is usually cooked buried in a pit and slow-cooked--which obviously doesn't lend itself to restaurant cooking.

"We pretty much cook it an equally long amount of time," says Trepanier. "We do an oven roast. By doing the Kalua pig in the oven with the Hawaiian salt, we're able to actually control the flavor of it a lot more than we would be able to if we were doing it in a pit out back. It's exactly the same taste." He laughs, "Some people say it's better."

Neither Hunt or Trepanier has run a restaurant before, but they haven't let that slow them down. "This is a first venture for both of us," says Trepanier, "which could explain why we're so eager." Hunt agrees. "It's been more of a blessing experience than anything else. Of course there's a lot of hard work that goes along with it, but things fell right into place for both him and I. That doesn't happen very often with restaurants."

Trepanier says that, despite the lack of experience, opening a restaurant was a logical progression. "It was sort of a natural thing for me, and also for Tim," he says, and laughs. "He's been half Hawaiian forever."
---
Aloha Island Grille is open from 11:30am to 7pm Tuesday through Saturday, and from 11:30am to 5pm on Sundays. Contact them at 831.479.3299.
---
[ Santa Cruz | Metroactive Central | Archives ]