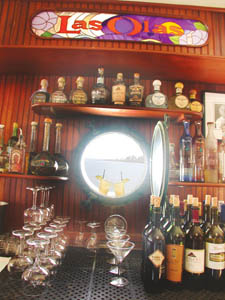 Photograph by Stephen Laufer

The Watering Hole: Margaritas and waves are part of the view at Las Olas.

Hola, Las Olas

Zippy Cal-Mex creations and a waterfront setting keep spirits high at the wharf's new over-the-top cantina

By Christina Waters

At the location of the former Sea Cloud, a cantina and grill was recently launched, bringing the first tropical Mexican flavors out to the Wharf. From the talented restaurant veterans who brought us Sea Cloud and Clouds Downtown, Las Olas--"the waves"--sparkles as a lively watering hole with an accomplished kitchen.

While tourists will come for the nautical interior with spectacular views of coast and Boardwalk, residents will be happy to know that the menu is well-stocked with beautiful plates of fine food. All that's needed is service to match the food and Las Olas could be a dining destination.

My mom, a Boulder Creek native visiting from San Diego, was in town and looking forward to dinner on the wharf. When a hostess finally materialized, we were taken to a booth in the back (requested in an effort to hear our dinner conversation over the bar noise) and fell under the spell of ocean panoramas. At sunset, this spot just can't be beat. Our well-meaning but poorly timed waiter arrived the minute we sat down, recited the specials and asked what we wanted. We had no response. He came back too soon, and then, after a long absence, finally took our orders.

Chips and a tangy salsa dip arrived, followed swiftly by a bowl of soup. No drinks first, just a bowl of soup which one of us had ordered. The mouth-watering Las Olas menu offers creative lobster and seafood taco possibilities, grilled fish and steaks with ingenious fresh salsas, and a bounty of oyster, crab cakes and salad starters. A heart of romaine salad arrived soon after our slap-dash margaritas, made with salt straggling down the sides and not much flavor.

The crisp lettuce and slabs of crimson tomato were drizzled with a fine balsamic dressing and spiked with pine nuts, kalamata olives and huge chunks of gorgonzola. The soup of the day ($3.95), described as chicken vegetable, was actually an inventive variation on vegetable chili, thickened by beans and flecked with green peppers. It was outstanding, though there wasn't a shred of chicken to be found.

"Look out! Hot food on the way," our waiter boomed, producing a trio of dazzling main dishes. The waitstaff didn't seem to be in the same time zone as the patrons.

But the food as Las Olas is wonderful. Jack's plate of blackened salmon and snapper tacos ($10.95) was decorated with delicious tomatoey rice, refried beans and a scoop of outstanding salsa fresca topped with sour cream. Inside each crisp corn taco were slabs of grilled fish plus a crunchy, piquant salad of shredded cabbages. Once we were given forks, I was able to sample my grilled tamarind scallops ($17.95). Lacking tamarind flavor, the scallops were moist on a bed of creamy fettucine tossed with pumpkin seeds and green chiles--enjoyable contrasts of flavor and texture in each bite. The grilled salmon plate proved the biggest hit ($18.95). Succulent with a buttery lemon glaze, the salmon filet was joined by an addictive relish of black beans, fresh corn, jicama and lime. Adorned with sprigs of aromatic cilantro, this was lovely fresh food in generous proportion.

No effort was made to clear the table of entree plates, but the crème brûlée was right on, and a well-made, overly sweet flan finished up the meal. The view and food at Las Olas both justify a visit, but the service really needs to get up to speed.
---
Las Olas Cantina & Grill
Address: 650 Municipal Wharf, Santa Cruz
Phone: 831.458.9393
Hours: Open daily from noon
Ambience: ** Scenic vistas of coastal opulence; loud
Service: Needs training
Cuisine: **1/2 Well-made grilled seafood and imaginative seasonings
Overall: Las Olas is bound to please the cocktail crowd and those who enjoy abundantly spiced seafood specialties with a Mexican accent.
---
[ Santa Cruz | Metroactive Central | Archives ]