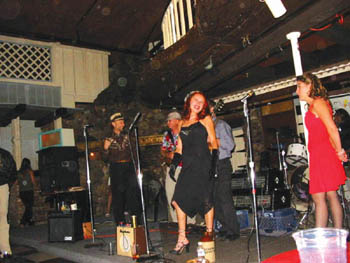 Oops, They Id It Again: Freud would certainly have something to say about the Dirty Butter Jug Band, who perform at the Boulder Creek Art, Wine & Music Festival Saturday.

Ego for It!

Even Freud would agree that the Boulder Creek Art, Wine & Music Festival is a feast for the senses

By Dr. Steven Sanchez, Ph.D.

Memorial Day has come a long way since the '60s, baby. The 1860s, that is. Not that I'm some authority on the history of Memorial Day, but I'm pretty sure there weren't any beer-filled barbecues involved when people were trying to honor dead soldiers back in the day. Does the shift in the meaning of Memorial Day reveal some fundamental truth about human nature? Not really, besides the fact that most of us are overworked and free to be depressed 365 days of the year, so why the hell not take a load off?

And what better way to appreciate our way of life than to hang at an art and wine festival? Answer: Stay in bed eating grapes and watching old Arnold Schwarzenegger movies while lazily loving your partner all the livelong day. But for the rest of you, get your ass to Boulder Creek. Do it now!

Because once you've made your way up into the mountains and successfully parked your car, a festival awaits you that amounts to nothing less than the sublimation of all our basest impulses. If Freud were alive today, he'd be the first to note that art, wine and music festivals are modeled after that infamous hedonist mantra from the 1960s, "sex, drugs and rock & roll," the former being a watered-down, family-friendly version of the latter.

To wit:

Sex = Art. Two words--Edgar Degas. And who hasn't heard stories of the lonely artist pouring all of their pent-up passions into their work? Same as it ever was ...

Drugs = Wine. Just because we can talk about tannins and volatizing esters, we must not be distracted from the Dionysian possibilities of the pagan gods' nectar.

Rock & Roll = Music. Duh!

And then there's that whole skewered meat/greasy food aspect of every outdoor festival that appeals to the caveperson in us all. But being an event designed for the whole family (except dogs, which aren't allowed), the festival offers all manner of attractions for Homo Erecti of all ages.

Sometimes a Kebab Is Just a Kebab

For the hyperactive , a rock climbing wall and astro-jump bounce house will help burn off all the excess calories consumed at the internationally themed food booths.

And of course there will be plenty of local wine, coming from (deep breath) Roudon Smith Winery, Cooper Garrod Estate Vineyards, Storrs Winery, Pelican Ranch Winery, Zayanta Vineyards, River Run Vintners, Bargetto Winery, Bonny Doon Vineyard, D'Elissagaray Wines, Trout Gulch Vineyards, Soquel Vineyards and beer from the Boulder Creek Brewery.

Then there's the music: On Saturday, May 24, local folk rockers Syrkle's End kick off the show at 12:30pm, followed by R&B rockers Those Fusion Guys at 2pm. For fans of jug, jook and ragtime music of the '20s, the Dirty Butter Jug Band (3:30pm) dishes up a decadent glob of Depression-era blues, ragtime, hokum and boogie-woogie tunes with a healthy pinch of Cajun/zydeco spicing things up. Red Beans & Rice (5pm) polish the party off with their blend of Texas swing and Chicago- and Louisiana-style blues.

Sunday starts off on a jazzy note with Steve Czarnecki's Soul Jazz Quartet (12:30pm), moving into pop rock (The Undercover Band at 2pm) and surf rock (Splash Back at 3:30pm), and finishing up with the soulfully psychedelic R&B of Lady Bo & the BC Horns.

And, being Memorial Day weekend, the party rolls on into Monday, when the SLV Community Big Band (12pm) initiates the festivities, followed by jazz/flamenco fusion band Con Corazon (2pm) and pop rockers Kevin Hamm & the Astrocasters (3:30pm). The local Jerry Garcia-inspired psychedelic jam band known as the Dead Flamingos wraps up the festival at 5pm with a long, strange set of covers and originals.

A special juried fine-art row is back again this year by popular demand, along with a host of arts and crafts vendors and environmental/political action organizations. Hopefully, their efforts will help make our planet more suitable for the relaxed enjoyment of art, wine and music. Silly humans, always looking for an excuse to party.
---
The 14th Annual Boulder Creek Art, Wine & Music Festival runs from Saturday, May 24, through Monday, May 26, 11am-6pm in downtown Boulder Creek. Admission is free; cans, bottles, coolers and dogs are not allowed in the festival.
---
[ Santa Cruz | Metroactive Central | Archives ]