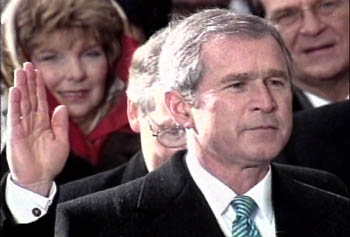 I Solemnly Swear to Bring an End to This Nation's Nightmare of Peace and Prosperity: Bush the election stealer in 'Unprecedented.'

Nüz

Jim Crow Laws Rising ...

It would be nice to think that--40 years after Martin Luther King Jr. marched in Birmingham to end the disenfranchisement of people of color--the Jim Crow laws are dead and buried, once and for all.

But clearly that's not the case, as witnessed by the indie documentary Unprecedented: The 2000 Presidential Election. Filmmakers Joan Sekler and Richard Perez say that what was truly unprecedented about the 2000 election was a felon purge in which thousands of people, many of them black, were purged from voter lists because they were erroneously identified as felons.

Apparently, this attack on voting rights almost went undetected as the media obsessed on pregnant chads, all of which makes this film a must-see with the next presidential election only 18 months away.

Sekler and Perez decided to make the film as they watched events unfold following the 2002 vote.

"Throughout the 36 days this was going on in Florida, the mass media was urging the Dems to get over it and accusing Gore of being a sore loser, but the Gallop polls showed that the public was not in a rush," says Sekler, who cashed in her savings to capture what was going on.

"We were especially shocked when the Supreme Court stopped the recount. And later, at Bush's inauguration, though we saw more people protesting the legitimacy of what had happened than supporting him, that was never reported by the media," she adds.

Sekler says that according to investigative reporter Greg Palast, who broke the felon purge-list story, "If you add up all the names of people that were removed, it's about 94,000 people. Lawyers say that 90 percent of those on the felon list were not exact matches, and in all the lists close to 50 percent of those purged were African Americans. For instance, a lot of blacks have names like George Washington and Thomas Jefferson, but there was only one George Washington on the list who actually was a felon."

Given that 93 percent of blacks vote Democrat, compared to 50 percent of whites, Sekler concludes that at least half of all those purged would have voted for Gore had they not been disenfranchised.

But though Sekler and Perez took out liability insurance, so far the Republicans have not denied anything the film says.

"Why? Because they feel very secure. There was no opposition movement following what they did. If voter fraud happens in other countries, you hear of demonstrations and riots, but nothing happened here," Sekler observes.

However, when five civil rights organizations filed lawsuits against Florida Gov. Jeb Bush (who is of course Dubya's bro), Florida's former secretary of state, Katherine Harris, and the Florida Elections Department, the case was settled out of court, which Sekler says is as much as an admission of wrongdoing.

"The first condition of the settlement involved taking names and running them through the computer looking for exact matches--and 90 percent did not match. The second condition was that Katherine Harris put the names back on the electoral roll, a process that did not happen in time for the 2002 election, which Jeb won by a landslide, but has been promised by 2004."

Either way, Sekler is not optimistic about 2004.

I'm not seeing the Democrats field any candidates with the necessary charisma to mobilize masses of people against George W. Bush. No one fits that bill that I can think of, so I'm afraid we could have Bush for another four years," she predicts.

Sekler will attend the May 31 Unprecedented screening, which plays the Del Mar at 9pm in the "Politics Anyone?" program of the Santa Cruz Film Festival. Tickets are $9 ($8 students/seniors) and are available at Metro Santa Cruz.

... But Not in Our Town

Meanwhile, local elections officer Gail Pellerin says California has way better voting safeguards than Florida.

"We can't just cancel a voter without first getting in touch with them, and people are able to vote provisionally, so no one is disenfranchised on election day," says Pellerin, adding that with 175 polling stations turned over to volunteers on election day, "it's possible a poll worker somewhere may say someone can't vote, but that's incorrect information."

What about the Help America Vote Act, which requires states to replicate Florida's system of centralized, computerized voter files?

Pellerin says the county has applied for a touch-screen system, but it won't be implemented until December 2005, "so we won't be the first to work out glitches in the software, and we won't get rid of paper ballots, because people vote by mail, so we'll probably have two systems running for a while."

She also notes that HAVA (as the act is known, reportedly triggering plenty of hubba-hubba-style jokes) includes strict requirements regarding voters with disabilities that must be implemented by 2006.

"Touch screens are truly amazing. People with disabilities will be able to vote using blow sticks, joysticks and headphones," she says. "All the hoopla reminds her of how people used to feel about ATM machines. None of us trusted them when they first came out, but today who still prefers to go to the teller? They've changed our paradigm of what we view as safe."

For now, Pellerin is hoping for a good turnout this June 3 for the special election on Measure B, which needs a two-thirds majority to pass a parcel tax to save local schools, small classes and quality instructors and librarians.

"And if any voters feel they weren't served well on election day, they should call the voter hotline that day at 831.454.2060," she says.

Louden Cha-Cha-Cha

Speaking of saving schools, did you know that ex-slave and philanthropist Louden Nelson willed all his property to save the local school in 1860?

So says Franklin Marshall, author of Louden Nelson: From Slavery to Philanthropy, which he plans to release June 3 to raise awareness of the school-related special election day.

According to Marshall, though Nelson was the only ex-slave in town, he did not meet with open hostility when he settled here as a cobbler and farmer, having earned his freedom from his North Carolinian master by working the California Gold Rush.

"People really liked his Southern hospitality," says Marshall, noting that Nelson, who was illiterate himself, placed such a high value on education that he willed his property, which stretched from the post office to Mission Street, to reopen the school, which closed in 1859.

Fast-forward 143 years, and we find parents selling their blood in Spokane, Wash., and giving salsa lessons at Natural Bridges in Santa Cruz to give kids an education, all of which is enough to make Louden cha-cha-cha in his grave.
---
Nüz just loves juicy tips: Drop a line to 115 Cooper St, Santa Cruz, 95060, email us at , or call our hotline at 457.9000, ext 214.
---
[ Santa Cruz | Metroactive Central | Archives ]