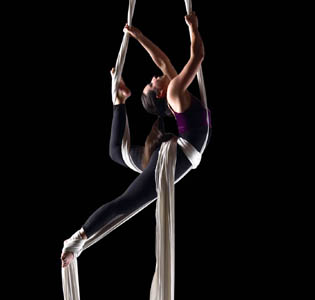 If You Can Do This, You Can Be in the Starr Spectacular: Not really.

Culture Jam

The Starr Spectacular is here to lure the masses away from their TV sets with circus and vaudeville

By Mike Connor

Deep in a preapocalyptic subterranean hideout, thousands of flexible, athletic "troops" are preparing for the death of civilization as we know it. The hope? That reality TV shows are in fact the death rattle of televised entertainment. That, once we've tired of Dawson's love life and the prefab challenges of Survivor and Fear Factor, a collective yearning for live entertainment will rise again like a boner of hope.

And when that time comes, the vaudevillian forces that have been quietly honing their unicycling, death-defying, bubble-blowing skills will have their chance to shine. Producer/aerialist Amanda Starr is gathering together enough of this untapped talent to give Santa Cruz audiences a preview of the coming postapocalyptic cultural rebirth at the Rio Theatre on Saturday, May 24.

And at least one of these talents, our own world-famous "bubble guy" Tom Noddy, is at least moderately hopeful for the future of American entertainment.

"Maybe it's time to give a poke at this new thought," he says, er, thoughtfully. "Maybe America is going to wear out on the electronics and come out and see live variety theater." Then he smiles to himself and backs off a bit: "Anyway, that's what Amanda's thinking."

While the upcoming show may not actually be quite as exotic as the picture of apocalypse and erection-redemption painted previously (it is, after all, a family-friendly show), there will surely be plenty of entertainment to awe, inspire and tickle audiences of all ages. Cirque du Soleil and Pickle Family Circus alumni Geoff Hoyle is headlining the show, accompanied by a motley cast of weirdly talented geniuses, including Noddy, who will also function as the evening's emcee; comedian, unicycler and child-juggler Frank Olivier; Serchmaa Byambaa, the world-class contortionist; and the amazing Amanda Starr and her irrationally sublime aerial acrobatics.

For ground-loving terrestrials like me, the thought of dangling from a sheet 30 feet above the Earth is the stuff of nightmares. That I was attacked by the linen closet upstairs as a child has nothing to do with it--heights are just plain scary, and Starr uses an audience's innate fascination with danger to train its attention on her stunning aerial maneuvers.

"You live it like it's your day job," says Starr, "you can't just climb up 30 feet in the air and do stuff. You have to train every day."

Taken on the road by Noddy at the tender age of 12, Starr developed a healthy addiction to the circus environment, starting out with stage assistance and gypsy child care, but careening ever-upward into aerial work.

"Everywhere I go I look at the ceiling--houses, hotels, restaurants," she says. "Airports have great ceilings, it's like an aerialist's wet dream. The Oakland airport has these huge I-beams that I just drool over."

I can't claim to understand Starr's obsession, but I can definitely appreciate the fruits of her labor. She'll be performing along with live musical accompaniment from Pickle Family Circus musicians Alex Kelly, Ara Anderson (also a trumpet player for Tom Waits) and Sri Shyam Das. They describe the Circus as a mix of everything from klezmer to Jimi Hendrix, incorporating classical, Gypsy swing, jazz and hip-hop as well.

"When I first heard the [musical] pieces that I'll be working to," Starr says, "I just knew I needed to be alone in a warehouse with a 30-foot ceiling for three hours, you know? [The music] just moves you."

Tiny Bubbles

For years, Noddy has been on the move, touring around Europe (especially Germany), where vaudeville and variety theaters still thrive. He's recently appeared in two European science magazines focusing on the finer points of bubble physics, and performs regularly at mathematics conferences and science museums.

"A single bubble in the air is always a sphere; it's the most economical shape in nature," explains Noddy. "Years ago when I was a street performer here in Santa Cruz, there was this mathematics lecture called 'Soap Film, Beer Bubbles and Fluid Mechanics: Major Challenges in the History of Mathematics,' and it cracked me up, all that kinda talk about soap bubbles."

Perhaps more than any mathematician, Noddy understands the intricate geometric possibilities of bubbles, and thanks to a gigantic projector at the Rio, audiences will have a close-up view of his bubble wizardry.

For his part as emcee, Noddy is looking forward to the manic antics and unexpected twists and turns inherent in live theater--especially vaudeville.

"I'm emceeing the show, but these guys like Frank Olivier and Geoff Hoyle, they're agents of chaos, as clowns often are. As the emcee, I'm the agent of order, necessarily. I know I have to fight for order, but I have to make sure that I don't win. The fun is in the chaos."
---
Starr Spectacular. Saturday, May 24, at 7:30pm at the Rio Theatre, 1205 Soquel Ave., Santa Cruz. Tickets $18/adv, $20/door and $15/children 12-and-under, available at the Book Loft. Call 831.429.1812 or the Rio Theatre at 831.423.8209 for more information.
---
[ Santa Cruz | Metroactive Central | Archives ]