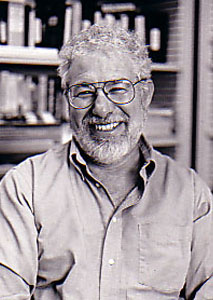 Something Is Rotkin in the City of Santa Cruz: It's not just that we refuse to be the only paper not running gratuitous photos of this lovely man. We also love his kinky new 'do!





Nüz

Rotkin Watch

With photos of former mayor Mike Rotkin already popping up in the Sentinel every other day last week, Nüz called the Old Man of Santa Cruz Politics to see what was up.

"I'm peaking early," laughed Rotkin, who's planning to run for City Council this fall, "but I haven't got a campaign committee together, yet."

What about that Senile headline that juxtaposed the word "RACE" with a pic of a speed-walking Rotkin?

"That was related to the Bike Week Commute Race," said Rotkin, who traveled by bus and placed last behind Bruce Bundy on unicycle, Lex van den Berghe in pickup, Elijah Davidian on bicycle shuttle, Jack O'Neill on recumbent electric bike and Brian Ort on bicycle--in that order, proving two wheels can be faster than four or one.

Oh, we know what it was supposed to be about, Mike, but we gotta say it's a hell of a coincidence--especially considering that all the gab about the City Council race has started way too early this year. With the seats of mayor Chris Krohn and former mayors Tim Fitzmaurice and Keith Sugar (all of whom are eligible for re-election) up for grabs this fall, rumors are flying that Katherine Beiers and Cynthia Mathews are planning to run with Rotkin for City Council, a slate one local labor and political activist described as "another example of the city's commitment to recycling."

Reached by phone, Beiers said, "I don't know if I'm going to run yet. It's early May." But Mathews said she's seriously considering it, "to bring focus to the city during what are going to be trying years economically."

Meanwhile, Rotkin says he's interested in trying to do more about affordable housing and public transit. "The Peace Park and the River Street Sign are hardly the issues," said Rotkin. "And I'm concerned about the decimating effect the utility tax will have if it's repealed at the city level. The city manager is already talking about a $4 million deficit and a hundred layoffs. If the utility tax goes down, we're talking hundreds of lost jobs and a complete budget disaster."

Informed of Nüz's newly instituted Rotkin Watch, the 18-year councilman promised to "try and behave."

"But trust me," he said. "I'll stumble."

Milagro Beanfield 2

Richard Hoffman is pissed off at State Parks and he's not gonna take it lying down. That was the message the self-described antique dealer shared with Nüz last week, after he and his wife were told they won't be able to camp in Santa Cruz district state parks until next year--a ruling Hoffman claims discriminates against the homeless.

Hoffman and his wife have a warehouse in Santa Cruz, but are otherwise nomadic, parking their motor home in one of the district's seven state parks when they're in town.

"We have a cell phone, and a P.O. box and a warehouse in Santa Cruz, but now we've been told we can't park our motor home in any state parks until next year," says Hoffman, 59, who received his notice last week.

"98 percent of the people being given notice are homeless and drive older vehicles," claims Hoffman, who called Assemblyman Fred Keeley's office for help.

"Keeley's people said the closure was to make the situation more fair and told me to call Legal Aid," says Hoffman. "But the campgrounds were mostly empty last winter. State Parks is selectively picking on people. If I was black or Chicano, they wouldn't do this."

State Parks ranger Ralph Fairfield confirmed that the closure notice, posted last summer by State Parks Supe Dave Vincent, limits campers to a total of 30 days each year in the Santa Cruz District. Previously, campers could stay for 30 days in each of the district's seven state parks--entitling them to seven months camping annually.

Asked if the closure has led to empty and therefore non-revenue-delivering winter campgrounds (campers pay $12 per night), Fairfield said the decision wasn't made for financial reasons. "It's about effective management of the district. Closing campgrounds to renew resources is a good thing."

Well, what about campgrounds that are scheduled to stay open?

"Our dual mandate is to protect resources and provide access to the recreating public, rather then provide residential camping. There are people who desire to reside in the parks all year," Fairfield said.

Asked if there were any public hearings before Vincent posted a notice that reduced by six months a camper's right to stay in area parks, Fairfield said no, hearings weren't necessary.

"Administrative decisions within the district for the effective operation of the parks don't require public input," said Fairfield.

Reached by phone, Supe Dave Vincent said the population of California has just reached 35 million, putting "huge pressure on the system. I've got to try to insure that all people of California have a chance to use the parks."

And Vincent denied that homeless people driving old cars are targeted. "The rangers don't go by vehicles, but a general awareness that someone has been in the system for over three weeks. They do the same to people driving $150,000 vehicles."

Meanwhile, ranger Fairfield, who personally delivered Hoffman his notice last week, reported, "Hoffman said he'd call me personally to write him a ticket and that he'd challenge it in the courts," noting that all this went down on his birthday.

Reached by cell phone at the flea market, where he and his wife were doing business, Hoffman remained resolute.

"Remember The Milagro Beanfield War? Well, we're in it. I ain't afraid to go to jail. All we're asking is that this closure order be rescinded."

Ad-Nauseum

For 11 years, Media Watch's Ann Simonton was a model, so she knows how the advertising business works.

"At the time, I was caught up in the money, but even then I thought the industry sucked," Simonton recalls. "People were under huge pressure to shoot ads within specific time frames. And I personally saw how the industry makes us feel we need to improve, when clients insisted I use blonde hair pieces, because they wanted a blonde but I'd been hired" says Simonton, who is a natural non-blonde.

"Sick of messages that manipulate by making people feel insecure," Media Watch organized Ad-Nauseum, a public event during which, event organizers promise, logos, idols and popular commercial iconography will be destroyed.

Noting that anorexia has risen 36 percent every five years since the 1950s, Simonton says, "We still don't fully understand the effect of telling people they're inadequate in order to sell them a product."
---
Ad-Nauseum is at noon, May 25, at the Town Clock in Santa Cruz. (423.6355)
---
---
Nüz Loves Tips: Drop a line to 115 Cooper St, Santa Cruz, 95060, email us at , or call our hotline at 457.9000, ext 214.
---
[ Santa Cruz | Metroactive Central | Archives ]