[ MetroActive Central | Archives ]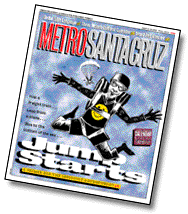 This Week


May 23-29, 1996

Cover
Summer Thrills:
Want a seriously adventurous summer?
Hop a freight train. Leap from a plane.
Dive to the bottom of the sea.
Metro Santa Cruz does it all,
and shows you where you can do it too.

Also, check out MetroActive's Summer Guide '96 for a complete calendar of sizzling Santa Cruz events during the next three months.

News
Dollar Sign Language: With pluck, petition-pushers can score some big-time bucks.

Nuz: Another failed Santa Cruz social experiment.

Arts & Entertainment
Movies: Reviews and show times for Santa Cruz County.

Steel This Concert: Calypso's sexy island beat remains one of the sweetest songs on the planet and delights in its place in the sun.

Notes From the Underground: Blues club dials in local surf and rockabilly sounds.
---
This page was designed and created by the Boulevards team.
Copyright &copy 1996 Metro Publishing and Virtual Valley, Inc.