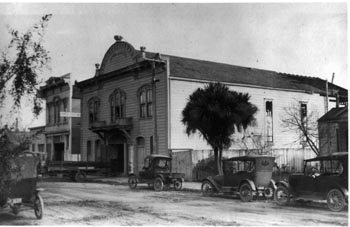 Covello & Covello Historical Photo Collection

The Santa Cruz Opera House: Built in 1877, it stood at the intersection of Union and Center streets. Paderewski played here; ZaSu Pitts, who lived about three blocks away, acted in her Santa Cruz High School drama productions here; Jack London and John L. Sullivan appeared; and there were probably some operas performed here. It was moved to Capitola in 1921 by Harvey West and torn down in 1961.

BruceBratton

ANOTHER COMPANY STORE ON PACIFIC. I have no doubt whatsoever that the new House of Bread microbakery that opens this week in the University Center building at Cathcart and Pacific makes great bread. I know that they must be hiring all local employees and that this operation is company owned and operated, even though the owner sells Houses of Bread as franchises. Unlike the Le Boulanger bread stores, this is only the third House of Bread to open. Five more are planned for San Francisco. Houses of Bread will open soon in Napa, Walnut Creek, Danville and Paso Robles. I wish them well as business people, but when do we stop chain stores on Pacific Avenue? I think that every chain store, regardless of size, that opens, especially on Pacific Avenue, represents one more step toward mallization and one giant step away from whatever we claim is unique about Santa Cruz. Certainly, our downtown economics are healthy enough that we don't need another cookie-cutter out-of-town business. Can't our city officials figure some way to financially encourage locally owned bakeries and any other businesses to open downtown? Certainly locals will buy bread there, and lots of tourists probably will, too, especially women with children, who are House of Bread's target market. Right now, we have some sort of control over the size of new businesses. Like other cities around the world, we need not just to look at keeping some sense of integrity and individuality by remaining local, we also need to make sure the profits from our local dollars spent here stay local and aren't going to a distant company headquarters, which in this case means San Luis Obispo.

SUMMER AND THE SAN FRANCISCO OPERA. When those out-of-town relatives or visitors get here this summer, go to San Francisco and see an opera. The San Francisco Opera is one of the world's most famous opera companies, and the three operas they are doing in June and July are perfect ones to choose from. Mozart's Don Giovanni (or Don Juan, as we know him) is probably Mozart's best opera. This production stars Carol Vaness as Donna Elvira; Lotfi Mansouri is directing. If you like new music, the second summer opera, The Rake's Progress, not only has Igor Stravinsky's music but also bass baritone Bryn Terfel and countertenor Brian Asawa. The sets are by David Hockney, and as I mentioned after seeing the 1988 production, it is a staggering presentation. Regular readers know I'm a Wagner enthusiast, and the opportunity to see a new production of Wagner's Parsifal is a rare treat. Parsifal is moving, complex and five hours long--and not recommended for first-timers. Performance dates, times and casts are too lengthy to include here, but you'll never forget an evening at the opera. All San Francisco operas have supertitles, so you don't need to know or understand the language. They have 200 standing-room tickets each performance at $10; 50 tickets go on sale two hours before each performance; and usually, but not always, there are nonscalpers standing outside the opera house selling tickets they can't use. You need to see the company's website, not only because it has a virtual reality thing going but also because it's the way to get tickets. It's sfopera.com (or charge by phone at 415.864.3330).

THE FLACKING OF FILM. Woody Allen's newest film, Small Time Crooks, is either great or not so great. I've never heard such disagreement from Allen fans, and Allen fans usually disagree about each of his films anyway. If you like the intellectual, psychologically confused Woody of recent years, this isn't your film. If you liked the old Woody of Take the Money and Run, Bananas and Sleeper, you'll love this one. Dinosaur, for all its special effects, is an old hard-core Disney product. It's very scary for little kids; it's interminably cute; and unless you ate a lot of popcorn, you'll leave feeling sort of empty. Bossa Nova was directed by Bruno Barreto, who did Dona Flor and Her Two Husbands back in the '70s. He stars his wife, Amy Irving, in Bossa Nova and says he made the film as a gift to her--and it looks it. It sure wasn't a gift to any audience. Nice scenery, some nice music, but that's about all it has.

GOODBYE, BILL BELTON. The date has been changed for the day to pay tribute and say goodbye to community activist and good fellow Bill Belton. The wake/party/
get-together/potluck will definitely be June 10 at 2pm. at the Live Oak Senior Center. Everybody welcome.

LATE-BREAKING NEWS. Radio personality and reporter Gene Rusco is leaving KGO Radio as of June 9. Gene has been with KGO since 1981 and has been the South Bay bureau chief most of that time. Gene's had it with radio in general and with KGO specifically. Rusco used to be on many of our Monterey Bay stations, such as KRML, KDON, KMFO and KIDD, and he even help set up those three antennas in the old pitch-and-putt golf course in Aptos. Gene and I emceed one of the earliest Town Clock New Year celebrations (pre-pre-First Night) back about 1976 or thereabouts. South Bay news won't be the same without Gene, and it's vice-versa all over again.

CITY LIBRARY, MAIN BRANCH. Jane Schymeinsky is the project manager for the asbestos abatement and ceiling replacement for the still-closed main branch of the library. She told me last week that the project is about one week behind schedule and that if everything goes perfectly, it'll be open around June 15. I didn't know that now you can go to 212 Locust St. (the old police records building) and drop off or request books. We'll see new and improved lighting and lots of wireless high-tech improvements. Having the main branch closed makes you realize just how much we depend on those services.

THINGS TO DO. Be sure to see the current art at the Museum of Art and History, but start at the top on the third floor and see Susan Kingsley's works first, then peek into Doug McClellan's Wow Boxes, then go downstairs to see the rest. Futzie Nutzle told me his real name back in 1970 and made me promise not to tell anybody--it's Bruce, as in Kleinsmith. Nutzle, or Nutty as his friends call him, is teaching a cartoon class through UC Extension in August. Real locals know his works and probably have at least one of his books. Call UCSC Extension at 831.427.6600 to enroll. ... Don't miss the seventh annual Cement Ship Festival Saturday (June 3), 11am-5pm. In addition to hands-on arts and crafts, you can hear the Jazzbirds, an all-women quartet that performs Boswell Sisters hit songs.

IN CLOSING. Nearly omniscient Dan Pulcrano now notes that the Shell Station sign in Scotts Valley has burnt out the "h," leaving "sell," which Dan figures refers to any remaining real estate in the area. ... Thinking of all the trouble spots around the world, the bumper sticker I saw on a Dodge pickup seemed appropriate: "Why can't we all just get a bong." Yes, I went to the Hemp Festival, but that had nothing to do with it.
---
Bruce critiques films every other Thursday on KUSP (88.9FM) at 12:50pm. Reach Bruce at [email protected] or at 457.5814, ext. 400
---
[ Santa Cruz | MetroActive Central | Archives ]